Institute for NanoBioTechnoloy Seminar
Who can attend?
General public
Faculty
Staff
Students
Contact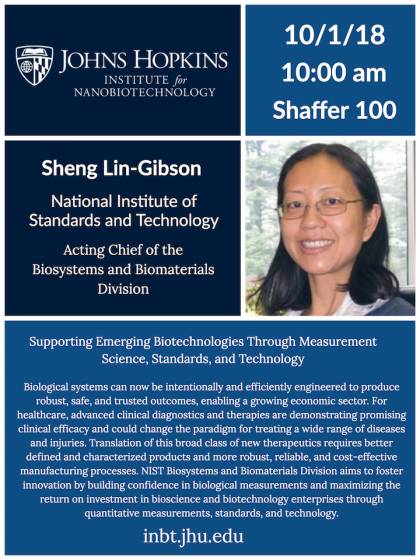 Description
Please join the Institute for NanoBioTechnology in welcoming Sheng Lin-Gibson, acting chief of the National Institute of Standards and Technology (NIST) Biosystems and Biomaterials Division, and attending her talk, "Supporting Emerging Biotechnologies Through Measurement Science, Standards, and Technology."
Biological systems can now be intentionally and efficiently engineered to produce robust, safe, and trusted outcomes, enabling a growing economic sector. For health care, advanced clinical diagnostics and therapies are demonstrating promising clinical efficacy and could change the paradigm for treating a wide range of diseases and injuries. Translation of this broad class of new therapeutics requires better defined and characterized products and more robust, reliable, and cost-effective manufacturing processes. NIST Biosystems and Biomaterials Division aims to foster innovation by building confidence in biological measurements and maximizing the return on investment in bioscience and biotechnology enterprises through quantitative measurements, standards, and technology. This talk will highlight recent NIST initiatives in engineering biology, regenerative medicine, microbial systems, and precision medicine.
Who can attend?
General public
Faculty
Staff
Students
Contact