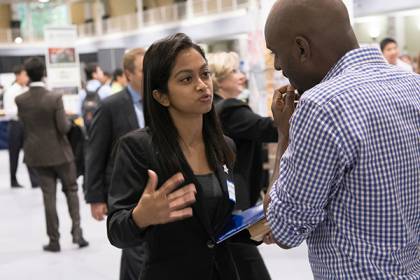 Description
Do you have a bulletproof resume, smooth introduction, and perfect business shoes? Stop by each booth to get early fair access to Thursday's Fall Career Fair.
Resume Review Station: Fine tune your resume with a review by alum, faculty, or staff. Bring a printed copy of your resume for review!
Professional Dress Station: Learn the keys to putting together the right career fair outfit. Enter the raffle to win a gift card to local clothing retailers and hair salons to prepare for the fair!
Perfect Your Pitch Station: What do you say when asked, "Tell me about yourself.."? Learn to craft a creative elevator pitch...you'll be using it at the fair!
Career Fair Game Plan: Which employers are hiring your major? Figure out who to visit and how to make the most of the fair.
International Student Services Station: Connect with the staff of the Office of International Student Services for information on OPT/CPT, sponsorship, etc.
Students who attend this event and visit all four required stations (Resume Review, Professional Dress, Career Fair Game Plan, and Perfect Your Pitch) will receive early access to the career fair on Sept. 27.
Note: Event will take a lunch break between 2 and 3 p.m.
Contact