Conversations in Medicine: Dual degrees, surgery and research
Who can attend?
General public
Faculty
Staff
Students
Contact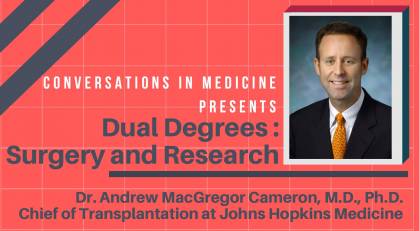 Description
Conversations in Medicine is a monthly speaker series organized by a collaboration between Alpha Epsilon Delta and Women's Pre-Health Leadership Society, the two premier Pre-Health Honor Societies at Johns Hopkins University. This month we invite Dr. Andrew MacGregor Cameron to speak about his experiences as the Chief of Transplantation Surgery at Johns Hopkins University while also leading a research lab. Event will consist of a catered dinner, a short talk, followed by a Q&A.
Funded and supported by the Hopkins Parents Fund
Who can attend?
General public
Faculty
Staff
Students
Contact