Women's futbol: International night
Who can attend?
General public
Faculty
Staff
Students
Contact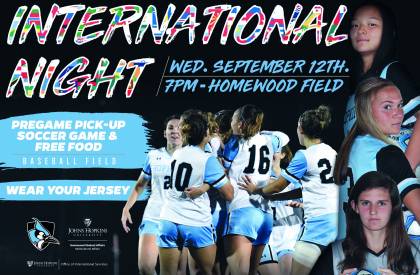 Description
Come out to Homewood Field to celebrate the global diversity of the student body on our campus. There will be free food and a pick-up soccer game on the baseball field. Answer the puzzle on the Blue Jay Rewards App for a chance to win two free passes to Charm City Clue Room.
Wear your country's jersey or colors!
Who can attend?
General public
Faculty
Staff
Students
Contact