Mom is coming east to stay at Carleigh Steele's new house this holiday season. To make the visit memorable, the JHU staffer will do something—somewhat reluctantly—that she hasn't in previous years in Baltimore: put up a Christmas tree.
"This is Mom's first visit since I became a homeowner," says Steele, part of the central HR university team. "Except for the kitchen, my house still isn't unpacked or set up with personal touches."
Though a passionate soccer mom, Steele said that "domestic"—in the sense of someone who enjoys cooking and baking while making sure that every little thing is just so—does not describe her.
But she is very pleased that her unpacked boxes wait to be opened in a place she calls her own, even though she believes "home is a place to sleep, and life is lived outside," a philosophy forged in her California childhood.
Steele purchased her home through Johns Hopkins' Live Near Your Work program, a partnership with the city of Baltimore that is now almost 25 years old. The project operates out of the JHU Office of Benefits & Worklife and offers grants of up to $17,000 toward a down payment and closing costs for a house in designated city neighborhoods. Since the program's inception, more than 1,200 Johns Hopkins employees have received financial assistance, buying homes in more than 50 Baltimore City neighborhoods.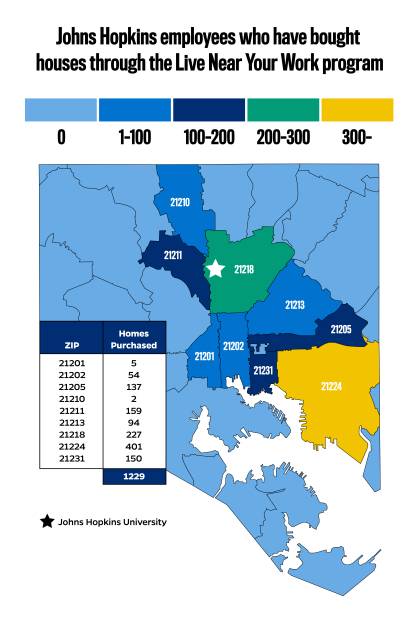 "This home is a steppingstone to create financial freedom for my daughter," Steele says. "I was raised in a home [the family owned], and I wanted to provide that stability for my child as well."
Steele's mother, Carolyn, starts playing Christmas music the day after Thanksgiving. She lives in a hamlet of Oregon called Sweet Home, population 10,000 or so.
Carleigh's home sweet home—to which she moved in late June—is in the Milton-Montford community, one of 27 LNYW properties in the area and the first to be renovated by Habitat for Humanity.
"In an unsteady world, having a place to call home is truly special," says worklife specialist Jeremy Elizabeth Hornberger, who is currently overseeing the LNYW program. "Our program helps make that happen."
One of Steele's neighbors is the Moveable Feast nonprofit, which works to improve the health of Marylanders experiencing food insecurity and chronic illness. She is also close enough to the Amtrak trestle to hear trains speed along the Northeast corridor several times a day.
There are no holiday decorations in Steele's unpacked boxes, and none will be coming east with her mom, who "has ornaments with our baby handprints and photos of us with missing teeth," she says referring to herself and her siblings.
Everything will have to be purchased. Perhaps, she says, this will be the start of new traditions in a new home.
About 2 miles away, on East Federal Street near Green Mount Cemetery, Bloomberg School of Public Health worker Sara Whaley will also be waking up for her first Christmas morning as a homeowner via the LNYW program. Without it, she says, "I wouldn't have been in a place to purchase a home."
Whaley translates opioid research into policy and advocates for equitable access to care and treatment for those who use drugs. She shares Steele's procrastination when it comes to holiday decorating.
Though she settled on her house Sept. 17, she and her cat haven't yet moved into the three-bedroom home because of red tape regarding city permits. A native of the Raleigh, North Carolina, area, Whaley will be back in the Tar Heel State for Thanksgiving and will bring a box of ornaments back to Baltimore.
Among the handed-down treasures from her great-grandmother—"they're super fragile and some still have her scent," Whaley says—is a bauble that she was once enamored of and now finds "hilarious."
No matter, it will hang from the tree in Crabtown this year, alongside great-grandma Ivy Thompson's fragile glass balls sprinkled with glitter, a few shaped like diamonds.
"There's a box at home with my name on it; we already divided up the [family] decorations," Whaley says. "When I was about 6 or 7, I was obsessed with Barbie. As a gift one year I got a Barbie tree ornament. She's wearing a sparkly poinsettia dress."
Whaley anticipates leaving her Bolton Hill apartment by Dec. 1, which would give her about three weeks to get ready for Mike and Josie Whaley's arrival.
If their recent visit to Federal Street to help their daughter get the new place in shape is any indication, it will be quite the Baltimore Christmas.
"Mom was in the backyard with neighbors cutting down vines and pulling weeds, and we weren't sure where Dad was," Whaley says. "We found him propped up in a lawn chair out front on the sidewalk eating chicken with neighbors and watching the Ravens game on a portable TV."
Interested in becoming one of Johns Hopkins' more than 1,200 employees who have become Baltimore City homeowners with assistance from the Live Near Your Work program? Go here to learn about eligibility, boundaries, grants, the application process, and more.