When Norma L. Day-Vines, associate dean for faculty development at the Johns Hopkins School of Education, was charged with coming up with ways to engage faculty and staff in the issues of diversity and inclusion, she took it to heart.
"Diversity is one pillar of our three-pillar strategic vision at the School of Education," Day-Vines says. "In fact, my office will soon become the Office of Diversity and Faculty Development."
Among the many options open to her—workshops, seminars, online courses, and others—one stood out: a book discussion group. She soon imagined what it might take to inspire the 300-plus members of the School of Education's faculty, staff, and postdocs community to engage in a conversation on race. She knew that literature's singular ability to expose the complexity of America's fraught racial past was an entry point to a deep, rewarding conversation about race and its influence in our country.
"We offered some preliminary anti-racism workshops in the fall, but I had just finished reading Isabel Wilkerson's Caste: The Origins of Our Discontents over the summer and thought it was phenomenal," Day-Vines says of the origins of the discussion group. "I started to think about it and pitched it to Dean [Christopher] Morphew. He said, 'Let's do it.'"
She knew the book was too weighty to be fully explored in a single discussion group. To carefully consider the book—which bills itself as a comparison of historical caste systems in India and Germany with present-day America's hidden racial hierarchy that "ushers" each of us to a pre-assigned and immutable station in life—would take a commitment. Instead, she treated the discussion as a semester-long exercise—a multipart continuing education seminar for an already highly trained audience.
Caste contrasts how the social hierarchies in India, Germany, and America are each structured around a distinct, but different, evaluation criterion. In India's well-known caste system, it's social status. In Germany, it's based on religion. And in America, it's race. "These uncontrollable factors determine everything from your sense of self, to how others view you, to your fate in life," Day-Vines says.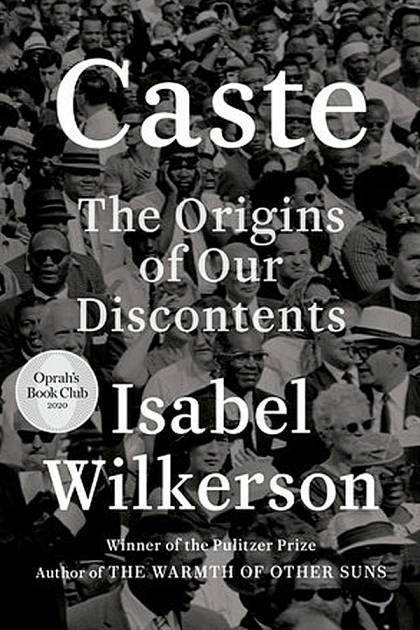 Day-Vines' scholarly research examines the extent to which school counselors and clinical mental health counselors examine the contextual dimensions of race, ethnicity, and culture during the counseling process. She has consulted with school districts across the country to address issues related to diversity, equity, and inclusion, and has published widely on these subjects.
"There are a lot of myths throughout American history that gloss over or cover up this truth," Day-Vines says. "I felt like an open discussion was the best way to uncover those truths and get people talking in a way that was more authentic, and more accurate, about the real history."
Quickly enough, more than 100 colleagues—a third of the school's faculty and staff members—signed up. In this regard, the pandemic played a helping hand, having provided in Zoom the perfect technology for the task of bringing so many people together across considerable distances, easily and inexpensively.
Like the professor she is, Day-Vines spread the discussion over four months' time, and split Wilkerson's weighty volume into four digestible sections. The 120 or so participants were organized into smaller groups of 10 who would have a month to read the assigned section and would meet once a month via Zoom to discuss.
Unable to lead 12 discussion groups herself, Day-Vines recruited a corps of facilitators who were knowledgeable not only about the book but also in the subtleties and challenges of the difficult discussions on race they would have to lead. Two counseling faculty members, Anita Young and Ileana Gonzalez, trained facilitators to lead discussion groups and conducted monthly debriefing sessions with them.
"There was a yearning among the faculty community to have a better understanding of race in America and to have this discussion," Day-Vines says. "Change is a process, and I hope that [by] opening this discussion and having more workshops in the fall we can make a real difference."
Much of the logistical work became the purview of Joe Meredith, an executive specialist in the school. He helped recruit and coordinate the facilitators, managed the participant lists and communications, scheduled the Zoom sessions, and even facilitated discussions himself.
The groups met for an hour during the third week of each month, January through April, tackling a new section of Wilkerson's book each time. Day-Vines facilitated three of the discussion groups and Meredith, two. The remainder were divided among the recruited facilitators.
Asked what he might do differently next year with a new book on the docket, Meredith paused and smiled. "One thing I learned is that an hour is not enough," he says. "It seems the discussion just gets going, and then it's time to sign off. We'll try to adjust that in the future."
While proud of his many contributions, Meredith says his best moment came during the final stretch of the program. He had the honor of scheduling the author herself to join the discussion for a virtual universitywide question-and-answer session about her book. More than 930 people attended the event.
The reach of that final session across the university proved striking to Day-Vines. She says that the most surprising aspect of the discussions was the breadth of the connections made, not just among the School of Education community, a remarkable feat in its own right, but throughout the entire Hopkins community, evidenced by the number of attendees.
"In the book, Wilkerson talks about the concept of racial empathy—really understanding and feeling what others go through—and I think making these kinds of connections really helps that," Day-Vines says. "That's what I'm most proud of after all this."