Here to Help is a Hub at Work feature created to help Johns Hopkins faculty and staff navigate the expansive world of the university. If you have questions in search of answers, email us at hubatwork@jhu.edu.
If you find yourself heading to a meeting on the Homewood campus, you might want to tweak your timing so that your visit can include a breakfast or lunch stop.
Here are a half-dozen options that can lift your spirits while satisfying your nutritional needs. For those not familiar with the campus, we're including a map marking the spots to seek out.
Levering Kitchens, just steps from Garland Hall, serves build-your-own noodle bowls and salads, wraps, and freshly baked pizza. Icons on the menu mark the dishes as vegetarian, vegan, made without gluten-containing ingredients, farm to fork, locally crafted, seafood watch, humane, organic, or raw/undercooked. Monday to Friday, 11 a.m. to 2 p.m.
Enter Levering Hall from the front entrance and you'll find yourself in Levering Café, where the big draw is the variety of coffees (lavender mocha latte, iced salted caramel latte, macchiato, etc.) and teas (dirty chai latte), along with egg-and-cheese English muffins served all day. Monday to Thursday, 7:30 a.m. to 5 p.m., and Fridays, 7:30 to 4 p.m.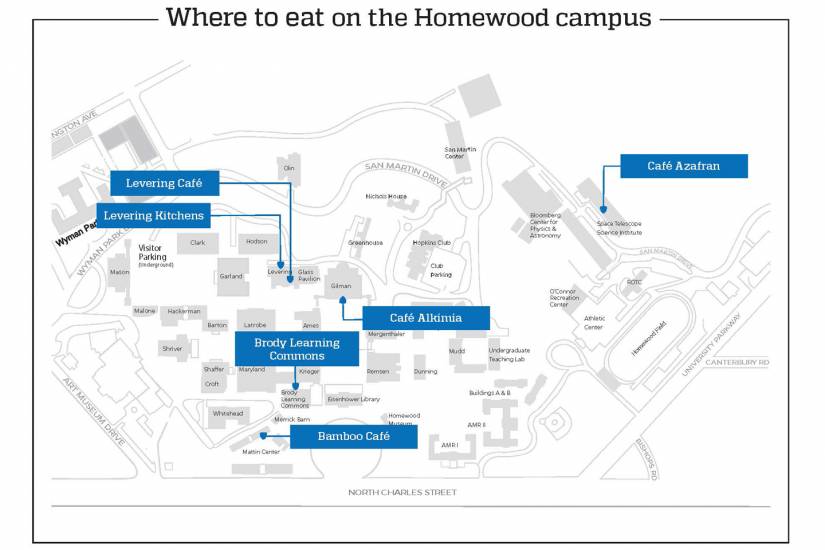 Bamboo Café at the Mattin Center is where you'll find an array of cuisines from the Asian continent, including curry rice dishes, ramen noodle soups, donburi bowls, bahn mi sandwiches, bubble tea, and sushi rolled to order. Monday to Friday, 11 a.m. to 8 p.m. (with $3.50 sushi happy hour from 2 to 5 p.m. daily).
Café Azafrán in the Space Telescope Science Institute's Steven Muller Building is a longtime favorite of the Homewood community. You could start your morning with an empanada, apple turnover, or yogurt with honey and granola, or choose a midday meal of bulgogi, a chickpea tikka wrap, or a roasted root veggies salad with goat cheese, among other offerings. Monday to Friday, 8 a.m. to 2 p.m., with lunch starting at 11:30 a.m.
You'll find Café Alkimia, Café Azafrán's younger sibling, just inside the main entrance to Gilman Hall. Lunches and snacks include empanadas, croissants, muffins, verdure Italiano sandwiches, asparagus on ficelle, and pea and quinoa salad. It also serves an array of coffees and chai. Monday to Thursday, 8 a.m. to 5 p.m, and Friday 8 a.m. to 2 p.m.
The Daily Grind at the Brody Learning Commons has a far-ranging menu that can fuel you through the day, from breakfast sandwiches and pastries to lunchtime sandwiches (roast beef and cheddar baguette, grilled salmon) and salads (steamed shrimp and feta, chicken avocado) to midafternoon barista specialties (almond joy, black forest, dirty chai). Monday to Thursday, 7 a.m. to midnight; Friday, 7 a.m. to 9 p.m. (Also open on weekends, 8 a.m. to 9 p.m. on Saturday and 10 a.m. to midnight on Sunday.)