Johns Hopkins is expanding a program that has helped more than 1,100 employees put down roots in vibrant Baltimore neighborhoods. Eligible employees of the university and health system can now use $5,000 Live Near Your Work grants to purchase homes in Belair-Edison, Coldstream-Homestead-Montebello (CHUM), Darley Park, East Baltimore-Midway, Johnston Square, Mayfield, and South Clifton Park.
These neighborhoods are in addition to the many Live Near Your Work communities surrounding Homewood and Peabody, and throughout East Baltimore. Employees and city leaders encouraged the expansion into these areas, which are in ZIP codes that have proved popular to Live Near Your Work buyers and include a number of employees who currently rent a home and may want to buy one in their neighborhood.
"Live Near Your Work has been an important partnership between anchor institutions such as ours and the city for many years, delivering on our commitment to help people invest in their futures and in the city they live in and love," says JHU President Ronald J. Daniels. "We are thrilled to extend the impact of this program and to support even more of our neighbors in realizing their dreams of home ownership."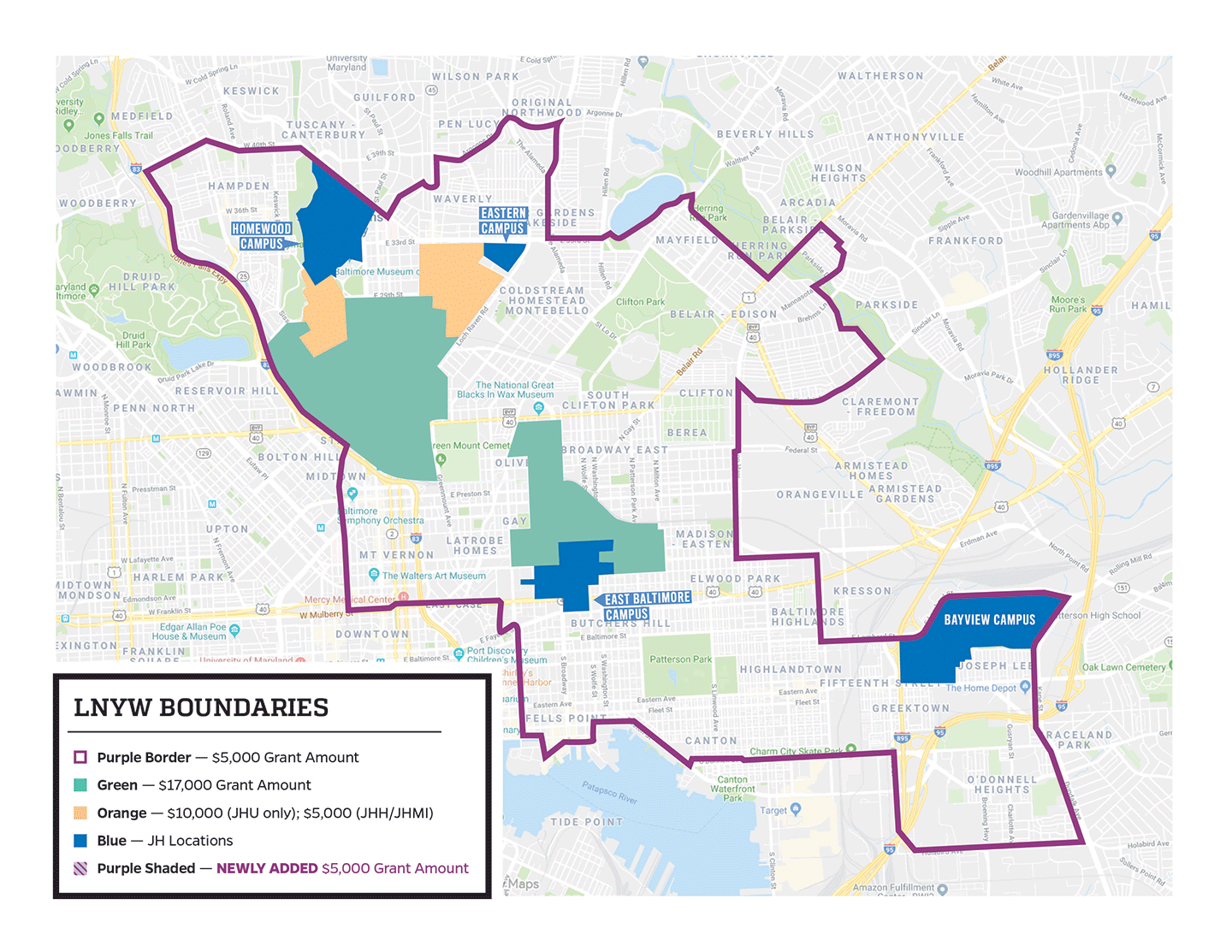 Neighbors such as native Baltimoreans Clarissa and Troy Cozart, both employees of Johns Hopkins Hospital, have used the Live Near Your Work program to purchase a home in their community.
The Cozarts were renting in nearby Oliver and, through the Live Near Your Work program, were able to buy a home just four blocks away. For them, not only is their new home an investment in a neighborhood they love, where they can walk to work, it's also an investment in their three children.
"Oliver is our home," Clarissa Cozart says. "Troy and I always dreamt of staying in Oliver, buying a home, and raising our family in this community, and Live Near Your Work helped to make that possible."
Paul B. Rothman, dean of the medical faculty and CEO of Johns Hopkins Medicine, says, "Johns Hopkins is deeply committed to the city of Baltimore, and this step only underscores that partnership. These additional neighborhoods are great places to live, and we want to give our employees more great incentives to live there."
Employees who want to learn more about the new neighborhoods and the Live Near Your Work benefit are invited to a celebration at Johnston Square Park from 11 a.m. to 1 p.m. on Saturday, Sept. 7. Details are on the myLearning website.
Since the program began in fiscal 2009, Johns Hopkins has awarded more than $8.2 million in Live Near Your Work grants, and participants have also received matching funds from the Baltimore City Office of Homeownership. The grants are used to defray down payment and settlement costs, which are often barriers to homeownership, especially for first-time homebuyers. Close to 90% of Johns Hopkins program participants were buying for the first time, and 80% of program participants were already living in Baltimore.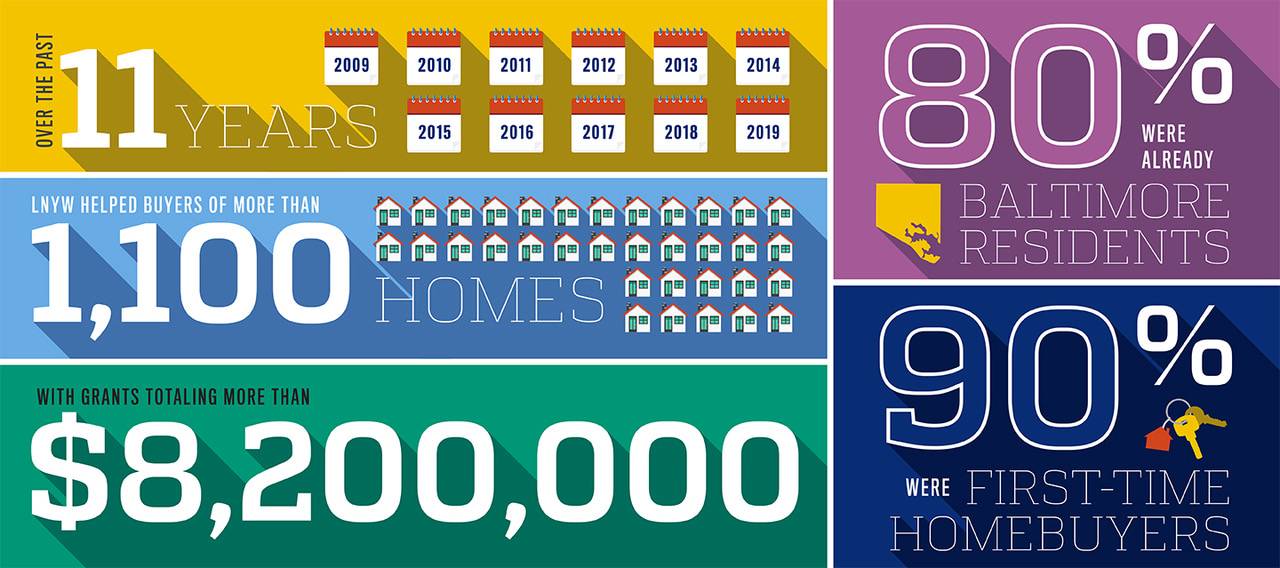 Kevin Sowers, president of Johns Hopkins Health System and executive vice president of Johns Hopkins Medicine, says that homeownership allows individuals who work in Baltimore to strengthen ties to the local community. "Program expansion further supports individuals and families in making commitments to live and work in Baltimore for the long term," he says.
Lynera Gregory, a case manager in the Division of Infectious Diseases at Johns Hopkins Hospital, heard about the program through word-of-mouth and researched it online. When she decided to move from Baltimore County to the Berea neighborhood in East Baltimore, she says, "This program allowed me to lower my closing costs and walk away with a check at the closing table. I was able to lower my mortgage loan and have an extremely affordable mortgage."
Now, she says, "I love the area that I live in. It is surrounded by streets lined with trees, a community garden, a new 21st-century school, and most importantly, people who are engaged in and take care of their community."
The Live Near Your Work website details the specific boundaries and outlines existing areas where grants are increased to $10,000 and $17,000, depending on the location and which Johns Hopkins entity is the employer. The website also explains the eligibility requirements, which include an application, homeownership counseling, and a commitment to make the home a primary residence for five years.
Alexandra Weil, who is part of a School of Medicine innovation team embedded with the Baltimore City Health Department, sought out the Live Near Your Work program when she wanted to downsize from her Mount Washington home. She has one son in college and another attending high school at City College, and in May she used a grant to purchase a home in Abell.
"The farmers market and the proximity to Charles Village and work were a big draw for me," she says. "I love that I do not have to deal with the JFX every morning and that I will be much less dependent on my car."
Weil says this was the first time she bought a home on her own, and "the process was quite seamless. I actually appreciated the course I had to complete and budget counseling. It made me more confident in the process."
For questions about the program, contact the Benefits Service Center by email at benefits@jhu.edu or call 410-516-2000.