Editor's note: This story has been updated to reflect the deadline's extension to Nov. 1.
With a multimillion-dollar investment in its child care voucher program, Johns Hopkins University is working to provide more of its employees, scholars, and trainees with the support they need to integrate their professional, academic, and family responsibilities. By increasing the family income brackets that qualify for assistance and allowing the program to pay for home-based care (not just licensed care, as before), the institution expects to significantly broaden the number of families that use the benefit.
Starting in 2020, vouchers of $1,000, $2,500, or $5,000 per family will be available to full-time employees of the university, postdoctoral fellows, full-time doctoral or medical students, residents, and house staff in qualifying income brackets. The amount of support available is based on a family's adjusted gross income and number of children in care. Details are available on the newly redesigned HR website.
The expanded benefit represents a significant increase over the previous voucher program, which paid for a percentage of care rather than a flat amount, and was capped at $50,000 family taxable income.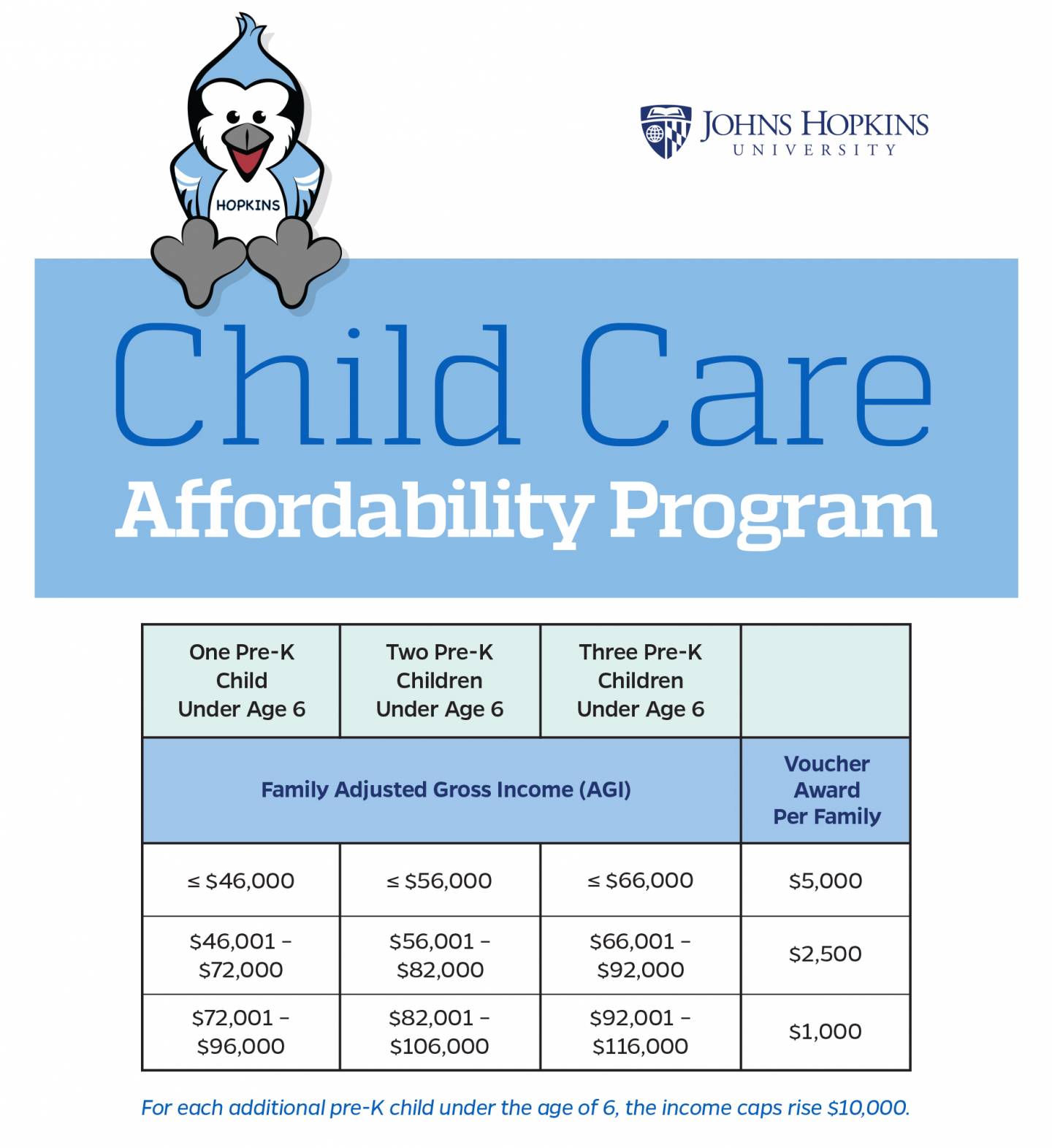 "We know from our faculty, staff, and graduate students how vital quality, affordable child care is in enabling them to thrive at work, take on a range of professional and academic responsibilities, and have peace of mind while they are here with us," says JHU President Ronald J. Daniels. "I am thrilled to be able to expand this program to support our employees and open opportunities to the many talented people in our community. One of my highest priorities is for Johns Hopkins to be not only a world-class academic research institution but an exceptional place to work."
Employees will need to apply for a voucher each year during an established enrollment period. The deadline for enrollment for 2020 vouchers is Nov. 1, 2019. After that, employee enrollment will be open only to individuals who have a qualifying life event, such as a birth, adoption, or marriage. Students, fellows, and trainees do not have a specific enrollment period, but those who apply after Jan. 1 will receive a prorated amount for that year.
In addition to the vouchers, the university has made a commitment to ensuring that JHU families who are accepted at one of the three centers that are Johns Hopkins partners—Homewood Early Learning Center, Bright Horizons at the School of Medicine, and the Weinberg Early Childhood Center—can attend regardless of their family income. A new pool of scholarship funds will help families from all socioeconomic groups be part of those learning communities. Details of that program are also on the HR website.
"With these changes, those with the most need will have more opportunities to receive significant assistance," says Heidi Conway, vice president for human resources. "I am pleased that this expansion will help ease the daily concerns of the people who work every day to achieve our university mission, and that it will advance our shared goals to sustain an inclusive work environment."
The child care program restructuring is part of a broader approach to supporting employees that gained momentum with the hiring last fall of Jeanne Lovy to be the university's first director of family support services. Lovy will continue to work with the HR team to expand and diversify family-oriented programming at Johns Hopkins.
"This is an exciting step in terms of giving families more financial assistance and more choices that can make a difference in meeting their child care challenges," Lovy says. "We will also be exploring other ways to help families access opportunities for their children to learn and thrive."