No sooner had the infectious beat of Bruno Mars' Uptown Funk filled Levering Hall's Glass Pavilion than the instructor had heart rates elevated and bodies moving. "Are you ready?" she asked the 18 folk gathered, many dressed in sweats and tights. Ready or not, they were in for a workout. Bada Hebron, co-instructor with Kara O'Connor of the lunchtime Muscle Toning and Conditioning class on the Homewood campus, first led the group through a series of dynamic stretches, then segued into high steps and a series of aerobic moves that colored faces red.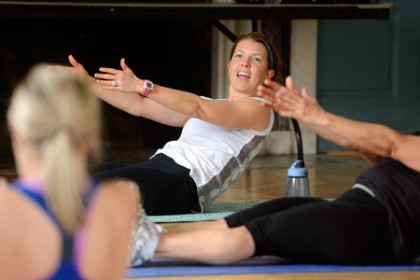 By the time the music changed to The Weeknd's Can't Feel My Face, the group had picked up hand weights for a set of squats and later an exercise called the rainbow—imagine drawing a half circle above your head with weight in hand. All the while, Hebron encouraged the mostly female class of various ages to keep up the feverish pace. There's little time for exhales here. "Give me four more," she roared with a smile. "Great job!"
The music and motion, with only the occasional quick break for water, would continue for the next 45 minutes. Most of the class stuck out the whole period. Some departed early. Work beckoned.
Muscle Toning and Conditioning is currently one of four 10- and 11-week group fitness classes offered on the Homewood and East Baltimore campuses as part of the Office of Benefits Services' Wellness Program. The 45- and 60-minute classes, which are open to all benefits-eligible staff and faculty, take place either at noon or from 5:15 to 6:15 p.m. at various locations, including the Glass Pavilion, Great Hall, and Mattin Center's SDS room at Homewood, and the Pre-Clinical Teaching Building's fifth-floor conference room in East Baltimore. In addition to Muscle Toning, the Wellness Program includes Yoga, Cardio Fusion, and Zumba. All are offered at Homewood, Yoga and Zumba in East Baltimore, and Yoga in the Keswick and Candler buildings. The classes, which range in size from 10 to 50 people and meet once or twice weekly, are all taught by certified instructors.
For the unfamiliar, Cardio Fusion is a challenging aerobic workout that combines kickboxing moves, floor aerobics, boot camp drills, and core conditioning. The popular high-energy Zumba class blends Latin music and easy-to-follow dance steps; participants burn calories while building up endurance by moving to alternating fast and slow rhythms. In Muscle Toning and Conditioning, instructors maximize the body parts worked—arms, glutes, legs, back, and more—as you shift rapidly from one exercise to the next. One moment you're on two feet throwing a hand weight down in a chopping motion, the next you're on a yoga mat engaging abs and obliques.
"I like variety," says Hebron, who also teaches the Homewood Zumba class and is a registrar for the Krieger School of Arts and Sciences' Odyssey program. "I don't want people to get bored, and by alternating exercises, you shock the body to produce the best results."
After class, participants typically brandish a sheen of sweat and a look of slight fatigue—just what Hebron likes. "My biggest compliment is when people tell me, 'I'm hurting,'" she says. "That means their muscles have been taken to the point of fatigue. And then they tell me they hate me [laughs]. I love that!"
Hebron assumes that each class she instructs has novices, and during the first few weeks she pays extra attention to form to ensure that everyone is doing the exercises properly to maximize benefit. But several weeks in, the classes are all business. Some people stroll in late, but the classes never skip a beat as latecomers just jump right into the exercises.
"Our philosophy is that you get in as much as you can with the time that you have," she says. "Because we only have the 45 minutes, I try to maximize the workout and get in as many repetitions as I can."
In terms of results, Hebron says that participants who give 100 percent can expect muscle definition and more stamina. She says people often come in feeling restless and tired—and leave her class with more energy. While Hebron encourages her students to perform similar workouts at home, she realizes that this may be their only structured exercise during the week.
The classes range in price from $15 to $30 per session, a significant discount from similar classes at private gyms, according to Darlene Kurek, coordinator of the university's Wellness Programs. She says that the classes accommodate people of all different levels, from novice to advanced, and that Benefits Services subsidizes 50 percent of the cost to keep them affordable.
Kurek says that if people would rather work out alone, low membership rates for staff and faculty are available to the Ralph S. O'Connor Recreation Center on the Homewood campus and the Cooley Center in East Baltimore. The university also has secured discounts at many area fitness centers, such as the Merritt Athletic Club and Y of Central Maryland.
Registration for the upcoming spring sessions of fitness and wellness classes kicks off April 4. For a list of dates and times and to register, go to the Wellness Programs website. For more information, email wellnessprograms@jhu.edu.