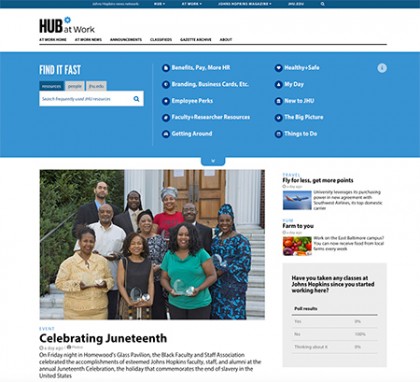 Today the university is launching a new online resource dedicated to the needs and interests of everyone who works at Johns Hopkins University. With more than 300 links to frequently used university resources, plus news and feature stories, the new At Work section of the Hub will help faculty and staff find what they need and find out what's going on.
The section's Find It Fast area brings frequently used resources into one searchable collection, including sites for pay and benefits, employee perks, transportation, health and wellness, IT assistance, and much more. Users can also search the JHED directory of employees and access the search for the main university website, JHU.edu.
At Work will include daily alerts and announcements along with regularly updated news stories. Readers can learn more about programs and tools to help them on the job, upcoming events, interesting colleagues, faculty projects, learning opportunities, and other topics of interest.
"The site is an exciting opportunity to share information with our internal audiences in a fresh, timely way," says Lois Perschetz, Hub at Work editor. "It will be a go-to place for everything faculty and staff need to know on a daily basis."
The new site will continue popular features from the no-longer-published Gazette magazine, including Cheers, which highlights faculty and staff awards and accomplishments; Milestones, which recognizes employees for their years of service; and features such as "What I've Learned" and "Four Questions."
Hub at Work will also offer a new online home for classified ads posted by members of the university community, and a new place to search the Gazette archives for past stories.
"So much happens every day at Johns Hopkins that affects all of us who work here," Perschetz says. "We will get people the information they need fast, and we plan to make it fun and interesting, too."
Questions, comments, and story ideas are welcome at hubatwork@jhu.edu.