The Johns Hopkins community is invited to support the institution's Giving Tuesday fundraising effort on Dec. 3 by making an online contribution in support of endeavors in research, teaching, and patient care around the world.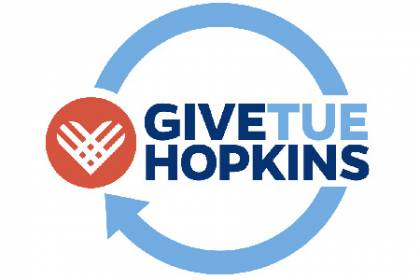 This year's Giving Tuesday campaign at Hopkins includes matching gifts, allowing donors to have their contributions to various schools and programs matched dollar for dollar. In addition, the day features four challenge gifts totaling more than $350,000 that will be unlocked to benefit the entire Johns Hopkins community as participation benchmarks are achieved. Other challenges and incentives encourage participation in social media, by young alums, and by members of the Class of 2020.
"We are incredibly excited about Giving Tuesday this year and thrilled to introduce matching gifts—doubling your impact—for the first time to the giving day celebration," said Wudassie Teklehaimanot, director of marketing for Annual Giving "Our goal is an ambitious 1,550 donors in 24 hours, and we are counting on every single member of our community to show their support."
Donors can help Johns Hopkins reach its goals and unlock matching funds throughout the day with a gift of any amount and to any fund. The giving day website features a running tally of gifts made and challenges unlocked, as well a live map indicating which states and countries are represented by participants.
Donors can help spread the word by using the #GIVETUEHOPKINS hashtag and following the day's activities on Facebook, Twitter, and Instagram.