In anticipation of the Juneteenth holiday, the Black Faculty and Staff Association will honor the newest class of inductees into the Indispensable Role of Blacks at Johns Hopkins, a project celebrating Black students, faculty, and staff who have made lasting contributions to Johns Hopkins University, during a ceremony at 2 p.m. on Friday, June 16, in Levering Union's Great Hall on the Homewood campus.
Later that evening at 5 p.m. in the Glass Pavilion, the BFSA will hold its annual Juneteenth Celebration, with guest speaker U.S. Rep. Kweisi Mfume, who earned a master's degree from Johns Hopkins in 1984. Entertainment includes Grandma Edna, a griot performing Calling of the Ancestors and storytelling; dancers and drummers from Keur Khaylei African Dance Company; Face painting and balloon art by FaceWorks; STEM activities for kids provided by the Whiting School of Engineering's Center for Educational Outreach; music by Serenity of Baltimore and DJ Rodd Madd Flava.
The Juneteenth Celebration is free for BFSA members and one adult guest and two children. For all others: $10 donation for the general public 13 and over; $5 for children 12 and under. Children 5 and younger are free. For more information or questions, please contact the BFSA via email at bfsa@jhu.edu.
Johns Hopkins will observe the Juneteenth holiday on Monday, June 19.
The Indispensable Role of Blacks at JHU digital exhibit is co-sponsored by the Johns Hopkins Black Faculty and Staff Association, the Office of the President, and the Office of Diversity and Inclusion. This year's inductees join more than 80 individuals who have been previously recognized for their lasting contributions to the university's rich history, and who have brought honor to the university through their achievements.
Profiles of all inductees can be found on the exhibit's website. To nominate individuals for the next class, use the Indispensable Role of Blacks at JHU nomination form. Nominations are open through October.
The 2023 class is:
Ethan Bartlett
Student-athlete and leader, Class of 2021
Ethan Bartlett was recruited to Johns Hopkins to play basketball, but it was the academic challenge and the opportunity to be a true student-athlete that sealed the deal. "Blacks make up only about 5% of the student-athlete population at Hopkins," he said. "My coaches have been super supportive. They've been helpful in supporting me when I spoke up about things that I thought were important."
In the summer of 2020, just after the murder of George Floyd, the Athletics Department held an online meeting where coaches and administrators invited Black student-athletes to share how they were feeling. As a result, Bartlett and his colleagues founded the Black Student-Athlete Association.
"Hopkins can be overwhelming," he admits. "It can be difficult to figure out what fits your interests. The BSAA has helped, creating that pathway, getting people connected to resources and volunteering opportunities." The group has formed a partnership to tutor high school students who fell behind during the pandemic and has hosted both virtual and live "literacy events" where Hopkins professors discuss issues such as housing and homelessness, police violence, and education.
Bartlett majored in public health and minored in entrepreneurship and management, graduating in December 2021. Today he's a graduate student in Health Policy and Management at the Bloomberg School of Public Health.
James Hildreth
Advocate for diversity in the laboratory
A personal letter from pioneering cardiac surgeon Levi Watkins encouraged Harvard senior James Hildreth to apply to Johns Hopkins School of Medicine. After deferring his acceptance to pursue a PhD in immunology at Oxford on a Rhodes Scholarship, Hildreth came to Baltimore in 1982—joining a cohort of 14 African American medical students recruited by Watkins.
"We all understood the significance of being at Johns Hopkins in unprecedented numbers. When we got onto the wards, we loved that the staff and housekeeping were all people of color and you could see the sense of pride they had in seeing us in our white coats," Hildreth recalled. Hildreth was invited to join the pharmacology and molecular sciences faculty in 1987, the same year he graduated from medical school.
"I was the only Black faculty member out of over 200 in the basic sciences at the time," Hildreth remembered.
He became a full professor with tenure in 2002 and left Hopkins in 2005 to lead research on HIV/AIDs at Meharry Medical College School of Medicine in Nashville. Still, Hildreth's influence remains at Johns Hopkins. In 2009, the Biomedical Scholars Association inaugurated the annual Dr. James E.K. Hildreth Lecture in order to showcase a scientist "who reflects, supports and/or promotes diversity in the fields of biomedical research, public health, or nursing in an effort to educate the Hopkins community." Today, Dr. Hildreth is president and CEO of Meharry Medical College, one of the oldest and largest historically Black academic health science centers in the United States.
Regine Laforest-Sharif
Director of Student Services, School of Nursing
Recalling her first BFSA meeting in 1995, Regine Laforest-Sharif described "all of these very powerful, warm administrators who were very excited to welcome me. You could see they were committed to doing some really good work, and making sure that equity was going to be very much part of the university." The organization included people "at all levels" and provided great networking opportunities. "Whenever I felt confused or isolated, I always found shelter in that space." She quickly became involved, serving as membership coordinator and treasurer, then, as BFSA president in 2000–2001, inaugurating the first university-wide three-day diversity conference that year.
Originally hired as a housing coordinator, Laforest-Sharif rose to associate director of Student Life and became involved in many aspects of students' experiences on and off the Homewood campus. She developed close relationships with many students over the years, taking a group to Ghana and initiating a program with the American embassy in Haiti. She also advised the Caribbean Student Organization and still advises three student groups. "Students taught me things all the time. They kept me young. I miss them."
Accepting a new challenge in 2023, Laforest-Sharif moved to the School of Nursing in East Baltimore. "I see a lot of value in being able to develop new initiatives and new programs. I get a lot of energy from that." In her position as director of Student Affairs, she manages and oversees all student groups, sets programming, proposes collaborative opportunities, and helps to resolve students in crisis.
Lorraine Smith
Senior grants and contracts analyst, Environmental Health and Engineering, Bloomberg School of Public Health
Lorraine Smith joined the Department of Mathematical Sciences in the Whiting School of Engineering in 1995 as an administrative secretary—just in time to attend one of the first Black Faculty and Staff Association meetings, which she would preside over as president 25 years later.
As the president of the BFSA, she orchestrated the June 18, 2020, march on the Homewood campus advocating for change, equal pay for women and Black employees, the hiring of additional Black faculty, and better opportunities for advancement at Johns Hopkins. More than 200 people—including faculty, staff, students, and local residents—participated in the peaceful demonstration, held in the midst of the COVID-19 pandemic and nationwide protests after the murder of George Floyd in Minneapolis.
Smith has been active with the executive board of the BFSA for 10 years, first as an unofficial events director, then East Baltimore caucus chair, and then president. Smith was instrumental in lobbying President Ron Daniels to declare Juneteenth a full-day paid holiday. Equal pay for staff, fair hiring practices, mandatory training for managers and supervisors, and recruitment of minority students and faculty remain Smith's objectives for the BFSA. She is also the staff representative for her department's IDARE (Inclusion, Diversity, Anti-Racism, and Equality) committee, emphasizing the importance of "being welcoming to all people so that they feel comfortable coming to work. People need to be respectful of others' positions and the roles they play. We're all working together for a common goal."
Hopkins Dining
Nourishing and nurturing generations
The more than 150 women and men of Hopkins Dining have nurtured generations of students, faculty, and staff, dishing up not only nourishing food but also plenty of encouragement and devotion to the JHU community, particularly students. "I love my job," says Sarah Robinson, a 43-year veteran in Hopkins Dining. "I've loved everything I've done. I love the kids. We've had lots of fun. It's a nice place to be and to work."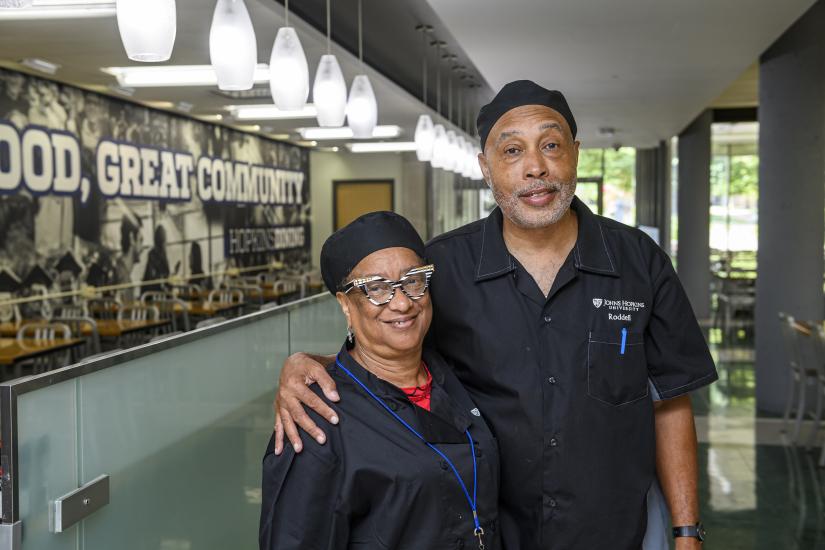 Marie Wilson has filled many jobs on the Homewood campus since 1974. Wilson wants students to feel that the university is their home away from home. "I treat them as if they were my own," she said. She likes talking with prospective students and their parents about the beautiful campus and assures them, "I'll be here next year." Wilson appreciates the excellent health benefits Hopkins offers, as well as being part of a union.
Phyllis Prettyman began in catering and still enjoys serving at student dinners hosted by the dean of students in his home. Her primary responsibility now is working the register at the new taco station in Levering. Occasionally she will pick up a shift at Nolan's, and students notice, saying, "Miss Phyllis, you work everywhere!" Prettyman prizes being a team player and is impressed by how long some of her co-workers have been with Hopkins Dining. Together, she and her colleagues are welcoming and hardworking role models who demonstrate kindness and dedication every day as they provide fresh and healthy meals for all.