ONEHopkins—Johns Hopkins University's annual giving day—will take place on Tuesday, March 14, this year, and all members of the Hopkins community are invited to support the causes that matter most to them.
This year's ONEHopkins also falls on Pi Day (or 3.14), and supporters who make a gift of "pi" ($31.41 or more) can receive a limited-edition Hopkins sweatshirt.
The annual day-long fundraising event is essential to Johns Hopkins' yearly philanthropic efforts. Divisions across the university have secured thousands of dollars in additional matching and challenge funds for the day. That means no matter where affiliates and supporters choose to direct their gift, they have the chance to increase the value of their support.
"The connections I made at Hopkins changed my trajectory," says Adam J. Milam, a 2008 graduate of the Krieger School of Arts and Sciences and regular donor to the university. "While attending Hopkins, I received some need-based aid. I give back to Hopkins to pay it forward—to make sure that students who do not have the resources to pay for Hopkins have the opportunity to attend this amazing institution."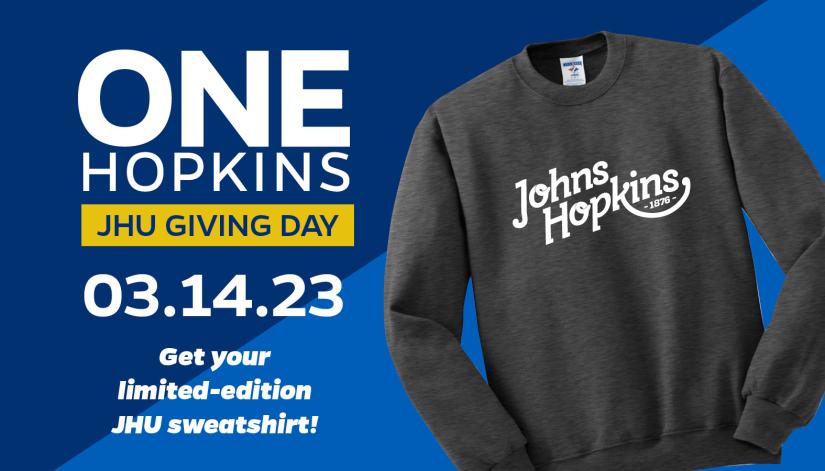 Donors can choose to give to any area of Johns Hopkins that they feel passionate about. From scholarship and financial aid support, to Baltimore-area projects—every gift strengthens Hopkins.
To learn more about giving options, secure a limited-edition Hopkins sweatshirt for a gift of $31.41 or more, and/or to offer a match or challenge gift of your own, visit the ONEHopkins website: givingday.jhu.edu.
"I give to Hopkins for so many reasons," says Khoi Than, BA '03, MD '07. "Hopkins gave me the skills I needed to succeed in life, particularly as a scholar and as a leader. I give back to Hopkins so that others might get to have the same blessings that I did."
Anyone can give any amount, and every gift counts toward the 2,500-donor goal. Spread the word by using the #ONEHopkins hashtag on Facebook, Twitter, and Instagram. Stay up-to-date and make your gift on the ONEHopkins giving site: givingday.jhu.edu.