Libraries have long been characterized as bastions of quiet, of murmuring whispers, and of admonishing shushes. But a new partnership between the Enoch Pratt Free Library and the Peabody Institute at Johns Hopkins seeks to fill libraries across Baltimore with sound and music during the holiday season.
The Peabody at the Library program is one of several community partnerships between the Conservatory and Baltimore. Students are paid for their performances through a funded partnership with the Pratt Library, and applications are accepted on a rolling basis. The program is supported by LAUNCHPad, a comprehensive career services office for students and new alumni.
The Peabody students performing in these concerts—soloists, duos, or trios—may typically be more accustomed to performing in concert halls, but the program allows them to immerse themselves in the Baltimore community and venture out into the city's many neighborhoods where Pratt Library branches are located. Students also receive mentorship from staff, including Khandeya Sheppard, manager of community partnerships and faculty lecturer of professional studies at Peabody. These mentors prepare students for community engagement and suggest methods for involving their audiences in their performances.
One evening in November at the Light Street Branch of the library, the Peabody String Sinfonia, a student-led, conductorless string ensemble, performed music from genres ranging from classical to pop for a small audience of community members. The ensemble's mission is to reach and engage audiences who might not have access to live musical performances. Prior to this November performance in Federal Hill, the ensemble held concerts at Marian House and St. Vincent de Paul, performing for people experiencing homelessness. They will perform Thursday at the Hamilton Branch of the Enoch Pratt Free Library.
Anita Kahan, a junior undergraduate cellist and co-director of the Peabody String Sinfonia, says it is supremely gratifying to perform for the public.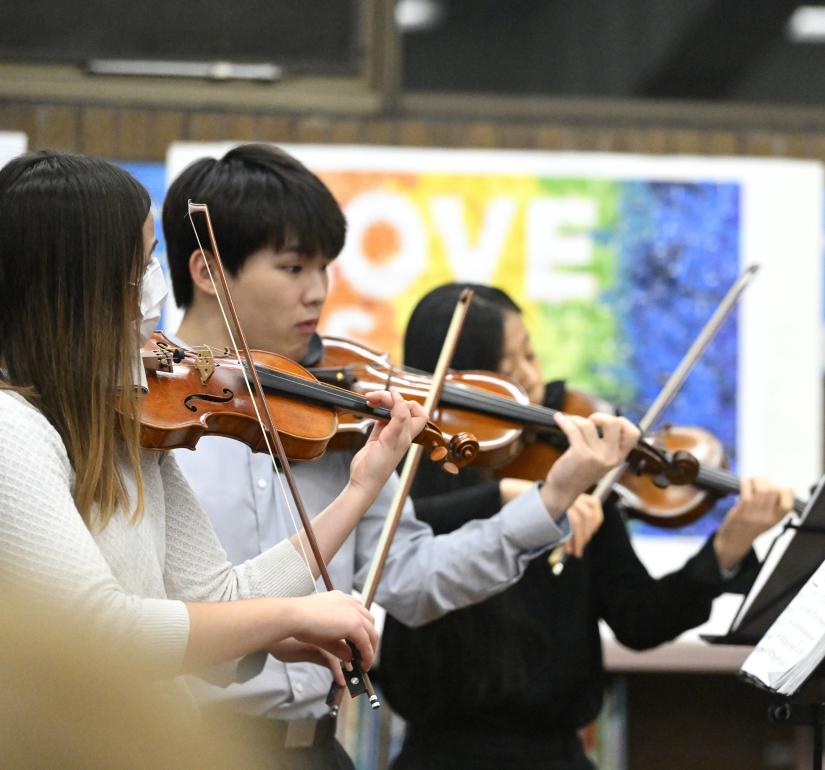 "They are usually very curious," she says. "We get a lot of questions afterwards about what life is like at music school and what our instruments are like, how we rehearse, and how we choose what music we play. It's really nice to be able to talk to the people that you are playing for."
To take in the sights and sounds of the Peabody at the Library concerts, the upcoming performances are:
Thursday, Dec. 8 at 6:30 p.m. at the Enoch Pratty Free Library, Hamilton Branch, featuring the Peabody String Sinfonia

Saturday, Dec. 10 at 2 p.m. at the Enoch Pratt Free Library, Washington Village Branch, featuring the Hsaing-Hsin Ching Duo

Tuesday, Dec. 13 at 1 p.m. at the Enoch Pratt Free Library, Brooklyn Branch, featuring soloist Benjamin Tran