As he prepares to step down from his longtime role hosting The Daily Show on Comedy Central, comedian Trevor Noah admitted during a keynote address to Johns Hopkins students that it's sometimes difficult to tell when it's the right moment to move on from a job.
"Life is infinite in its decisions," he told students tuning into his talk as part of the Horizons by Hopkins conference, held Wednesday and Thursday. "The number one piece of advice I would give people is this: Try to do the thing that you're good at doing with all the passion and gusto that you can. Just do it and, contrary to popular belief, the opportunities will start to present themselves. I think sometimes in life we spend so much time trying to get to the opportunity that we forget that the opportunity will get to us if we are doing what we do really well."
"Try to do the thing that you're good at doing with all the passion and gusto that you can."
Trevor Noah
Comedian
It's the same central advice espoused by members of the Johns Hopkins Office of Integrative Learning and Life Design: follow your passions and inspirations to build a fulfilling career. It's also the advice that helped Noah land the role of senior international correspondent for The Daily Show in 2014, and later helped him succeed Jon Stewart as host in 2015.
But opportunities can sometimes come in disguise, Noah noted. "Life isn't that obvious," he said. So he advised students to look for opportunities that align with their passions while also challenging them to grow.
"If it doesn't come with a challenge, I don't think it's an opportunity, to be honest," he said. "Ask yourself which option means you will have to change. And that's the one that I will often go with. … I firmly believe that growth lies in the discomfort, the learnings, the fear, the excitement, the anxiety. All these elements come together to create and forge a new type of growth."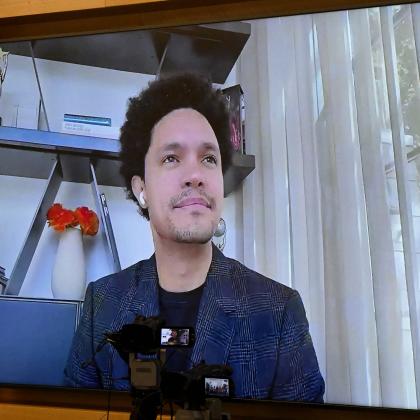 Horizons by Hopkins is the university's flagship career and professional development conference. Hosted and coordinated by PHutures, which oversees professional development and life design services for PhD students and postdoctoral fellows, the conference included keynote addresses by Noah and by CultivatedCulture.com founder Austin Belcak, as well as panel discussions and workshops on themes relating to professionalism, work culture, and career-building. Last year's Horizons by Hopkins conference received recognition at the National Association of Colleges and Employers' Excellence Awards competition.
Since 2018, Johns Hopkins has set a new course for how it supports students as they plan for their careers. The university has moved away from outdated modes of career services and instead launched programs and offices that emphasize experiential learning, mentorship, and life design, a principle that teaches students how to identify, like Noah recommends, those things that spark their passions and inspire them.
It's this final part of the puzzle that Noah seized on during his conference keynote, which was moderated by student volunteers.
"If [a job opportunity] is not aligned with your passions, it's a waste of your time, I'll be honest with you," he said. "And it's not a waste of your time because it won't give you money or because it won't be good for your career. It's a waste of your time because you only have a limited amount of time on this planet. … There's a limited amount of beats in a heart over a human lifetime."
It's our job, Noah says, to make sure we spend those heartbeats doing work we're passionate about.