10 members of the Johns Hopkins community were recently awarded the university's Career Impact Award, which recognizes those who have provided outstanding contributions to the professional development of their students and trainees.
Sponsored by the Office of Integrative Learning and Life Design, the awards were established in 2021 by the PHutures office to celebrate the individuals at JHU who are not career development professionals but who share expertise, networks, and support with trainees. The 10 winners were selected from a pool of 120 applicants and were celebrated Tuesday during a red carpet event at the Imagine Center.
"The award was established to draw visibility to students and colleagues whose efforts so often reside in quiet and little-known spaces—measures of selflessness, freely given day-by-day, that, taken together, are building a more excellent and empowered university community and, by extension, society writ large," says Roshni Rao, inaugural director of PHutures, which is dedicated to creating career opportunities for doctoral students and postdoctoral fellows at Johns Hopkins and beyond. "We gathered not only to celebrate our award winners, but to recognize all nominees whose efforts have made deep and lasting impressions on the community."
Nominators were asked to reflect on the support their nominees have shown along broad criteria. In their nominating letters, they spoke of mentors who provided above-and-beyond support and who forged an environment that enabled their colleagues to bring their whole, authentic selves to every interaction.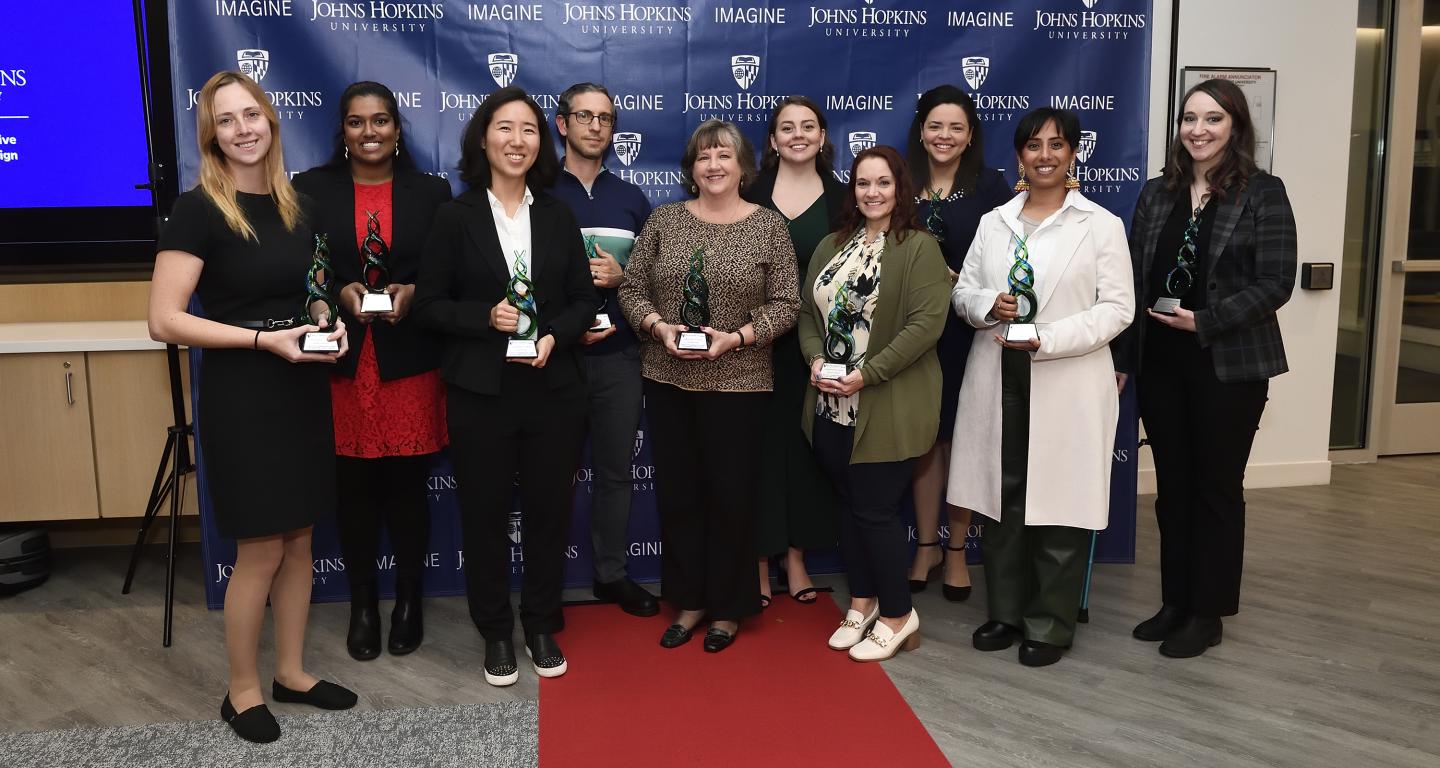 The winners and their bios are below.
Jennifer Alejo
Jennifer Alejo is a postdoctoral research fellow in the Johns Hopkins Department of Surgery, a surgical resident at Wake Forest University, and an aspiring transplant surgeon. She is also an alumna of the Johns Hopkins Krieger School of Arts and Sciences. Her current research focus is on COVID-19 vaccination outcomes in transplant recipients. Nominated by members of her research team, Alejo is quick to acknowledge the impact of mentorship on her own career, especially the career guidance she received from her primary mentor, Dorry Segev. She strives to give back to the Hopkins community by mentoring students and junior colleagues in her laboratory and loves helping her mentees identify and achieve their career goals, weather setbacks, and celebrate their wins, big and small.
Amelia Noor-Oshiro
Amelia Noor-Oshiro is a PhD student training as a social and behavioral scientist, specifically focusing on suicide disparities in minority populations. Her doctoral training is funded by the National Institute for Minority Health & Health Disparities, and Noor-Oshiro says she is honored "to be the first Muslim American to be conducting Muslim mental health research funded by the NIH, especially on the topic of suicide." She holds a Master of Public Health and certification in social determinants of health from the Columbia University Mailman School of Public Health, as well as a T32 predoctoral fellowship in trauma and violence research and a certificate in public mental health research from the Bloomberg School of Public Health. She serves as a commissioner to inform the Maryland State Suicide Prevention Plan and is among 16 fellows of the Yale Ciencia Academy for Professional Development and is an alumna of the Coro Fellowship in Public Affairs.
Akshaya Annapragada
Akshaya Annapragada is a third year MD/PhD student at the Johns Hopkins University School of Medicine. She holds degrees in applied mathematics and bioengineering from Harvard University, and was previously the managing editor of the Harvard Political Review. She is pursuing her PhD in biomedical engineering in the laboratory of Victor Velculescu at the Sidney Kimmel Comprehensive Cancer Center, and her research interests include cancer genomics, public health modeling, and machine learning approaches to precision medicine. She is passionate about health literacy and the intersections between mathematics and medicine, and is the co-founder and director of the Community Health Literacy Project, a national network of medical students and other professionals working to provide accurate and accessible health information to the public. Since CHLP's launch in June 2021, its accessible health materials have been viewed nearly 20,000 times.
Maggie Linn Bartlett
Maggie Linn Bartlett is a postdoctoral fellow at the Bloomberg School of Public Health. She holds a doctorate in immunology, pathology, and infectious diseases and a bachelor's degree in biotechnology. She has conducted work biological spectrum, including mapping a shark's brain, developing vaccines to parasites, uncovering the bat's immune system, and understanding viral clearance and persistence in immune privileged zones like the brain. Throughout undergrad and graduate school, she has received a National Science Foundation fellowship; presented at dozens of local, national, and international conferences; published high quality manuscripts; and mentored aspiring scientists. As a woman scientist who grew up with economic hardship and physical disabilities, Bartlett has supported and elevated aspiring students from backgrounds underrepresented in the sciences, including women, minorities, and people with disabilities.
Stacey March
"Program Mom" Stacey March joined Johns Hopkins in 2002, working in the Pathology Department's administrative office assisting the director and various administrators. She quickly developed a rapport with residents who frequented the director's office, as well as with the department's students and fellows during an annual poster session she has now managed for 20 years. In 2013, March transitioned into the Pathobiology PhD Graduate Program, where she took on a new role supporting the PhD graduate students, which she says has been "the most rewarding part of her career thus far." From recruitment and matriculation to program completion and graduation, March supports the grad students she advises through it all.
Marta Sliwa
Marta Sliwa is a PhD candidate in the Department of Chemistry at the Johns Hopkins Krieger School of Arts and Sciences. As a member of the Kempa Lab, Sliwa's research focuses on developing solution-phase synthetic methods that utilize porous ionic solids as precursors to form complex nanomaterials. Within the chemistry department, Sliwa has served as a ChemDNA mentor for the last two years, helping advise members of incoming classes of graduate students. She is also a member of the Chemistry Student Safety Committee and previously served as committee chair. Outside of the department, she is an operations associate with Hire Hopkins, where she helps apply data-driven approaches to plan and execute hiring initiatives for students across all nine JHU schools, also consulting and providing support for other university-wide hiring initiatives. She is also vice president of marketing and communications for the Johns Hopkins Product Management Club. She is a returning member of the Horizons by Hopkins Conference Planning Committee, and served as a mentor for last year's inaugural "Empower Your Pitch" competition at JHU.
Sea On Lee
Sea On Lee is a postdoctoral researcher in the Fried Lab of the Department of Chemistry in the Johns Hopkins Krieger School of Arts and Sciences, where she also completed her PhD. Her research focuses on achieving an "undying" biological factory in which long and repetitive proteins are produced via a loopable translation and secreted out of the cell in real-time. A great highlight of her PhD study was supporting the professional development of her peers, which she says she finds to be "another form of personal growth in disguise." Through collaborations with researchers in other laboratories, she learned about piezoelectricity and RNA exosome transfection, and together, she and her colleagues collectively built positive partnerships with what she calls her "academic allies." The partnerships "enriched all of us with mutual learning opportunities," she says. Also, as a tech-transfer liaison at Nucleate Baltimore, she supports the next-generation of life science leaders.
Ashley Kiemen
Ashley Kiemen is an assistant professor of pathology at the Johns Hopkins University School of Medicine. She received her PhD in chemical and biomolecular engineering from Johns Hopkins in 2021. Her research focuses on the use of three-dimensional tissue imaging and deep learning for study of the microanatomy and structure of pancreatic cancer. She has spoken at more than 20 national and international conferences, and mentored of undergraduate and graduate students in the Johns Hopkins community. Nominated by one of her mentees, Kiemen has been recognized for the guidance she shows to the students she advises, for helping them find the answers to their questions and for instilling in them the habits that will make them successful researchers and scientists.
Wanda Figueroa-Cuilan
Wanda Figueroa-Cuilan is an postdoctoral fellow under the National Science Foundation Postdoctoral Research Fellowship in Biology. She works in the laboratory of Erin Goley in the Department of Biological Chemistry at the Johns Hopkins School of Medicine. Originally from Arroyo, Puerto Rico, Figueroa-Cuilan received her PhD in biological sciences from the University of Missouri-Columbia, where she used cellular and molecular approaches to understand the mechanisms that govern cellular division and antibiotic resistance pathways in the plant pathogen, Agrobacterium tumefaciens. At Hopkins, Figueroa-Cuilan investigates the human pathogen, Rickettsia parkeri. Described in her nominating form as a paragon of "grit," Figueroa-Cuilan has been a mentor to several trainees in the research lab and her primary goal has been to promote, support, and motivate trainees. Outside of the lab, and inspired by her own life challenges, she has participated in programs and organizations that advance and support trainees in STEM fields who come from low socioeconomic or underrepresented backgrounds.
Panagis Galiatsatos
Panagis Galiatsatos is an assistant professor at the Johns Hopkins School of Medicine in the Division of Pulmonary and Critical Care Medicine. He is co-chair of the Johns Hopkins Health Equity Steering Committee and is the co-director and co-founder of Medicine for the Greater Good, a novel medical initiative impacting over 10,000 Baltimore City residents. He has published over 80 research articles, with a focus on health equity, community engagement, and contextual-level variables impact on health outcomes, and is a co-author of the book series, "Building Health Communities." During the pandemic, Galiatsatos and colleagues coordinated community engagement to assure all populations were able to access COVID-19 updates and resources in an effort to assure compliance with public health requests, ultimately culminating with a medical-scholastic initiative called the Health Education and Teaching Corps that has recruited hundreds of local and university volunteers. He has been recognized with the Career Impact Award for his strong record of mentorship, including his work launching bi-weekly "X-ray Rounds," a virtual event where he teaches Hopkins students and high school students in the Baltimore area to read chest X-rays and CT scans.