Johns Hopkins University will unveil a new digital dashboard for students later this month, a streamlined, personalized online destination that brings together relevant information from several university systems, including the Student Information System (SIS), financial aid, student case management, and the JCard office. In the future, data from the Canvas learning management system, career services platforms, and other systems will be incorporated.
The Student Dashboard—accessible to anyone with a JHED ID and anyone with proxy access to a student's SIS account—will become the SIS Self-Service portal landing page, a central, mobile-friendly resource for students. Content on the dashboard will be specific to the user, pulled from underlying systems and websites. The dashboard is scheduled to go live on Nov. 21.
The Student Dashboard is part of the university's Digital Experience Platform project, launched last year to modernize and bring consistency to the digital experience for students, parents, faculty, and staff across a broad array of university systems. The project is part of the universitywide Student Services Excellence Initiative, or SSEI, which was launched in 2016.
"The SSEI project has been incredibly successful over the past six years at instituting new technologies, services, and processes that have meaningfully improved the JHU student experience, from admissions through career services," said Professor Stephen Gange, executive vice provost for academic affairs. "With many of these systems now in operation, the Digital Experience Platform project is a natural next step to harness modern, mobile-friendly IT design to foster a personal, intuitive, and efficient interface to these systems. We're centralizing in one location many of the things that should be easy for students to do."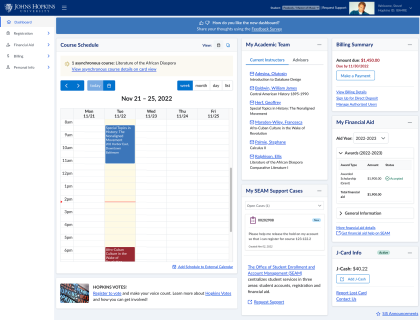 Gange added that he and the entire SSEI team are grateful to the many students who have been involved in the design and testing of the initial release. Project leaders noted that the dashboard will evolve as new enhancements are added in future releases, giving students easy access to grades and transcripts, course search and information, relevant career opportunities, and more.
The Digital Experience Platform is one of four major projects of the current phase of SSEI, which began this past summer. Other areas underway include selecting and implementing new academic advising tools, exploring alternatives to the existing Student Information System, and developing better governance for student data captured across the university's nine academic divisions.
"These are important opportunities to continue improving student services," said Jim Aumiller, executive director of SSEI and senior associate dean for strategic initiatives for the Whiting School of Engineering. "In each of these cases, our goal with SSEI is to deliver thoughtful, modern, efficient solutions that better support our students on their academic journeys at Hopkins."