About 150 attendees—students, faculty, and staff&mdasdh;took part in Johns Hopkins University's first-ever Latine/x and Hispanic Heritage Celebration luncheon on Thursday, Sept. 29, at Scott-Bates Commons on the Homewood campus. The event, hosted by the Center for Diversity and Inclusion, was designed to bring together those at Hopkins who identify as Latine/x or Hispanic and foster a sense of connection and belonging.
Participants heard from keynote speaker Inez Stewart, senior vice president of human resources for Johns Hopkins Medicine, and took part in an Afro-Peruvian dance lesson. They also heard from representatives for Latino Alliance, an employee resource group, and OLÉ, a Latinx student organization.
"Events like these provide us with an opportunity to meet other Latinx peers in the university," said Sebastian Rubio, a graduate student pursuing a PhD in mechanical engineering. "As a matter of fact, I met an undergraduate student from Colombia. She told me I was the first Colombian person she had met since she began her studies here at Hopkins. Being one of the few Latinx students on campus can be very isolating, especially if these students are in environments that are not diverse.
"When I heard Inez talk about her life experiences, I resonated with her 100%. It's as if she was telling my life story. We need more successful Latinx people talking to us undergraduates and graduate students, so that we can continue persevering despite being in an environment that may not be entirely suitable for us."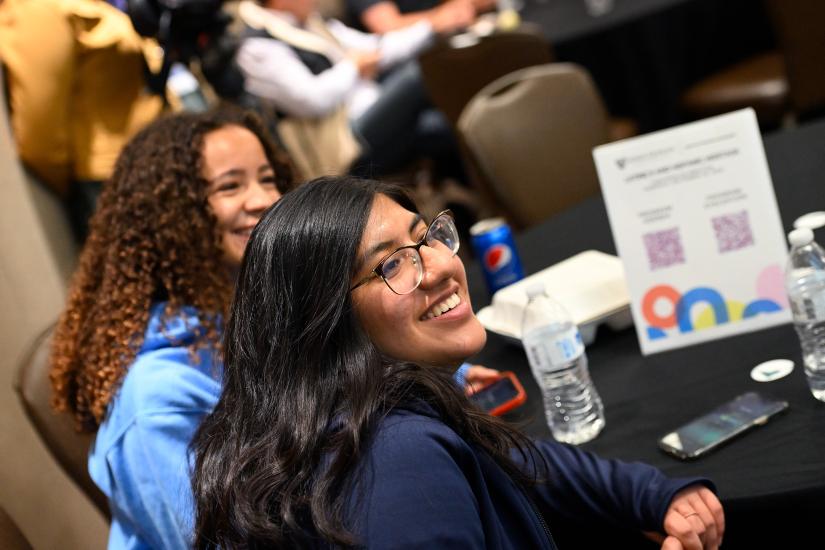 The event was part of university programming for National Hispanic Heritage Month, which runs from Sept. 15 to Oct. 15 each year and serves as a celebration of the many important contributions members of the Hispanic community have made in the U.S. and around the world.
"The event not only provides a space for Latinx and Hispanic students to celebrate their identity and culture, but also allows for those wanting to learn about our heritage to have an open and welcoming space to do so," said senior Sofia Angel, one of the students who helped organize the gathering. "By hosting this event, Hopkins highlights that they value us and everything that we have to offer."
Added Katelyn Martinez, deputy director of diversity and inclusion special projects: "Our goal with the Latine/x and Hispanic Heritage luncheon was to stimulate and encourage an important part of our culture—connection. It was a running theme throughout this inaugural event, which celebrated the rich culture and history of Latine people."
Later this month, the Center for Diversity and Inclusion will celebrate Indigenous People's Day with a Pow Wow on Monday, Oct. 10, and LGBTQ History Month with a Drag Brunch. More information is available on the Center of Diversity and Inclusion website.