Local leaders join Johns Hopkins to celebrate the impact of working together, investing in Baltimore Johns Hopkins Office of Economic Development releases its first Impact Report, which highlights initiatives and partnerships
Johns Hopkins celebrated community partners who have helped amplify wide-ranging economic impact of its investments in Baltimore communities on Wednesday afternoon during an event at the Garage at R. House.
Local entrepreneurs, non-profit leaders, and community organizers joined university and health system leaders to recognize the importance of working together to help make a difference in the lives of Baltimore's residents and help the city's communities reach their greatest potential.
"We can't do this alone; we can only do it together. More importantly, we
will
only do it together."
Alicia Wilson
Vice president for economic development
It was fitting, then, that the Johns Hopkins group central to so much of that work, the Office of Economic Development, chose the occasion to announce that it will soon have a new name—the Office of Economic Development and Community Partnerships.
"We can't do this alone; we can only do it together," said Alicia Wilson, vice president for economic development for Johns Hopkins University and Health System. "More importantly, we will only do it together."
The event coincided with the release of the first-ever Impact Report produced by the Office of Economic Development, which highlights the work and partnerships that have helped grow and strengthen businesses and communities in Baltimore over the past three years.
During that time, Johns Hopkins has remained firmly committed to its signature economic inclusion initiative, HopkinsLocal, which has led to the hiring of more than 2,400 Baltimore residents from targeted neighborhoods and more than 900 returning citizens since 2016, as well as contracts totaling more than $270 million with minority-owned, women-owned, or disadvantaged business enterprise contractors.
The institution also launched programs in direct response to the impact of the COVID-19 pandemic, including the East Baltimore Food Access Initiative, which facilitated the distribution of more than 6 million meals to families in need, and the Johns Hopkins Health Education and Training Corps, designed to teach K-12 students about the public health response to COVID-19.
"Today's proceedings are a true testament to the power of our partnerships in this city and a moving reminder of the simple truth that Hopkins and Baltimore flourish together," JHU President Ron Daniels said. "Johns Hopkins is so, so proud to call this city home. And over the last decade, we have doubled and redoubled our commitment to deepening and forging meaningful and lasting partnerships—like the ones we have seen today—with neighbors and community organizations to determine how best to utilize our resources and expertise and energy to meet the needs of this city and the hopes of its citizens."
The event, titled Celebrating the Sweetness of Baltimore, included sweet samples from a selection of local businesses, including Berries by Quicha, Capital Kettle Corn, Deddle's Mini Donuts, and Taharka Brothers Ice Cream. It also included a panel discussion, moderated by Wilson, on the power of partnerships featuring:
Angus Derbyshire, assistant director for pro bono at Maryland Legal Aid, which has partnered with Johns Hopkins on four expungement clinics over the past two and a half years that have helped 423 individuals clear 1,354 charges from their records, saving them $17,760 in legal fees
Cheryl Washington, president and CEO of East Baltimore Development Inc., which has partnered with Johns Hopkins on a 20-year, $1.8 billion revitalization of East Baltimore's Eager Park neighborhood
Kim Williams, co-founder of KJ Design & Mortar Styling interior design and one of the 92 entrepreneurs highlighted by the Entrepreneurship Matters digital conversation series launched by the Johns Hopkins Office of Economic Development in 2020
German Villatoro, president of Villatoro Construction Corporation, a minority-owned, Baltimore-based business that has worked with Johns Hopkins on multiple projects and was bolstered by the BLocal BUILD College program
Melvin Wilson, executive director of Turnaround Tuesday, which works to prepare returning and unemployed citizens to rejoin the workforce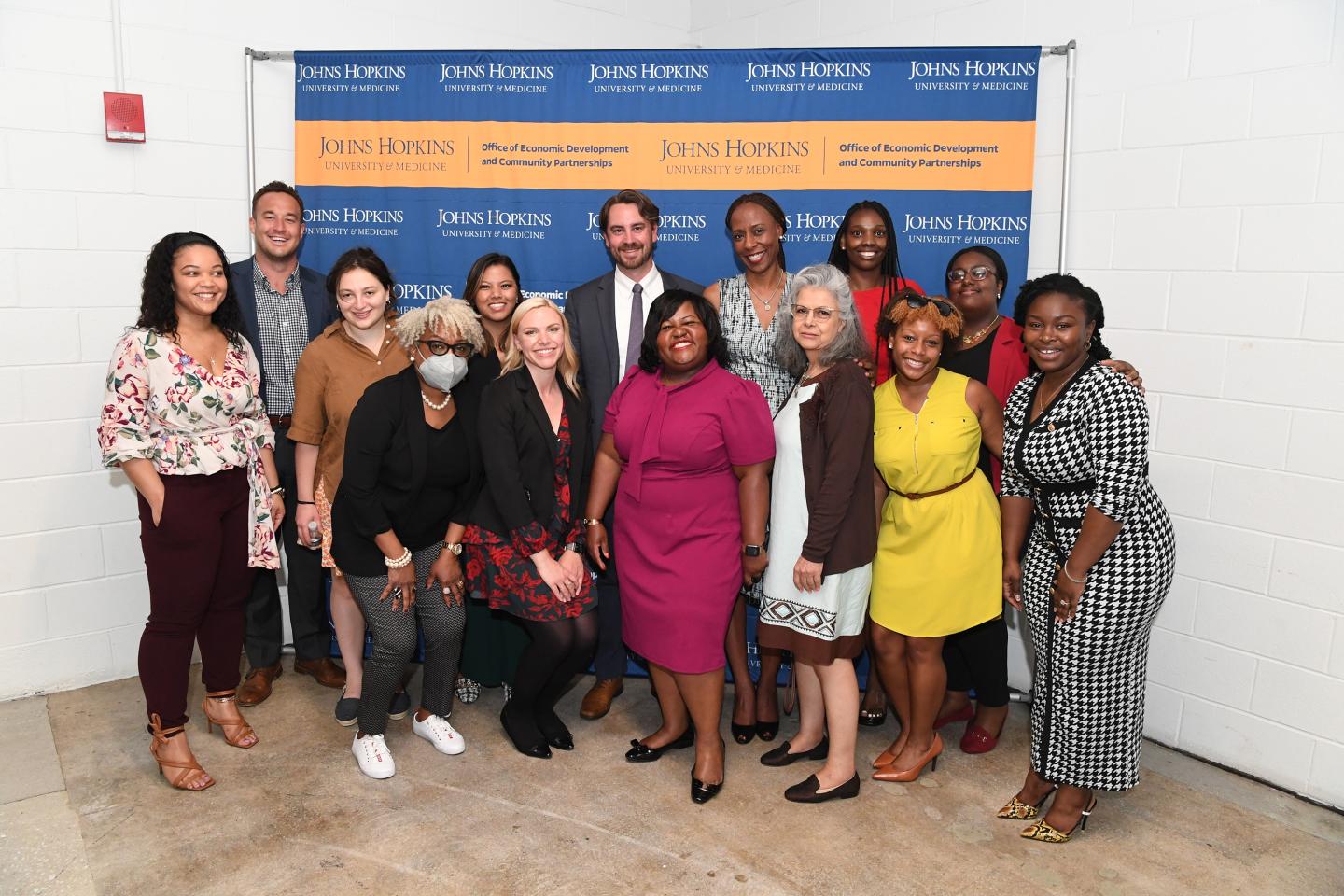 "The work that we've done over the past three years necessitates that our name change and evolve to the Office of Economic Development and Community Partnerships," Wilson said. "That is really reflective of the great work that our team has done creating community partnerships that didn't exist before, and those that did exist, enhancing them."
Added Kevin Sowers, president of the Johns Hopkins Health System and executive vice president for Johns Hopkins Medicine, in a recorded message played during Wednesday's event: "As a member of the Baltimore community, Johns Hopkins' success and the success of our neighbors are intertwined. Creating a strong future for all of us requires our continued development of, and participation in, programs and initiatives that will positively impact the social determinants of health for families in our communities for many generations to come."
To read the Office of Economic Development Impact Report, visit https://www.jhu.edu/oedcp.