Chemist Rebekka Klausen was named a finalist for the 2022 Blavatnik National Awards for Young Scientists, the world's largest unrestricted prize honoring early-career scientists and engineers. Three winners—in life sciences, chemistry, and physical sciences and engineering— will be named on June 29, each receiving $250,000.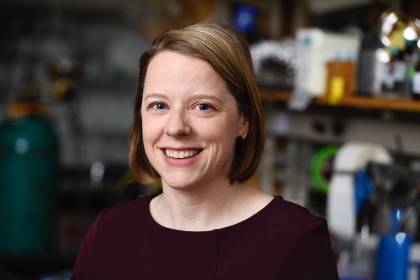 Klausen, Second Decade Society Associate Professor in the Department of Chemistry, repurposes polymer chemistry to upend the process of manufacturing electronics. Instead of carving up 12-inch-wide silicon crystals into computer chips, she creates silicon molecules and polymers atom-by-atom to build tailor-made electronic devices. The strategy relies on an unparalleled level of control that she has demonstrated synthesizing silicon-based molecules. Klausen is also advancing methods to more effectively mix different kinds of plastics, which is key to mixed-stream recycling. Her work will shape future technology from computers to sustainability.
"I am grateful for this honor and the recognition of the importance of basic science. I also want to thank the wonderful JHU students who have contributed to this work. We look forward to continuing to push the boundaries of silicon synthesis and polymer chemistry," Klausen said.
The honorees were chosen from a highly competitive pool of 309 nominees from 150 leading universities and scientific institutions from 38 states across the United States. Previous honorees have gone on to help develop COVID-19 vaccines and diagnostics; identify sustainable energy and battery technologies; tackle climate change through novel technologies, such as next-generation photovoltaics and sustainable new materials; and find cures for treatment-resistant diseases. Many also have received other honors, including being elected as fellows to the National Academy of Sciences or selected as MacArthur Foundation fellows.
The Blavatnik Awards for Young Scientists, established by the Blavatnik Family Foundation in 2007 and independently administered by the New York Academy of Sciences, began by identifying outstanding regional scientific talent in New York, New Jersey, and Connecticut. The Blavatnik National Awards were first awarded in 2014 and expanded in 2017 to honor faculty-rank scientists in the UK and Israel.