High school students from Baltimore City and the surrounding area designed, built, and tested miniature roller coasters at Johns Hopkins University last weekend.
The teams of students learned about engineering principles from Johns Hopkins researcher Rachel Smith and sketched out plans on a whiteboard before putting their knowledge to work, using pipe insulation tubing, boxes, tape, and other household items to create their tracks. Undergraduate and graduate students from Johns Hopkins University and Morgan State University guided the teams.
Marbles were rolled down the tracks to test the finished structures. Judges evaluated the coasters on speed, creativity, and "thrill" factor.
The goal of the event was to encourage more women and members of underrepresented minority groups to enter STEM fields. In the opening remarks, Sridevi Sarma, co-founder of the event and associate professor in the Department of Biomedical Engineering, explained why diversity is so important.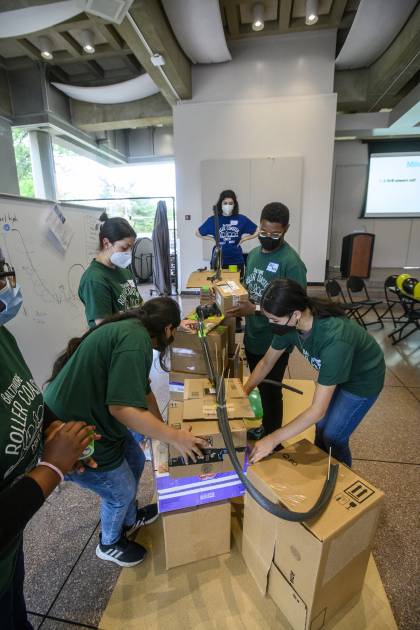 "There's been plenty of evidence and rigorous studies which show when you make teams more diverse, the actual outcome, whether it's a product or scientific finding, is always greater when you have people from different backgrounds," said Sarma, who is also associate director of the Institute for Computational Medicine and vice dean for graduate education and lifelong learning at the Whiting School of Engineering.
Students also learned from a lecture on physics. Stacy, a student from Baltimore Polytechnic Institute, said, "I learned a lot in the presentation. It's fun and it boosted my desire to learn more about physics."
After a quick lunch break, it was time to construct. Some designs started out six feet in height. Teams tested sections of the tracks to see if their model would perform.
That competition is what sparked interest for Ishanty, a student at Western High School in Baltimore. "I did a Science Olympiad and I really loved it," she said. "My biology teacher does programming outside the school. He forwarded it to me. I love competition, so this is great."
The students also took a break in the afternoon to attend career development stations. Christopher Hunt, from the Neuroengineering and Biomedical Instrumentation Lab at Johns Hopkins, shared a demo of a robotic limb. Students wore an electrode bracelet to test calibrating and controlling the robotic hand.
At another career station, Johns Hopkins researcher Nzinga Mack talked to students about careers in STEM. They played a game, matching useful skills to careers in STEM, such as professor, doctor, and computer scientist.
After the students finished building their roller coasters, they presented their finished product to judges from Johns Hopkins University. Brandon Bukowski, Jessica Dunleavey, Ben K.D. Pearce, Patrick Meyers, and Wangui Mbuguiro served as panelists. Mbuguiro was the leader of this year's event.
The finished projects impressed the judges. "Across the groups, there was an amazing highlight of physics principles with creating and spending kinetic energy, a focus on the influence of height and 'drops' to lead into elements that cost energy," Dunleavey said. "The winning team spent more time testing run throughs and creating backup systems to keep the track on course."
Winners received prize tickets from the B&O Railroad Museum and Maryland Science Center.
This is the first-time high schoolers participated in the event. Students from Baltimore Polytechnic Institute and Western High School participated. In previous years, Girl Scouts participated in this competition.
The roller coaster competition started in 2018 through a grant from a L'Oréal USA Changing the Face of STEM mentoring grant.
Sarma says these types of team events help expose students to problem solving often used in STEM classes and careers. And Dunleavey says creating roller coaster tracks is a great way to take any fear out of physics. "We've all run an obstacle course or jungle gym or made a track for toys," she said. "By explaining how you can optimize the track to take advantage of energy principles, the event added an extra layer of science and knowledge to a common activity."