At a Hopkins Symphony Orchestra concert on Saturday, April 23, the featured soloists will include a pianist, flutist, and violinist—students who don't major in music, but rather in STEM fields.
They're the winners of the biannual Hopkins Symphony Orchestra Concerto Competition, which honors students not majoring in music with the distinction to perform featured concertos of their choosing during an HSO concert.
Freshman Alan Mao developed a passion for the piano early in his life. He started playing when he was 4 years old, inspired by his older sister, Sarah, who was the first in the family to play an instrument. His fascination for the sciences led him to pursue biomedical engineering at Johns Hopkins, later adding a major in computer science, but his passion for music hasn't faded.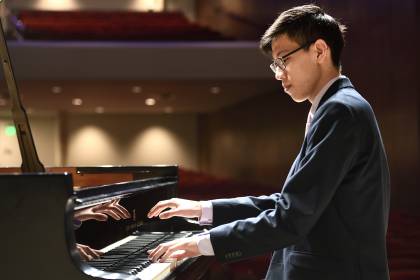 He'll be on stage with the HSO for the first time at the April concert, performing César Franck's Symphonic Variations. Mao says the Symphonic Variations, written in 1885, was one of the last works Franck composed—and the work Franck considered to be one of his greatest. Mao describes the piece as a unique take on theme and variations, which lack the distinct movements found in a typical concerto.
"The beginning introduces two themes that evolve and intersect, resting into a dreamlike middle section before returning full force in a jubilant finale," Mao says. "I really love … the frequent dialogue between the piano and orchestra; rather than planting the soloist in the foreground, Franck creatively weaves them throughout the orchestral tapestry, creating many layers of musical textures and colors to explore."
Mao says he has carried the Symphonic Variations with him for a long time, entering them in prior competitions, but he never made it far enough to perform them as a concerto.
"Looking back, I think every failed attempt showed me a different way to approach the piece and motivated me to delve deeper into the score," Mao says. "Being chosen as an HSO winner—it means a lot. For me, it's proof that you should never give up on something you worked hard for."
Yoyo Jiang began playing the piano when she was 3 years old, even attending a piano-oriented kindergarten program, but when she chose to play the flute for her sixth-grade band, she developed a passion for the instrument. A freshman at Hopkins, Jiang was inspired to major in physics after taking an AP physics course in her senior year of high school.
This is her first semester playing with the HSO, and she'll perform the first movement of Carl Reinecke's Flute Concerto with the orchestra. Reinecke, Jiang says, was one of the few Romantic composers who wrote for flute, and this solo concerto is one of the standards in flute repertoire. Jiang says she's looking forward to playing the piece with the orchestra in April.
"As flute players we are often trained to be orchestral and chamber musicians and rarely soloists," Jiang says. "I'm very excited to be able to perform with the orchestra after not being able to play any ensemble music for two years."
While freshman Sofia Taylor loves playing the violin now, she admits to hating the instrument when she first started playing at the age of 5. That all changed when she joined a small community orchestra in Albuquerque, New Mexico, when she was 13. Both her parents are mathematicians, and she developed an affinity for the subject, choosing to study applied mathematics at Hopkins. She says that she wanted to be able to study math while also growing as a musician.
"I picked Hopkins because I get access to a world-class conservatory without having to major in violin performance," Taylor says. "I get to take violin lessons at Peabody and pursue the music minor at Homewood. In addition to HSO, I play in a piano trio through the Homewood Chamber Music Seminar, so it's been great to keep playing violin seriously."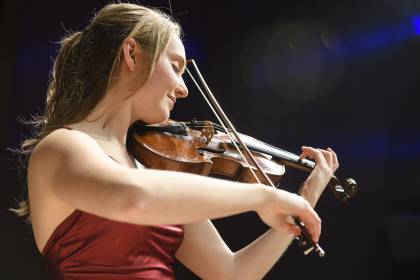 She auditioned for HSO in September 2021, saying she enjoys the experience of playing with people of different ages, backgrounds, and professions. At the April concert, she'll be performing the first movement of Sergei Prokofiev's Violin Concerto No. 2 in G minor. Composed in 1935, the piece is the first 20th-century concerto Taylor learned; it is also the concerto movement that earned her second place at the Jackie McGehee Young Artists Competition in 2020, the first competition in which she placed, she says.
The piece opens with a solo violinist playing the main melody, which Taylor describes as a "spooky" five-beat melody in 4/4 time, creating a sense of unease. Taylor says the piece ends unconventionally as well, with two dry pizzicato thuds from the orchestra. She's most looking forward to hearing the piece performed together with a full orchestra.
"As a violinist, most of my time with my violin is spent practicing alone, imagining the orchestra part, so I'm very lucky to actually get to play with the orchestra, especially HSO," Taylor says.
The HSO concert featuring the concerto competition winners is scheduled for Saturday, April 23, from 7:30 to 9 p.m. in Shriver Hall on the university's Homewood campus. Tickets are available for purchase.