On the eve of the 2021 season, Johns Hopkins women's volleyball head coach Matt Troy reminisced about his team's last match at the Final Four. The games, held inside U.S. Cellular Center in Cedar Rapids, Iowa, witnessed the Blue Jays dethrone the reigning Division III national champion Emory Eagles to cap off a fairy-tale season. The title was the program's first, and Johns Hopkins (35-0) became just the third team in Division III history to be crowned undefeated national champions.
Troy recalls the surreal feeling on the court after icing a perfect season, but one could forgive Troy if he's a bit fuzzy detailing events in the ensuing 24 hours post- victory. After all, it was 20 months ago: Nov. 23, 2019. Since then, women's volleyball and other JHU fall sports teams have been mostly mothballed owing to the COVID-19 pandemic and associated NCAA cancellation of regular season and playoff games. It wasn't until this past spring that these teams slowly resumed athletics activities, first remotely and then in person.
"[Our team] played three scrimmages in the spring, and we had one preseason scrimmage. But this will be our first official match since [we won the title]," Troy said, before JHU's Sept. 3 game vs. St. John Fisher College in Ithaca, New York. "Isn't that crazy?"
Just hours before the women's volleyball team bested Emory those 20 months ago, the Blue Jay women's cross country team brought home its sixth national title, all within the past eight years. Head coach Bobby Van Allen, now in his 22nd season in charge, has built a harrier dynasty. The team has finished in the top five of each of the last eight NCAA cross country championship meets and has won 12 straight Centennial Conference titles.
Both teams entered the 2021 fall schedule as defending champions after a season that wasn't and with rosters bearing little resemblance to the squads that had won it all. Many of the student athletes graduated in 2020, and each team features a bevy of underclassmen who have never competed in their respective sports on the collegiate level.
The volleyball team literally doubled in size, going from a lean 11 players in 2019 to a deep roster of 22, with 15 who are either freshmen or sophomores.
"Technically, we're defending national champions since there was no national champion last year. But we're such a different team in many ways," says Troy, adding that only five from that national champion team remain.
The five returners include first-team All-American Simone Bliss, who was named the Most Outstanding Player of the NCAA Championships after tallying 21 kills in the title match. Bliss, now a graduate student, received an extra year of eligibility because of the missed season. She is joined by seniors Natalie Aston (setter), Eleni Panagopoulos (middle blocker), and Lauren Anthony (middle blocker), and junior Annelisa O'Neal.
Last fall, with no season, the volleyball team members turned into regular students during COVID times. They watched Korean dramas on laptops. Group texted and FaceTimed. Ordered Uber Eats. To stay in shape and with most gyms closed, players crushed YouTube workouts in their apartments or at home. And they attended classes, albeit remotely. "I had so much more time to study. My grades improved," said Bliss, who majored in mathematics as an undergrad and is now pursuing a master's degree in the subject.
But eventually it dawned on Bliss and others that this was the end of the line for the team as they knew it. Several players who planned on making a repeat run at the championship in 2020 would be graduating soon and moving on. Bliss said that reality hit them hard.
Technically, we're defending national champions since there was no national champion last year. But we're such a different team in many ways
Matt Troy
Volleyball Head Coach
"It was pretty devastating," Bliss said. "Especially because even though Natalie and I get to come back, Morgan (Wu), and Nicole (Hada) and Rachel (DePencier)—our classmates who we've played with every year since we came to Johns Hopkins—we will never get to play with them again." Aston, a senior who was also allowed, owing to NCAA guidelines, an extra year of eligibility to play varsity sports, says that she recalls a lot of sad FaceTime sessions with teammates last fall. "We talked a lot because we missed each other so much, and we also knew our time on the court together was coming to a close," she says. "We never had that final game with them."
Women's cross country also had to overturn its roster. The squad lost five key athletes from the 2019 title-winning team: Rebecca Grusby, Therese Olshanski, Kristin Meek, Ariel Keklak, and Sam Levy. Battling wet and miserable conditions in Louisville, Kentucky, JHU finished with 125 points to earn the 2019 crown. Levy, Grusby, and Keklak all finished in the top 25, while Meek finished 41st.
Senior Alex Ross, a standout from the outdoor track and field season and a member of the title-winning 2019 team, was named co-captain of the 2021 cross country team and Van Allen expects her to be a top performer. Ross said that it's been "weird" to have an almost completely new squad defend the national title, but the renewal allows them to forge a new team identity.
"It was nice to have the opportunity to work together, pack up and push each other in preseason. There are so many new faces. It's like a fresh start with no expectations," says Ross, a Glastonbury, Connecticut, native who is double-majoring in computer science and applied mathematics. "We entered the season with no real sense of where we—and other teams—stand as we're not alone in having a whole new roster."
Ross said that the time off from competition last year allowed her not only to focus on school but also to reassess her fitness. She increased her milage to 60 miles of running per week, focused on getting more sleep, and changed how she fuels her body throughout the day. More whole foods, less junk.
Her teammate and fellow senior captain Ella Baran also used the time off to focus on her fitness. Baran missed the entire 2019 season with an inflamed IT band, then later dealt with a stress fracture in her right leg. "I'm really trying to embrace cross country this year," Baran says. "For me, it's not about crushing workouts but staying healthy and building up that mileage base with the long-term goal of peaking in October and November."
Early on, the new approach has brought them results. In the Hopkins Kickoff Invitational held Sept. 2, Ross placed second in the 5k race with a time of 18:20.4. Competing in her first XC event since 2018, Baran was named Centennial Conference Athlete of the Week after placing second with a time of 18:21.5 at the John "Paddy" Doyle Meet of Champions held in the Bronx, New York. Hopkins, currently ranked No. 1 in the NCAA DIII Women's Cross Country National Coaches' Poll, convincingly won both races to start the season. (Volleyball and Cross Country aren't the only Jays having strong fall campaigns, as Johns Hopkins boasts four teams currently ranked either No. 1 or No. 2 nationally in DIII.)
Van Allen said that apart from COVID-19 protocols such as face coverings required indoors, the team's preseason was mostly normal, with group team runs at Druid Hill Park, NCR trail, and the neighborhoods around Homewood campus. With the varsity weight room temporarily closed, they shifted to outdoor yoga sessions at the Under Armour campus in Port Covington.
"I think the biggest difference this year was a shorter preseason, and a lot more freshmen and sophomores on the team," Van Allen said. Sophomores Paloma Hancock and Ashley Heidenrich are competing in their first XC season after running during the 2021 outdoor Track and Field campaign. Sara Stephenson, Brigid Selfors, and Diana Vizza all transferred in and will be expected to play key roles for the Blue Jays. After a standout debut campaign when she earned Centennial Conference Rookie of the Year, junior Katharine Priu will look to build on her 76th-place finish in Louisville that helped JHU win the national title.
"Coming into the season it's just hard to predict where we'll end up," Van Allen said. "But it's been good so far. The girls are pushing each other to new limits, the upperclassmen leadership is falling into place, and the hope is that it all comes together in November. There is a lot of talent in Division III cross country these days, and all we can do is our best from here on in to put ourselves in the best position possible when [championship] time arrives."
Meanwhile, the volleyball team has picked up right where it left off in 2019. The Blue Jays, ranked No. 1 nationally, ran their season-opening winning streak to 12 and overall streak to 47 with a recent sweep of Dickinson and makeup sets against Stevenson (29 days later due to a power outage in the season opener). It's the fourth-longest winning streak in Division III history.
And it's all been done wearing masks. Since they play indoors, Baltimore City health guidelines require that players where masks during home games, even while playing on the court.
"It's certainly different," Aston said. "I wish it wasn't on our mind, fixing the cloth and adjusting it during the game, the sweaty cloth sticking to your face. But everyone is going through it in our gym, and, actually, we're just grateful to be playing again. We missed this."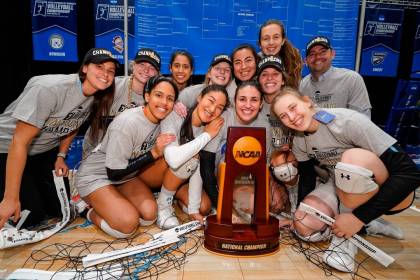 Bliss said that she's also very appreciative of the ability to play again, and in front of fans. She recalls the "incredible energy" of the crowds in Goldfarb during the team's run in 2019 and hopes to recapture that feeling this season as the team looks to repeat.
Before the season started, Troy stressed to his players that the team is once again an underdog, and that they must not lose the focus needed to achieve their goals of a conference championship and a deep NCAA playoff run. "Just like in 2019, we never talked about the prospect of an undefeated season or a championship," he said. "It's doing the right thing in practice. Taking care of one another. Teaching the younger players. We talked about how these are the things that help propel us to a national championship if we follow through on them. Very much everyone working together and let's see what can happen."
Troy admits he does still allow himself to savor some of the memories from 20 months ago. He mentions a coaches' conference he attended in winter 2019 in Pittsburgh's PPG Paints Arena, the site of that year's Division I women's volleyball championships. During the Final Four, they played on the big screen a highlight reel from Johns Hopkins' national championship run. "We had a lot of friends and family at the game, and I'm getting texts from all these people saying, 'Hey, you're on the big screen with your team.' That was really neat," he said. "And since we didn't have a season last year, I had more time to revisit those games and watch those clips. I will say I watched the [title] game more than a few times."
Next up: The Johns Hopkins Volleyball team's next home game is Oct. 8 vs. Salisbury at 4 p.m. in Goldfarb Gym; Women's Cross Country returns to action on Oct. 1 in Bethlehem, Pennsylvania, at Lehigh University.