How many cards do you send in a year? A dozen, 50, 200 if you're really industrious come holiday season.
How does 15,000 sound?
In a little over a year, the Cards for Courage team—founded by three Johns Hopkins undergraduates—had hit that number, sending thank you cards to health care workers on the front lines of the COVID-19 pandemic to let them know their work and sacrifices are appreciated.
Starting in winter 2020 with just three volunteers—founders Elaine Chiao, A&S '20; Anna Chen, A&S '20; and Archita Goyal, A&S '21—the Cards for Courage nonprofit has since grown to more than a thousand volunteers, spread around the globe, who offer messages of encouragement and support to their local health care professionals.
For Chiao, cardmaking has been a lifelong passion. Growing up, she would commemorate every holiday, celebration, and happy or sad moment in her family's life with a homemade card. She later learned calligraphy and used it to embellish her cards—and at JHU used the artform as meditative escape from her studies in molecular and cellular biology.
While doing research at the Johns Hopkins Hospital in the months before COVID, Chiao, Chen, and Goyal came up with the idea for what would become Cards for Courage.
"We saw a lot of patients who would come in and receive their chemo and just have to sit there for hours on end," Chen says. "Some of them didn't have friends or family that would come in with them, and we thought they could use a lot more emotional support."
The first cards were delivered to patients in the Palliative Care Department at the Johns Hopkins Oncology Infusion Unit in the winter of 2020. But soon after the deliveries started, COVID-19 struck.
As the trio read about health care workers' burnout, they realized they might be able to lift their spirits with personal handwritten cards. They began recruiting card-makers and other volunteers through social media and soon established an officer team to help with the logistics of contacting hospitals, arranging deliveries, and coordinating volunteers. The officers work with the hospitals and clinics to identify front-line workers and to schedule batch deliveries.
"It's been a great learning experience for how to manage and run a nonprofit, and learn what logistically needs to be done," Goyal says. "We just started reaching out to other organizations we found through social media to figure out the steps we needed to follow to become an official 501c3."
So far, the Cards for Courage team has worked with more than 1,000 volunteers creating cards and organizing deliveries in six countries. While the initial crop of volunteers was largely fellow Hopkins students, today cards are being made by elementary school students, retirees, Girl Scout troops, and others across the globe. Hopkins' international students who started their work in Baltimore have taken the project home, organizing deliveries in India, Pakistan, Taiwan, and elsewhere.
For Goyal, the first crop of international deliveries helped her realize that this project was growing far beyond what they had initially imagined.
With so many diverse hands at work, each card is different, a personal touch saying thank you to people on the front line of the pandemic. While the Cards for Courage website features templates, example messages, and video art tutorials for inspiration, many creators choose to follow their own muse.
Some volunteers tap into cartooning and calligraphy skills to create unique pieces of art for each card. Puns are particularly popular, especially when paired with animal or food puns. "Thank you for the koalty work you do." "We're rootin' for you." "Thank you for being mango-nificent." Apparently, there's something about card-making that brings out the inner Gene Shalit.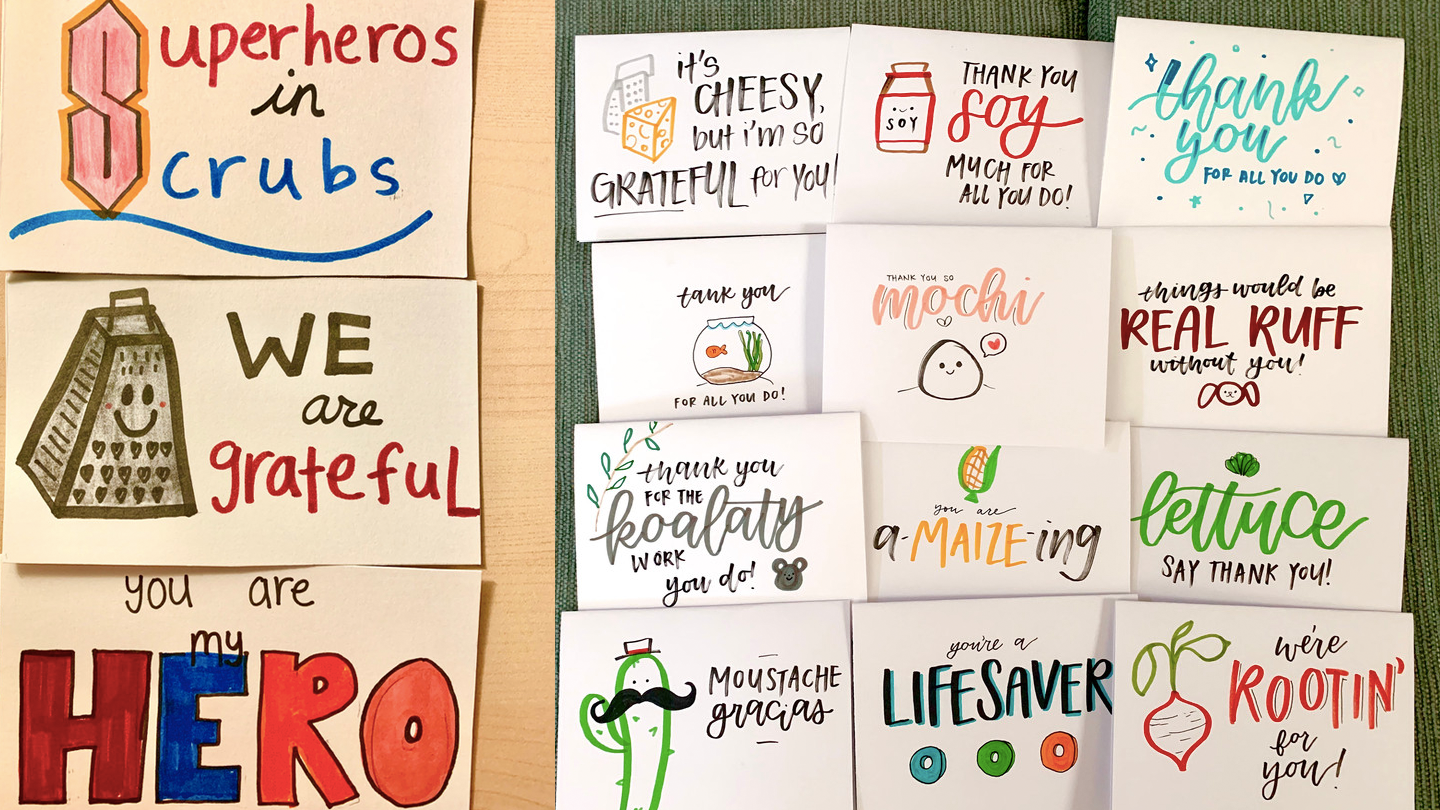 "I love seeing everyone's different styles of art," Chen says. "There's something so charming and touching seeing a card come from a kid who's just blasting their creativity out there, or from a retired teacher who just started drawing again for the first time in a long while. The creativity shows the recipients that this person was thinking of you and really put their hearts into it."
The Cards for Courage team knows the impact a simple message can have because they have received hundreds of thank you cards and messages from their recipients. Many of these messages are featured on the website and talk directly about how receiving them helped make the day or week better. As one laboratory manager wrote in response to a delivery: "It meant a great deal to my team that they received their own special cards and that they were handwritten. Thank you so much for brightening our day. This good feeling has lasted for longer than you can probably imagine."
"It's very encouraging to hear from people," Goyal says. "Especially toward the beginning when we were putting so much into figuring out how these things would work logistically, and our meetings were all online. There was no in-person interaction with hospitals, so getting this feedback is really motivating for us. I hope it does the same thing for the health care workers."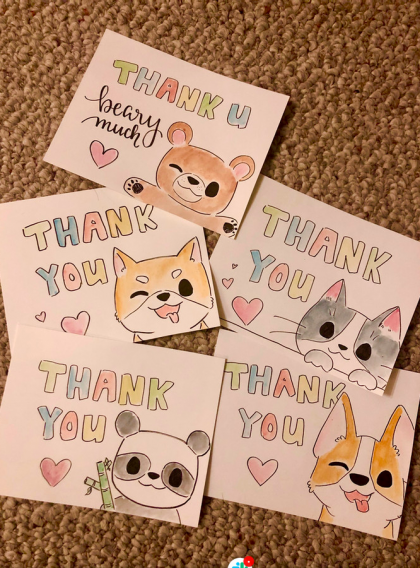 The team is currently planning the next steps for the Cards for Courage nonprofit. According to Chiao, currently a research technologist at Johns Hopkins Sidney Kimmel Comprehensive Cancer Center, there have been talks about larger care-package deliveries in addition to cards, and Chen, who is working as a clinical research coordinator at Stanford, says she's been exploring ways they can transition into mental health advocacy and awareness. One of the ideas for the future, she said, is a workshop series where they bring in mental health professionals who identify with underrepresented communities to talk about the ways the unique factors and identities of their communities can intersect with the field of mental health.
Despite the wide reach of the Cards for Courage campaign, Chiao says she's under no illusions about the impact of the group.
"Obviously, we know that delivering a card isn't going to give people the feeling that they have full emotional support or anything like that," Chiao says. "But I'm a firm believer in doing whatever you can, and this is something that I think adds to the things we can do and makes a difference in people's lives, little by little."