Lubna Azmi has found herself repeatedly on the front lines of immigrant rights, community building, and civic engagement.
As one of the founders of a mutual aid organization in her hometown of Manassas, Virginia, the Johns Hopkins sophomore helps coordinate local volunteers, organizes direct financial assistance to those in need, and advocates for the development of youth programs throughout the city.
She raised awareness of policies surrounding the Deferred Action for Childhood Arrivals program—commonly known as DACA—and coordinated protests outside the Supreme Court alongside Hoyas for Immigrant Rights. And as a high school student, she lobbied her school administration to provide resources for a recent influx of Central American immigrant students.
According to Azmi, this work isn't a choice; it's a calling.
"I'm a Muslim American woman. My parents are immigrants to this country. Because of that, my identity, how I've grown up, has been politicized," Azmi says. "And that applies to so many other people in this country and around the world. I have to work toward a world where there's acceptance and where there is care for people that are marginalized."
Because of her dedication to social justice causes, Azmi was selected as one of 16 Kessler Scholars at Johns Hopkins, a new cohort of first-generation students chosen for their interest in the liberal arts and dedication to civic engagement.
The Kessler Scholars program provides institutional support for first-generation students, connecting them with mentors, faculty members, and university staff who will help them become civic-minded leaders of the future. Students are selected for their interest in the humanities, dedication to civic engagement, and academic achievement.
"These students are so great because they're unafraid to go into a world that's undefined. Ambiguity is where they live, and where they can make their talents and strengths grow."
Stephon Hamell
Director of Scholars and Fellows in the Center for Student Success
The Kessler Scholars program is designed to offer first-generation students a support system in an environment that can sometimes feel unfamiliar and insular, says Stephon Hamell, who joined Hopkins as the director of scholars and fellows in the Center for Student Success in August. He runs the Hopkins arm of the Kessler Scholars program.
"Community is vital for [first-generation] students. There's a chance that they can feel isolated, and we want to provide a space and advising for them to thrive in college," Hamell says. "These students are so great because they're unafraid to go into a world that's undefined. Ambiguity is where they live, and where they can make their talents and strengths grow."
Azmi said that when she was applying to colleges, prestigious universities like Johns Hopkins felt out of reach. It was only through the support of mentors and teachers from her high school that she was able to navigate the complicated applications process.
"There are times where I feel like everyone else here has prepared their entire life to come here," Azmi says. "But I never expected to come here. As hard as I have worked, it could easily have been somebody else. It's not just about how hard you work. It's how well you know the application process."
Thanks to the generosity of Fred and Judy Wilpon, Johns Hopkins University was able to launch the Kessler Scholars Program this fall.
The program hosts monthly events for the cohort, including seminars on civic engagement; workshops on finding undergraduate research opportunities, internships, and study abroad options; and regular one-on-one meetings between Hamell and the students. Hamell says it's vital to connect these students with Hopkins' amazing cohort of humanities faculty and research opportunities.
Noran Shalby is a first-year student with a passion for journalism and history who was drawn to Hopkins' long legacy of writing programs. In addition to her journalistic experience at her high school newspaper, which she hopes to continue at Hopkins, Shalby was deeply involved as a literacy tutor in Baltimore.
A native of the city, Shalby attended public elementary and middle schools before transferring in ninth grade to The Bryn Mawr School, an all-girls private school in Baltimore. She says that seeing firsthand the disparity of resources throughout the schools opened her eyes to Baltimore's social inequalities.
"It's something I've seen written out starkly," Shalby said. "It motivated me to get involved with literacy, tutorship, and empowerment activities all throughout high school, and hopefully I can continue that here at Hopkins as well."
As a first-year student at Hopkins, Shalby said the Kessler program has been invaluable for introducing her to the resources available to her, like the Life Design Office and the Office of Multicultural Affairs.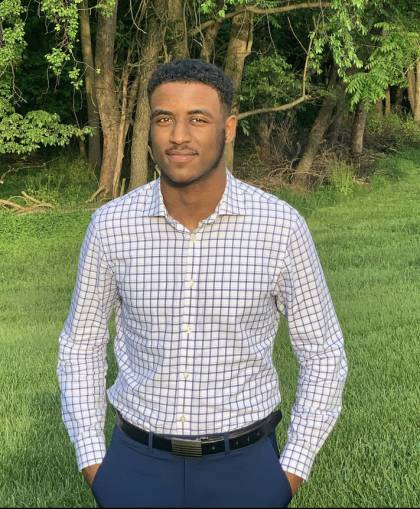 For Yomiyu Mekonnen, also a first-year student, the program has provided a social outlet for a socially distanced start to his college experience. The scholars meet frequently in breakout groups following Kessler programming, paired together based on their interests and future plans.
Mekonnen plans to study public health at Hopkins, an interest derived from a medical experience he had as a child, just after his parents emigrated from Ethiopia to the U.S.
"I was born prematurely, and my parents had just come to this country two years earlier," Mekonnen said. "I was in the hospital for two months, and they had to navigate the bureaucracy and deal with cost and insurance and all the other complicating factors. This really pushed me into looking into a career with health care, so I could figure out how to help families like mine. To figure out a way for everyone to feel safe and included."
According to Hamell, while the students of the inaugural cohort of the Kessler Scholars Program are the first to benefit from the support they receive, it's society as a whole that benefits from their engagement in the world.
"When you're a first-generation student as an undergrad, that's a space where you have to tell yourself 'I can be multifaceted. I can be a pioneer. I can be entrepreneurial, and I can be strategic,'" Hamell said. "When they leave us, they go into industries and career spaces, where they continue to have that lens and that helps them not only be successful in their careers but have an impact on the career space itself."