Name

Jill Rosen

Email

Office phone

443-997-9906

Cell phone

443-547-8805
A team of Johns Hopkins University graduate students that invented a sensor that ignores background noise and could improve everything from telemedicine to Zoom calls has won the runner-up award in the Collegiate Inventors Competition.
The honor, announced today, comes with a $5,000 prize. The annual competition, founded by the National Inventors Hall of Fame to encourage innovation and entrepreneurship at the collegiate level, was held virtually this year.
There were 10 finalist teams from nine colleges and universities. Johns Hopkins also had an undergraduate student team that made the finals. Judges were inventors and innovation experts including those from the National Inventors Hall of Fame.
JHU's winning team of graduate students is called "Hearo," a name that's a hat tip to their invention—an acoustic sensor that can detect very specific sounds within in noisy environments. The team of doctoral students leveraged the skills of Ian McLane, who'd already created an electronic stethoscope; Valerie Rennoll, who has a background in creatively using materials to minimize interference; and Adebayo Eisape, who specializes in creating objects that generate their own energy.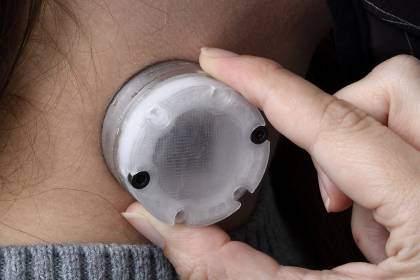 "I'm thrilled to have placed in the CIC, it is really rewarding to know that accomplished inventors think our device has the potential to make a real impact," Rennoll said.
The sensor the team created has many possible uses. It could be part of a wearable device that would detect a patient's vital signs for remote care-giving. If placed on dolphins or whales, researchers could track their sounds and calls. It could help bands record music without having to use a high-tech studio.
"Global crises and challenges don't stop innovation—they accelerate it," National Inventors Hall of Fame CEO Michael Oister said in a statement. "We are proud to recognize these young inventors who demonstrate the innovation mindset that empowers them to think big and solve the world's greatest problems."
The undergraduate team that made the finals, named Benegraft, devised a tool to make it easier for surgeons to perform rhinoplasties.
Johns Hopkins has had finalists in this competition 24 times, and 14 winning teams.