Three Johns Hopkins students were recognized recently for their achievements in poetry, music, and theater as 2020 recipients of the university's annual arts prizes.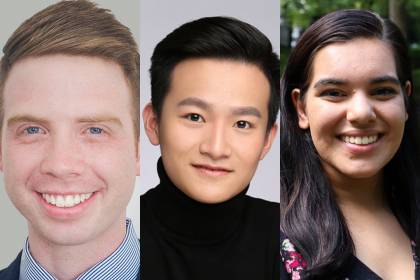 JP Senter, a fourth-year student in the School of Medicine, has been awarded the Louis Sudler Prize in the Arts for his poetry. The $1,500 prize honors amateur creators who major outside of their submitted artistic discipline, but have demonstrated a high standard of proficiency in the performing or creative arts.
Senter, who said he is inspired by fellow physician writers such as Rafael Campo and Louise Aronson, has had his poetry published in Bellevue Literary Review, The Examined Life Journal, and Panacea. He said he plans to become a pediatrician and hopes to use poetry to better connect with the children he treats and their families.
"As a medical student, I recognized how creative writing and poetry could challenge the traditional narratives that we use when talking about patients," Senter said. "With poetry I am able to access a more vivid, lyrical, and imaginative space to better understand the perspective of the patients with whom I interact."
Mofan Lai, a senior voice major, and Maya Singh Sharkey, a senior neuroscience major, received The President's Commendation for Achievement in the Arts, a service award honoring graduating undergraduate seniors who have contributed extensively to the arts in the Homewood and Baltimore communities. The winner of the President's Commendation receives a certificate, and their name appears in the commencement program.
Lai is a musician, photographer, and researcher who founded the Peabody Chinese Students and Alumni Association, and who has actively pursued the arts at Hopkins and in Baltimore. He has directed or co-directed concerts at the Walters Art Museum, Enoch Pratt Library, and Chinese Student Spring Festival galas. As the first recipient of the Dean's Incentive Grant, he organized three performances and two lectures in his hometown of Hangzhou, China.
"There is never hesitation in volunteering when I see merit in my service," Lai wrote in his artist's statement. "As a student, and a musician, I strive to present my value in the field of art."
Sharkey is vice president of studio productions for the Barnstormers theater company, serving as production manager for the company's productions, managing budgets, mediating conflicts, and ensuring that shows go off without a hitch. She is honored for her work with the group, which includes working to identify safety and accessibility issues in Homewood's Arellano Theater, and also ensuring the Barnstormers lineup is filled with diverse, representative work.
"Theatre has always been a place where I feel free to express my creative side, but at Hopkins I have been able to write and produce, as well as perform, vital theatre on campus," Sharkey said. "There is something incredibly special about live theatre and its ability to bring people and spark thought and empathy."
The Louis Sudler Prize in the Arts has been presented to undergraduate students with artistic talent since 1983. It was made possible through the generosity of Louis Sudler, a Chicago businessman and philanthropist who died in 1992. The President's Commendation for Achievement in the Arts was established in 1989 by Steven Muller, the university's 10th president, who served from 1972 to 1990.
"It is always a pleasure to review the applications for the senior arts prizes, as it provides the jury with yet another reminder of the amazing quality and variety of artistic talent possessed by Johns Hopkins students at all levels," said Winston Tabb, Sheridan Dean of University Libraries, Archives, and Museums and chair of the Sudler Prize Committee.
"But in a time when so many campus events are suspended—including concerts, art exhibitions, theater productions, etc.—it was especially uplifting to be reminded how fortunate we are to have such talented students in our midst, and to be able to give these graduates the recognition they so richly deserve."