The groundwork for a record-setting season started in the summer, with weekly group FaceTime chats and phone calls, three or four on the line at a time. "To get to know each other on a more authentic level," says head coach Matt Troy. That sounds like a good idea, and it's the type of team bonding mechanism that looks even better in hindsight—especially when the 10 members of this year's Johns Hopkins University women's volleyball team have authored the greatest season in program history.
And still have more to accomplish.
The Blue Jays are a perfect 29-0, won the Centennial Conference tournament this past weekend in dramatic fashion over visiting Franklin & Marshall, and are one of four No. 1 seeds in the 64-team NCAA Division III tournament. Beginning Friday night, Hopkins will host an NCAA regional for the first time ever, with eight teams competing at Goldfarb Gym for a spot in the NCAA quarterfinals in Cedar Rapids, Iowa.
Johns Hopkins, which will face Skyline Conference champion and unseeded Manhattanville (24-5) in a first-round matchup at 8 p.m. on Friday, has its eyes on a deep postseason run.
"We're looking forward to seeing if we can continue that climb," Troy said just minutes after Sunday's win in the conference championship match, the latest milestone in a memorable season that includes the longest win streak in Centennial Conference volleyball history.
In the conference tournament final, with the walnut-and-gold Centennial Conference trophy up for grabs and resting nearby on the sideline, the Blue Jays rallied from six set points down to win the first set 26-24. They won the second 25-23, then closed it out with a 25-20 win in the third. A familiar result, but a hard-earned one—Hopkins won in straight sets an amazing 24 times this season and didn't drop a set in 12 matches against conference opponents all year. The Blue Jays have lost just seven sets total.
Junior outside hitter Simone Bliss led the way against F&M with 15 kills and was named the Centennial Conference tournament MVP. The team's lone freshman, setter Annelisa O'Neal, stepped up with 38 assists in just the second start of her collegiate career. Playing in place of injured junior Natalie Aston, recently named Centennial Conference Player of the Year, O'Neal appeared calm in big moments—like when the Blue Jays trailed 24-23 in the first set. She caught F&M off guard with a short, fake touch pass that dropped to the floor in an open space between the six opposing defenders.
"We got down more than we would have liked, but I loved our poise and resiliency," said Troy, who was named the region's coach of the year on Thursday. "I had every belief that they could do it. I don't even think I called a timeout. We just kept trying to work through it."
The poise of that comeback and the methodical manner in which the team then closed out the match were emblematic of how Hopkins has approached this unblemished season in a sport where one bounce of the ball can turn the momentum of a match. When the Blue Jays needed one more win to cap an unbeaten regular season against Franklin & Marshall two weeks ago, the team played relaxed, as if nothing was on the line.
"We didn't talk about it much," Troy says of the winning streak and the prospect of going undefeated. "We knew it was there. We kind of approached the topic, but it really was let's just go out and do what we do every day. ... We believe we can win every point, and we know that teams are going to make some runs, and we just need to come back strong, bounce back, work together, and communicate. We've used that all year long, and it's boded well for this season."
JHU's 29 wins so far have matched the program's single-season record, set in 2012. Perhaps not coincidentally, that year marked the end of Troy's first stint as head coach. He left for Mary Washington University in Virginia the following year, where he spent six seasons before returning to Baltimore to lead the Blue Jays again starting this past January.
"Hopkins has always been a special place," the soft-spoken coach says. "My first three years here, I absolutely loved it. I love the kids that we have. They're really special a group of individuals."
Troy inherited a small but experienced roster of 10 players at Hopkins and became the program's third coach in three seasons (each of his two predecessors also won conference titles). The size of the squad could be looked at as a disadvantage, and it is in some cases. A four-person bench doesn't allow Troy to substitute as often as opponents do to keep players fresh physically. And injuries mean a smaller number of teammates are left to shoulder the load—as when O'Neal stepped in for the injured Aston, who is expected back for NCAAs.
But if anything, players say the small roster size and time spent together has helped them build chemistry, trust, and confidence. It shows in Bliss' ability to authoritatively win a point with one thunderous swat, in Aston's skill for setting the ball to just the right person in just the right spot, in the ability of any player to plug in as needed for what might be only a few points at a time.
"Each and every one of us has to be 100% focused, because everyone has to be able to execute," O'Neal says. "There's not a single person on the team who can take a game off. It keeps all of us held to a very high standard. And it also allows us to be close as people off the court, which is pretty key to how we perform on the court. We all get along really well."
The chemistry building began with those chats in the summer, during which the players—two seniors, five juniors, two sophomores, and one freshman hailing from seven states—talked about what was going in their lives. Outside hitter Louisa Kishton, a chemical and biomolecular engineering major, spent the months before her senior year biking to and from an internship at a DuPont plant in her native northern California. Aston got to hang out and learn from former University of Washington stars Courtney Thompson and Carly DeHoog during a volleyball camp there. Junior libero Nicole Hada, originally from Hawaii, spent the summer working in Baltimore doing kidney research at the Johns Hopkins medical campus.
O'Neal, the newest member of the team, bounced between groups every couple of weeks, getting to know everyone on the team and learning what to expect when she arrived on campus from her native Florida.
"It's not a cliquey team at all," says Bliss, a math major who's considering law school. "Everyone matters. Everyone is important. Everyone is of value. We believe in each other, whether you play a lot or you don't play a lot."
Bliss, for one, plays a lot. She's a natural leader and has been "a big clutch player" for the team all year long, Troy says. She eclipsed 1,000 career kills this season and came up big against F&M in the conference final to help secure the program's fourth straight NCAA tournament berth.
One indication of just how good Bliss is—O'Neal says it took quite some time to get used to how high Bliss jumps in order to pop an accurate pass to her.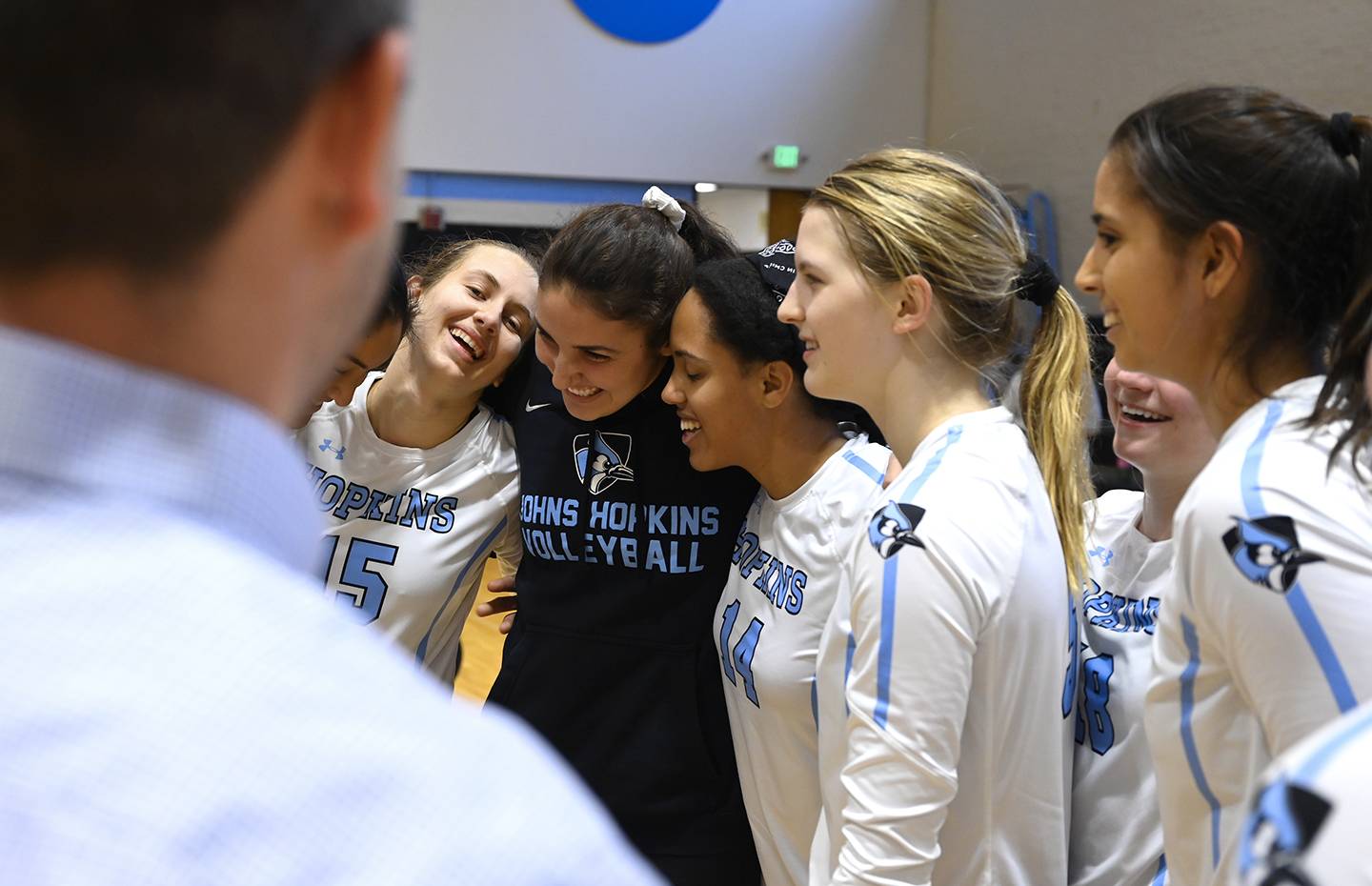 "The ball has to be set a lot higher than for a lot of other hitters," O'Neal says. "It's so satisfying when she gets a kill off of your set. You sometimes know it's going to be a kill, especially if the set is in a certain position. There's no way that the defense is going to be able to pick it up. The whole team has a lot of trust in Simone to put the ball away."
Most of the team has played together for three seasons, and it shows. Troy rarely says a word during games, except during timeouts. He prefers for his team to focus on its opponent rather on his in-match instruction. The preparation, he says, is done during the week.
"They are such an amazing group to watch," says Heidi Hoffman, Kishton's mom. "We have seen a lot of volleyball in our time, and this really is a high level that they're playing at. They're clicking, and everyone is playing on the court so well."
Troy concurs. "It's been a good ride," he says matter-of-factly.
It's actually been a perfect ride. And they're not ready for it to end.