At the Lunar and Planetary Science Conference in Texas in March, Lavontria Miché Aaron overheard two Latina students at the Applied Physics Lab's booth asking about Johns Hopkins University graduate programs. They were interested in resources for undergrads applying to graduate school.
Aaron, a second-year PhD candidate in JHU's Department of Earth and Planetary Sciences, wound up talking with them for two and a half hours.
"I told them about resources available for undergrads, and they were excited," Aaron says. "They were at the right stage of their search for the resources to be useful."
The next day, while tweeting the conference's #LPSC2019 hashtag, Aaron casually tweeted that she had resource information for anyone at the conference who was interested. When she checked her phone again a few hours later, her comment had been retweeted 200 times.
"I felt overwhelmed and put my phone down," Aaron recalls. "Then I messaged that I would consolidate the resources into a Google doc."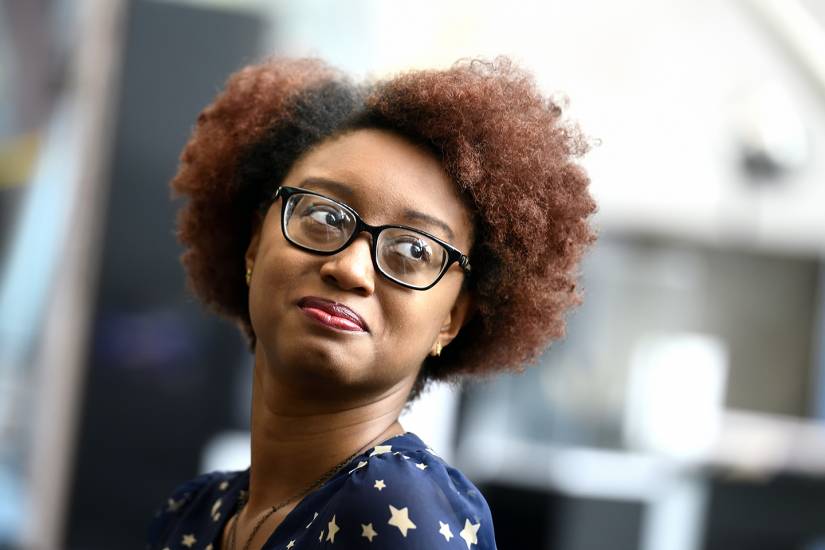 She quickly pulled together a list of the resources she had been gathering since her undergraduate days at Wesleyan University—information on fellowships, scholarships, internships, mentorships, GRE vouchers, free tutoring, and more, with extensive information on program requirements such as education level, gender, race, and citizenship status.
Her original tweet has been retweeted more than 2,400 times and liked 4,000 times, and a follow-up tweet posted after the Google doc went live has been retweeted almost 200 times. Peers and faculty have been adding their own resources to the list, which is open to collaborators.
Aaron was recently profiled in the scholarly journal Nature for her efforts.
"I'm not used to being the center of attention," she says.
The Google Doc of resources for POCs in STEAM. It is incomplete so I will constantly update it. If you know of any I missed, DM me! Also, sharing is caring. Enjoy! #POCinSTEAM #blackinSTEAM #LatinxinSTEAM #WOCinSTEAM #Diversity #DiversityandInclusion https://t.co/3REDpXddPl

— L. Miché Aaron (@Astrenome) April 12, 2019
Aaron's list clearly met a need. Underrepresented minority, first-generation, and low-income students often don't have access to the same resources that help other students navigate their higher education journeys. Along the way, they also can confront barriers such as expensive application and test prep fees or social obstacles that make it harder to access mentoring networks. Often these students have difficulty entering academia, especially in science, technology, engineering, or mathematics fields.
But there is a thriving community of underrepresented minority STEM students and faculty who are active on Twitter, Aaron says, and those colleagues—along with like-minded nonminority students and faculty—recognized the value of the list and wanted to make sure it received as wide an audience as possible.
"We all believe in the same thing and want to pave the way for people to succeed and get where they want to in life and in their career goals," says Aaron, who is herself a first-generation college student from a low-income family. "I would really, really hate it if other students had to struggle the same way I did and I had the resources to get them out of it."
"When you become a woman of color in STEM, you also become a mentor and advocate."
Lavontria Miché Aaron
Aaron's efforts are both necessary and generous, says Darlene F. Saporu, assistant dean for diversity and inclusion for the university's Krieger School of Arts and Sciences and Whiting School of Engineering.
"What Miché did was incredible," she says. "For students who are navigating this process on their own, identifying resources for graduate school can be an obscure and/or frustrating process. Using her social media platform to provide quick access to a comprehensive list of resources is brilliant. Furthermore, she went against ingrained academic individualism and put community first because she understands the importance of paving the way for other students like herself to enter into research careers."
Aaron has been interested in planetary science since attending space camp in her hometown of Houston as a child. At Wesleyan, she majored in earth and environmental sciences, captivated by Martian spectroscopy and remote sensing. She's continuing that line of research at Hopkins, using spectroscopy to search Mars for oxalate minerals, which might indicate that life is possible on Mars or serve as a sign of past life there. Her research won third place in the June Astrobiology Science Conference's student poster contest in Bellevue, Washington. She remains connected with Wesleyan University's McNair Program, which mentors students while they apply to grad school and complete a PhD.
"I would be extremely remiss if I didn't do anything to help our future people of color in STEM from encountering the challenges I did," she says. "When you become a woman of color in STEM, you also become a mentor and advocate."