Name

Jill Rosen

Email

Office phone

443-997-9906

Cell phone

443-547-8805

Twitter
Johns Hopkins has exceeded the goals it set three years ago to support economic growth and employment opportunities in Baltimore, significantly increasing its local hiring, expanding relationships with local minority- and women-owned businesses, and building relationships with city-based vendors.
Over the past three years, the university and health system have hired more than a thousand city residents, spent $54 million more with local vendors compared to 2015 baseline levels, and significantly expanded opportunities for minority and women building contractors.
Johns Hopkins University President Ronald J. Daniels and Health System President Kevin Sowers say the completion of the original three-year commitment of the HopkinsLocal economic inclusion initiative is an opportunity to reflect on successful tactics, recognize challenges, and set the bar higher for the next phase of the program.
"The impact of HopkinsLocal has surpassed our hopes, and we are thrilled by the difference it is making in Baltimore and in our neighbors' lives and on their businesses, as well as on our institution," Daniels says. "HopkinsLocal reflects our strong belief that real, sustained progress demands clear goals and public accountability in order to deliver on our commitment to invest in our neighbors and in the promise of our great city."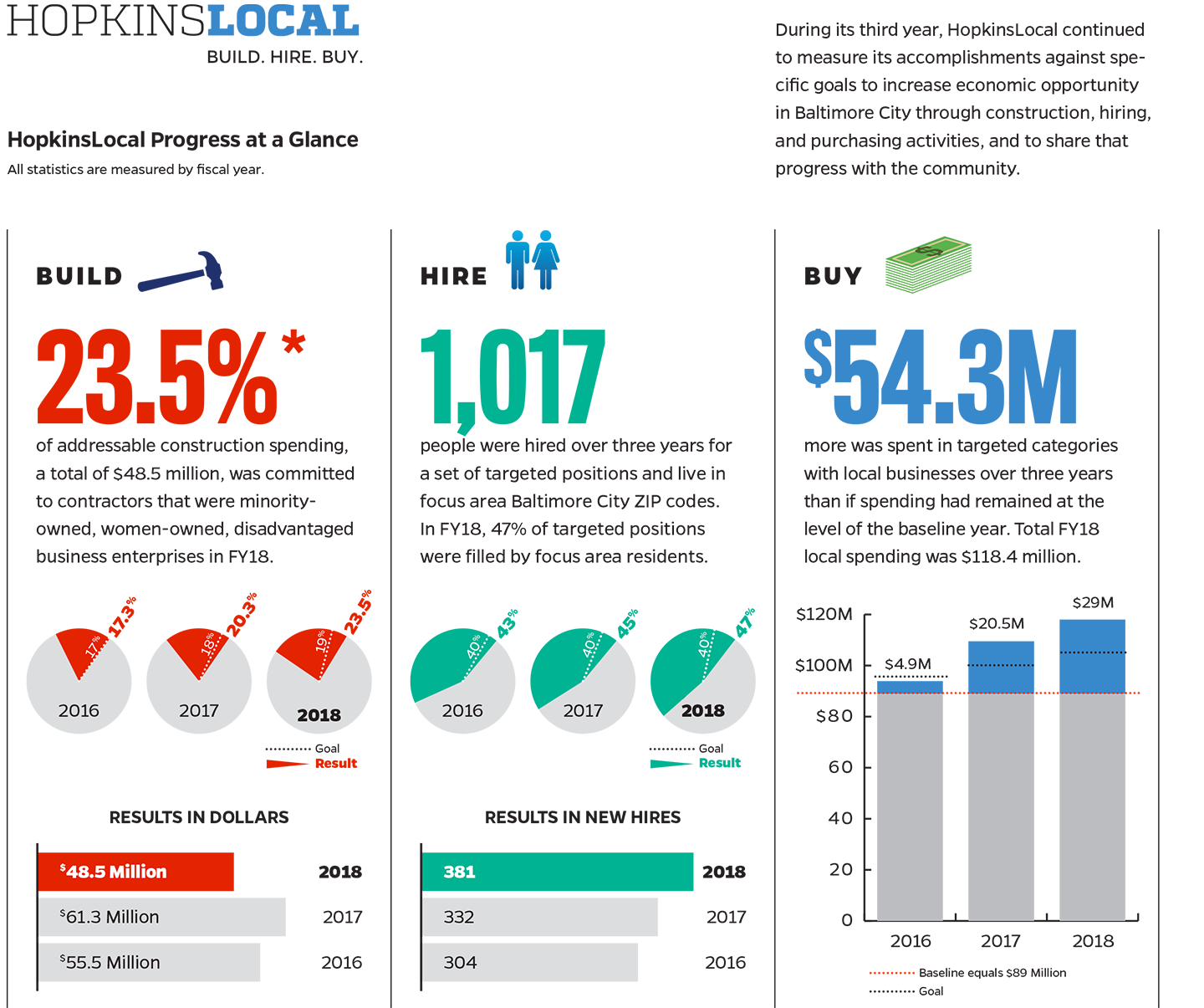 In the first phase of the program, Johns Hopkins surpassed its original pledges:
It hired residents living in distressed areas of the city, specifically in 15 ZIP codes, for 47 percent of targeted positions, surpassing the goal of 40 percent.
It spent $29 million more with city vendors in 2018 than in 2015, surpassing the goal of adding $15 million to annual local spending.
It committed 23.5 percent of construction spending to minority-owned, women-owned, and disadvantaged businesses in fiscal year 2018, or $48.5 million. The original goal was 19 percent of construction contracts would be committed with these businesses.
"We are prepared to dig more deeply into the approaches that make a difference," Sowers says, noting that Johns Hopkins has learned a great deal from HopkinsLocal efforts thus far. "Things like better recruitment strategies, coaching and support that help new employees thrive, ensuring companies that do business with us are able to hire and invest in Baltimore City, and supporting contractors so they can be ready to take on more of our construction projects."
An important resource for contractors, in particular, is the BLocal BUILD College, which was established with a number of partners from the multi-institution BLocal economic inclusion program. So far, 66 individuals have learned business-building skills and made connections in the construction industry that will help them compete for larger contracts.
"HopkinsLocal reflects our strong belief that real, sustained progress demands clear goals and public accountability in order to deliver on our commitment to invest in our neighbors and in the promise of our great city."
Ronald J. Daniels
President, Johns Hopkins University
Marianne Crampton graduated from the inaugural class of BLocal BUILD College, where she made connections that led to Johns Hopkins hiring her civil engineering firm for jobs including the feasibility study for a new tower at Johns Hopkins Bayview Medical Center and civil engineering work for a new Johns Hopkins building to be named in honor of Henrietta Lacks.
The ability to do business with Johns Hopkins helped convince Crampton to relocate her growing company to Baltimore.
"We could have located our company anywhere, but we decided we wanted to be part of the city," she said. "We wanted to be right here where we can be close to our clients and close to our work."
Kylie Patterson, director of economic inclusion at Johns Hopkins, says that while pursuing hiring goals, the university and health system have also been considering ways to help those new employees advance beyond entry-level positions and build lasting careers. Additionally, they have tracked the hiring of citizens returning from incarceration and report that 402 were hired over the three-year program span.
Niyo Rukundo, who lives in midtown Baltimore, has worked for just over a year as an administrative coordinator in the university's Office of Student Life. Her sister, who also works for Johns Hopkins, urged her to apply when Rukundo's previous employer went out of business.
"Working at Johns Hopkins is such a great opportunity—I love the people I work with, and there seems to be a lot of opportunity for upward movement," Rukundo says, adding that HopkinsLocal is "a beautiful idea" for Baltimore. "I like the idea of trying to grow the community in a positive way."