Perched below thousands of screaming fans, he collects himself. This is it. His moment. His debut.
You only get one chance to make a first impression. Will it all have been worth it?
As the halftime roar of the crowd reaches its height, Jay—Johns Hopkins' oldest and most passionate fan—takes a deep breath, checks the laces on his sneakers, and emerges, phoenix-like, showing the world his brand-new look for the first time.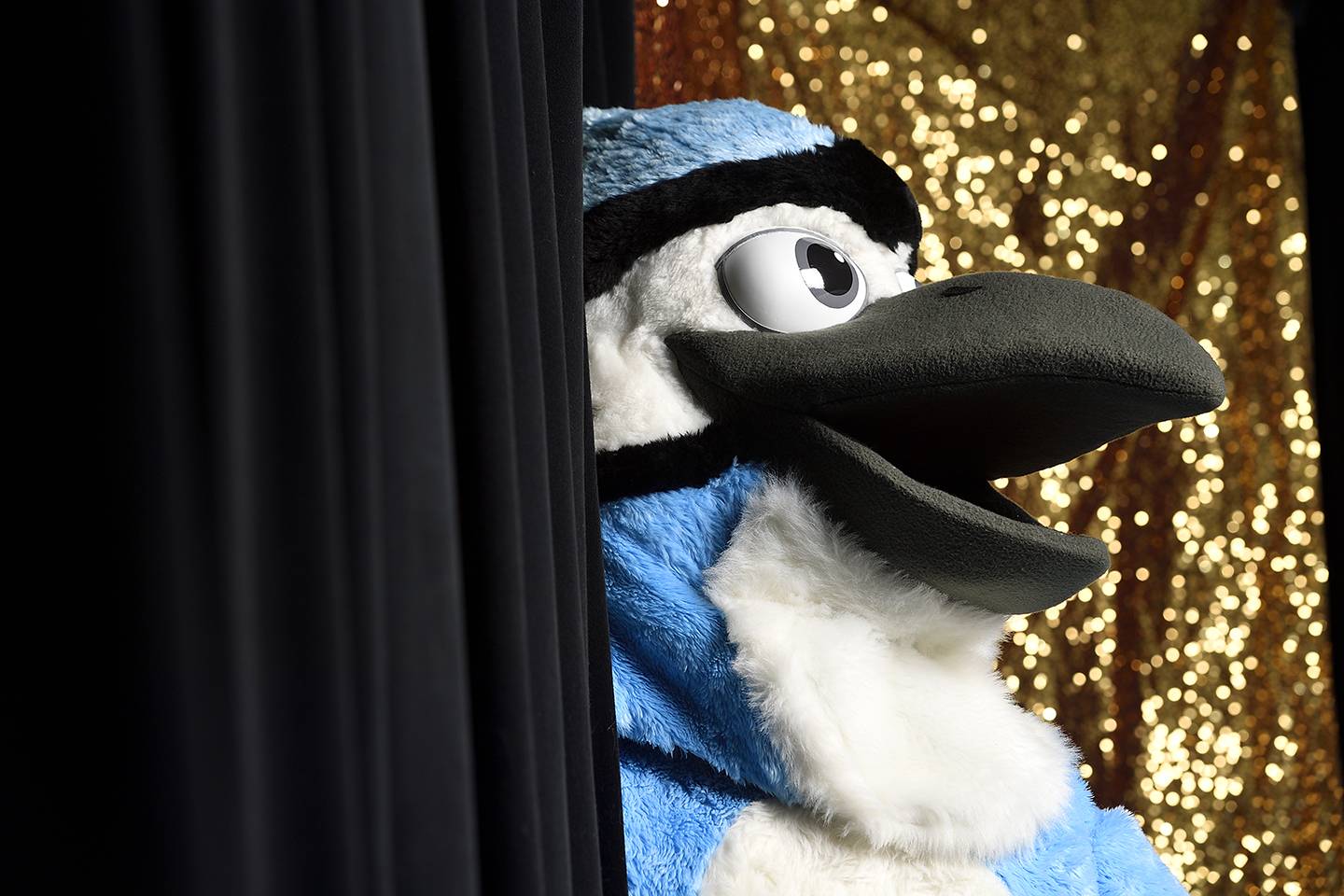 For nearly 100 years, Jay has been the university's mascot and ambassador. He first touched down at Johns Hopkins in November 1920 as the cover model for the student publication The Black and Blue Jay. Over the years, he's made a name for himself by hyping up the crowds at sporting events and helping aid the university's outreach.
Saturday, during the men's lacrosse team's home opener, he debuted a new look to keep up with the changing times.
"Don't call it a comeback—Jay's been out here for years working at games and serving as the face of Hopkins Sports and the university at large," says Vina Ranaivoarijaona, marketing coordinator for Johns Hopkins Athletics. "But everybody needs a refresh now and then, and we think people will really flock to him now."
Jay's been transformed from head to tail. His feathers have been bleached and custom-dyed Hopkins blue. He's had work done on his face—fillers around the eyes, a beak job—so he more closely resembles his blue jay brethren. And those big white bird teeth? Gone.
The Hub caught up with Jay to talk about his his total body makeover and staying young at heart.
What made you want to rethink your look, and how are you feeling about it?
When you're circling 100 years old, you've got to do anything you can to feel young. Like other blue jays, I molt every year, but the last time I really updated my look, Justin Bieber still had a bowl cut. Cell phones still had physical buttons (which was way easier for me, by the way). It was time to take the plunge.
Also, I began to notice that I had a really polarizing effect on people—I'd wave to little kids and they'd cry. It was getting hawkward, and nobody wants to be that guy. I think the makeover gives me a little bit of a softer look.
So yeah, I'm feeling great. I'm starting to turn heads for the right reasons again.
What was the makeover process like for you?
Well, it started with a little bit of birdscaping. Some waxing. Some plucking. Then I started in with the total body workout. Alternating Crossfit and HIIT, with a little bit of jazzercise sprinkled in to keep that spring in my step. I also bought myself a new pair of shoes, so I can work out and hit the gym more often now.
But I notice you kept the unibrow.
At first I had it plucked, but I still want to look like me. If Frida Kahlo can make it work then so can I.
By the time most people reach 100, they've gotten dentures, but you had your teeth removed. What motivated you to do that?
You ever try and pry seed out of your molars?
Is there anything you still plan to do, or wish you hadn't done?
Once I took a gander at the finished look, I knew I was GQ ready. No egrets.