Johns Hopkins University led all U.S. universities in research and development spending for the 39th consecutive year in fiscal year 2017, spending a record $2.562 billion on projects like enhancing drone safety, growing retinas in the lab to find out how color vision is developed, and improving methods of studying cell mechanics to advance cancer research.
The total R&D expenditure in fiscal year 2017—the most recent year for which nationwide data is available—was 5.4 percent greater than in fiscal year 2016, according to the yearly National Science Foundation report on higher education R&D.
"The wide breadth of research at Johns Hopkins, from engineering to the life science, from the social sciences to the humanities, continues to be funded at record levels," says Denis Wirtz, the university's vice provost for research and a professor of chemical and biomolecular engineering, pathology, and oncology. "This support allows the institution to uphold its critical mission of fostering independent and original research, and bringing the benefits of discovery to the world."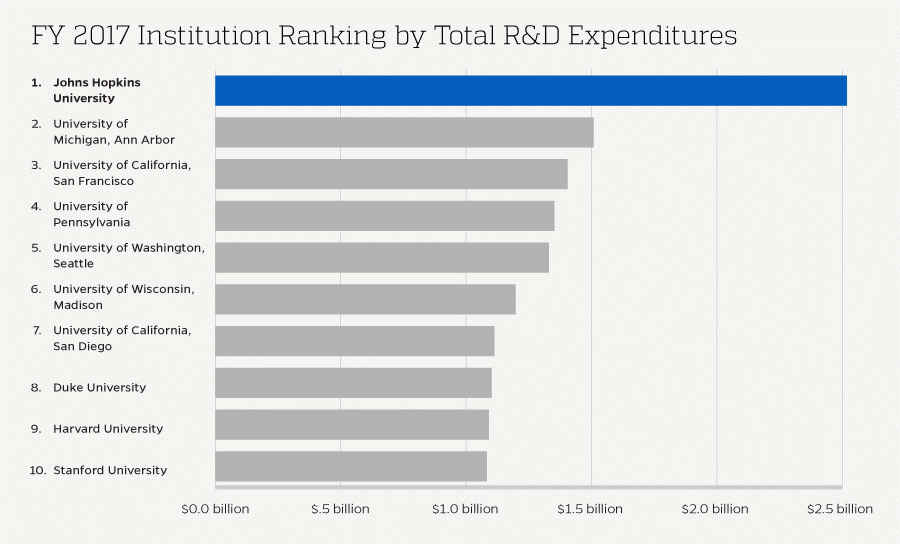 For fiscal year 2017, the NSF survey included 903 universities. Total R&D expenditure for the group increased 4.7 percent, from $71.9 billion in fiscal 2016 to $75.3 billion in 2017. The top 30 institutions accounted for 42 percent of the total.
The University of Michigan remained in second place with total R&D expenditure of $1.53 billion. The University of California, San Francisco, jumped one spot to third place with $1.409 billion; switching fourth place position with University of Pennsylvania with $1.374 billion; and the University of Washington, Seattle, with $1.348 billion.
In a separate ranking also released by the NSF and also covering fiscal 2017, Johns Hopkins was again first in spending on research funded by federal agencies such as the NSF and the National Institutes of Health with $2.179 billion in federal funding. Federal funding accounted for 85 percent of the university's R&D expenditure in 2017.
Federally funded research by all U.S. universities increased by 1.7 percent—adjusted for inflation—from 2016 to 2017. The overall share of federally funded higher education R&D was the lowest share since the national survey began in 1953.
"While federal funding for Hopkins is at a record-high, the overall trend of decreased federal funding for all U.S. universities is a threat to innovation," Wirtz says.
In fiscal year 2007, Johns Hopkins was the only university to report more than $1 billion in total R&D expenditure. Johns Hopkins first crossed the $2 billion threshold in fiscal 2010 and remains the only university to have done so.
Since 1979, the NSF's inclusion of Applied Physics Laboratory spending in its accounting of Johns Hopkins expenditures has solidified the university's annual position at the top of the NSF rankings. In fiscal 2017, APL spent $1.472 billion on R&D.