Hot chocolate on a cold winter night.
Beautiful lights twinkling in the dark.
Gingerbread with enough fixings to crumble your cookie.
Johns Hopkins University's annual seasonal celebration, the Lighting of the Quads, is tailor-made to bring every member of the community together, a cherished end-of-semester tradition that's full of holiday cheer and a welcome distraction from final exam preparations.
Julian Ocasio, a sophomore neuroscience major, said it was great seeing everyone come together for an evening.
"It's a nice little break for us all during a time where a lot of us need one," Ocasio said. "It brings everyone together."
The event culminates in the lighting of hundreds of holiday lights on trees and buildings around campus and a fireworks display. It also features live performances by student musical groups, food and drinks distributed by campus organizations, fire twirling by the Johns Hopkins Entertainment Club, ice carving, and more.
First-year student Amber Chou said she wasn't sure what to expect when she arrived at Keyser Quad. All she knew was she wanted a chance to be with her friends and the rest of the Johns Hopkins community.
"It's nice to actually leave Brody [Learning Commons] for the first time in a week and forget about your stress with something fun," she said.
Johns Hopkins University President Ronald J. Daniels addressed the assembled crowd, emphasizing the importance of coming together as a community before the end of the year.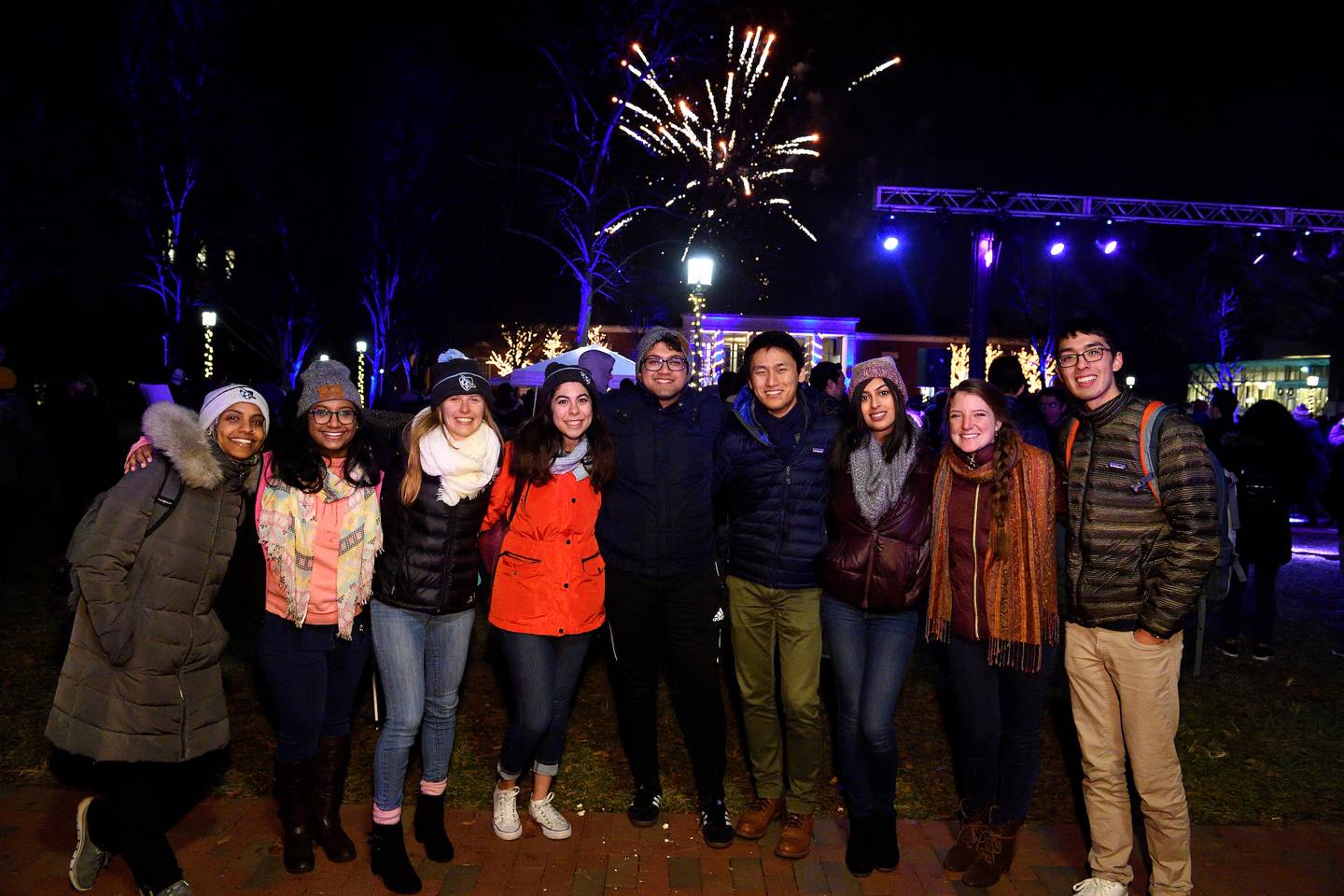 "You're more than ready to crush the final busy days of the semester, and perhaps even more ready to enjoy time apart with friends and family over the break," Daniels said. "I hope your time is restful and rejuvenating, wherever you find yourself in the world."
With a flick of the switch, the campus lit up, transforming into a glittering winter spectacle, capped with the launching of fireworks. Many chose to stand with their backs to the show, eager to capture a special moment in a selfie to share with friends and create a lasting memory of the event.
Sabrina Mackey-Alfonso, a neuroscience major from the Class of 2018, said the Lighting of the Quads has always been a campus highlight, and she knew she wanted to come back this year, even after having graduated.
"I think it's nostalgia that keeps me coming back," Mackey-Alfonso said. "When I saw it the first time, it was amazing. Coming out again just reminds you of that first time."
The annual Lighting of the Quads is supported by the Hopkins Parents Fund.