Today is Giving Tuesday, a global day of giving, and Johns Hopkins is celebrating the day and the power of philanthropy with #GIVETUEHOPKINS.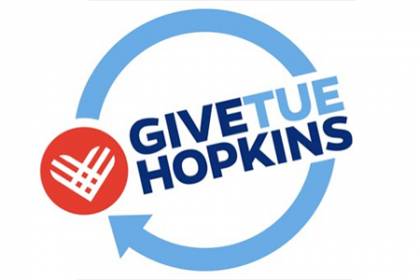 Giving Tuesday is celebrated on the Tuesday after Thanksgiving as a philanthropic complement to Black Friday and Cyber Monday. Since the giving day was established in 2012, donors across the country and around the world have been invited to celebrate the day and kick off the holiday season by making a gift to their favorite nonprofit.
"Last week's announcement of Michael Bloomberg's historic gift to undergraduate financial aid at Johns Hopkins is emblematic of the power of philanthropy on a truly unique scale," said Brittany Shaff, executive director of annual giving. "And as Michael Bloomberg himself has said on many occasions, every gift matters, including his own first gift of $5 the year after he graduated from Johns Hopkins."
Five generous donors have stepped forward to provide more than $200,000 in challenge gifts. Donors can help Johns Hopkins acquire these gifts throughout the day with a gift of any amount and to any fund at Johns Hopkins. The giving day website features a running tally of gifts made and challenges unlocked, as well a live map indicating which states and countries are represented by participants.
"We are incredibly grateful for the leadership of our GIVETUEHOPKINS alumni and friend challengers," Shaff said. "Please join them. There are hundreds of areas, including financial aid, in need of support across Johns Hopkins University and Medicine."
All members of the Hopkins community are invited to be part of the day by making an online contribution in support of research, teaching, and patient care around the world. Donors can help spread the word by using the #GIVETUEHOPKINS hashtag and following the day's activities on Facebook, Twitter, and Instagram.