Today is National Intern Day, dedicated to celebrating the hard work and meaningful contributions of interns all across America. So it's the perfect time to take a look at how more than 500 paid interns across the institution are spending their summers at Johns Hopkins.
The majority of our student workers are here through the Summer Jobs Program, which employs hundreds of Baltimore City school students each year in positions across the institution.
Now in its 24th year, the program has enrolled its highest number to date: 461 interns. They work 30 hours a week for eight weeks with mentors who provide training in specific projects Monday through Thursday. On Fridays, the students take part in professional development seminars.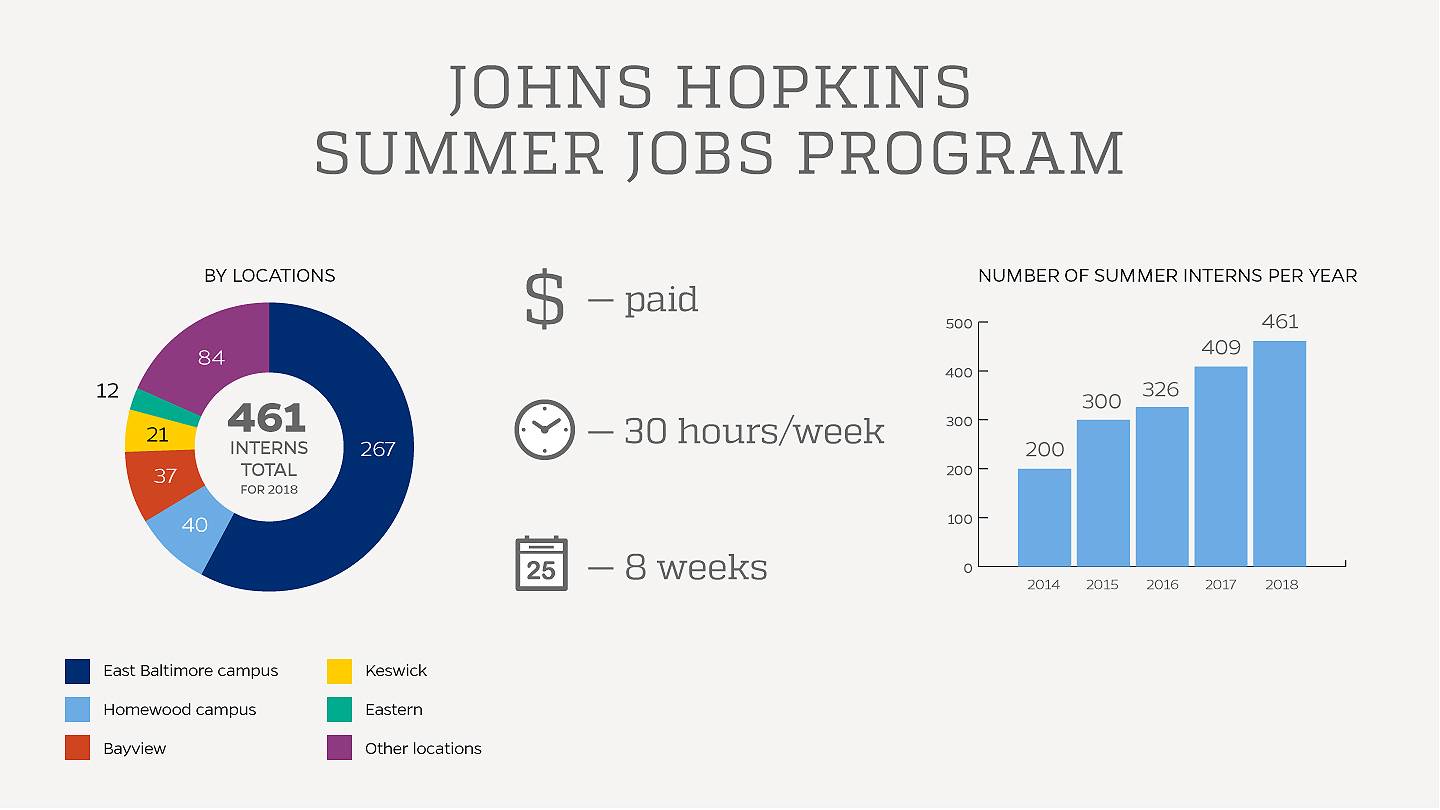 More than half of the Summer Jobs interns are working on the East Baltimore campus, with the rest spread across Homewood, Bayview, Keswick, Eastern, and other locations off-site.
The department with the most summer workers? That would be the environmental care department at Johns Hopkins Hospital, which hosts 36 interns. And if you've had an X-ray at the hospital this summer, there's a good chance you got a ride from one of 19 interns working in Radiology Patient Transport—the department with the next-highest number.
Fifty Johns Hopkins undergraduates are living and working in Baltimore for eight weeks this summer through the Community Impact Internships Program, operated by the Center for Social Concern at Homewood. This is CIIP's eighth year supporting the city's nonprofits, grassroots organizations, and government agencies.
Meet a few of the CIIP interns:
For an overview of the program, the Hub spoke with insider Kaetlyn Bernal, who spent two years as a CIIP intern and now, in her third year, is serving as the program assistant.
"Our internship program has a lot of different moving parts to it, including a five-day intensive orientation to create a foundation of social justice work in Baltimore before the interns begin working with their community partners," says Bernal, who earned her bachelor's degree in public health studies in May. Weekly meet-ups provide a chance to reflect on the experience.
CIIP has worked with 375 undergraduates and more than 100 community partners throughout its lifespan.
Johns Hopkins interns, thank you for all you do! What are you working on today? Tweet your picture with the hashtag #Nationalinternday.