Roughly 40 Johns Hopkins students got a crash course in sorting, organizing, and salvaging scrap building materials during a service outing to Second Chance Baltimore as part of Black Heritage Month.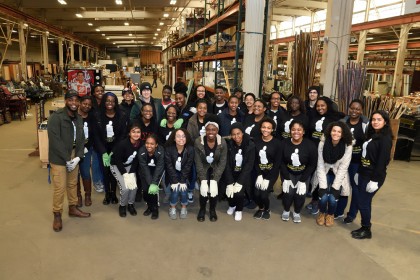 Organized by the Office of Multicultural Affairs, the service day, an extension of the Martin Luther King Jr. Day of Service, invited students to the enormous warehouse and storefront in the Ridgely's Delight neighborhood of Baltimore to help organize salvage materials that are later available for purchase to local builders and do-it-yourself-ers. The proceeds from these sales allows Second Chance Baltimore to provide job training and workforce development for those with employment obstacles in the Baltimore region.
"We wanted to organize a service activity that would engage students in an impactful way," says Kwame Phillips, a multicultural affairs adviser with OMA. "Second Chance was a great fit because their organization directly helps men and women who are re-entering the workforce."
A full calendar of OMA events for Black Heritage Month is available online and details for individual events are available on the Hub calendar.