The Hub explored the Homewood campus on the last day of the fall semester Reading Period, the days set aside for studying (and other activities) before final exams.
We wanted to see what Blue Jays were up to. This is what we found.
6:45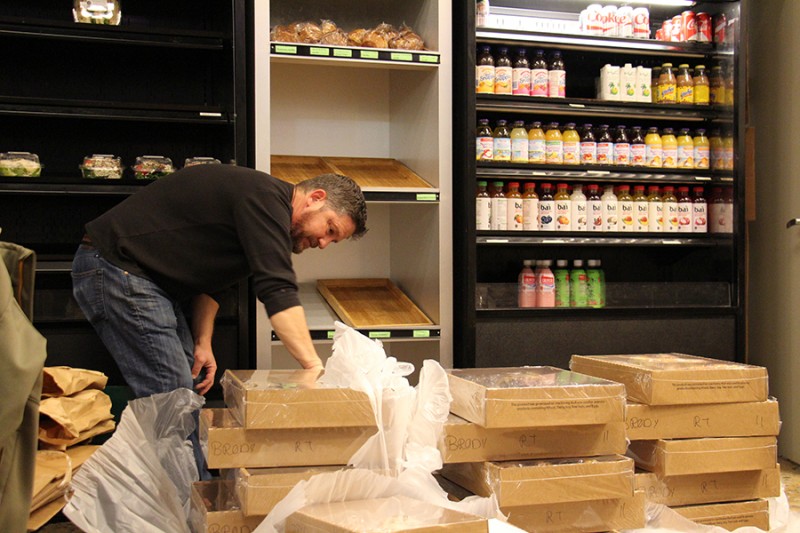 Brody Café manager David Key unpacks freshly baked muffins, danishes, and lava cakes delivered from a local bakery in Catonsville. "All of these will be gone by noon," he says. While the radio plays Kanye West, he also brews the morning's coffees—six blends total, plus an iced coffee and two types of tea. Morning is his favorite time of day, when he can make the café look perfect, he says. "The hardest part is getting out of bed."
7:17 a.m.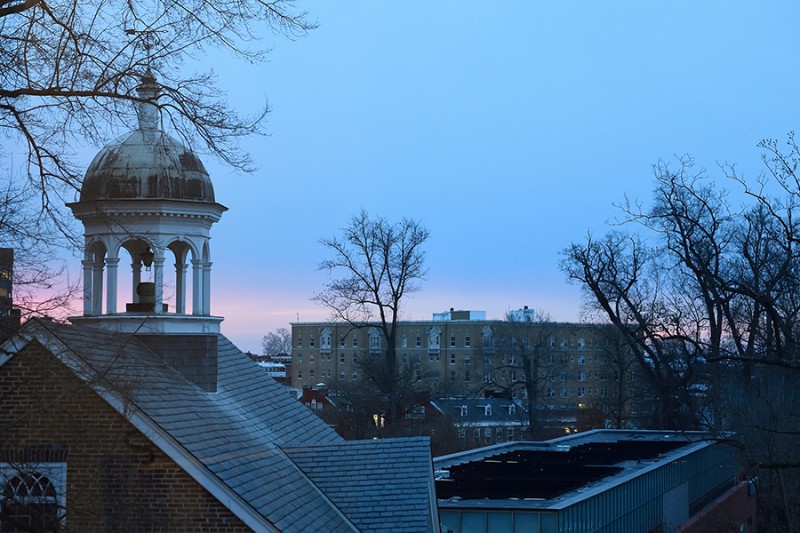 A glimpse of a colorful sunrise from the Homewood campus.
7:20 a.m.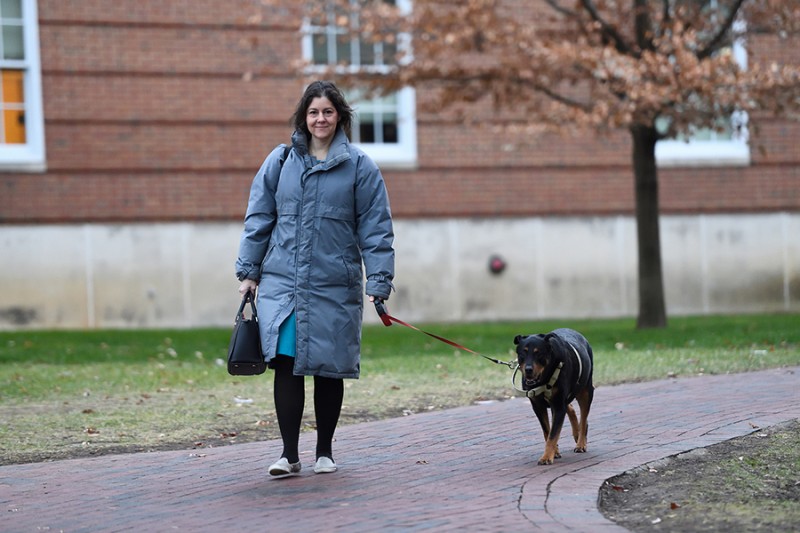 Beverly Wendland, dean of the Krieger School of Arts & Sciences, walks her dog, Lilly.
7:30 a.m.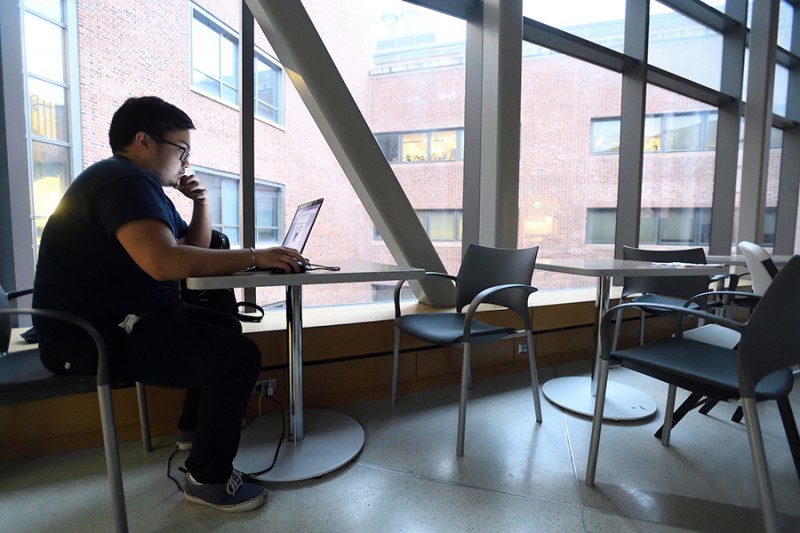 It's quiet in the Mudd Hall atrium while a barista brews coffee and begins to set out cream and sugar for the café. A solitary student is seated by the corridor to the UTL, reviewing neuroscience notes. Lance Del Rosario, a senior molecular cellular biology major, usually prefers a seat in the opposite corner of the atrium, but the tables have all been rearranged for an end-of-semester celebration for graduate engineering students, so he settles for a spot with good light.
7:45 a.m.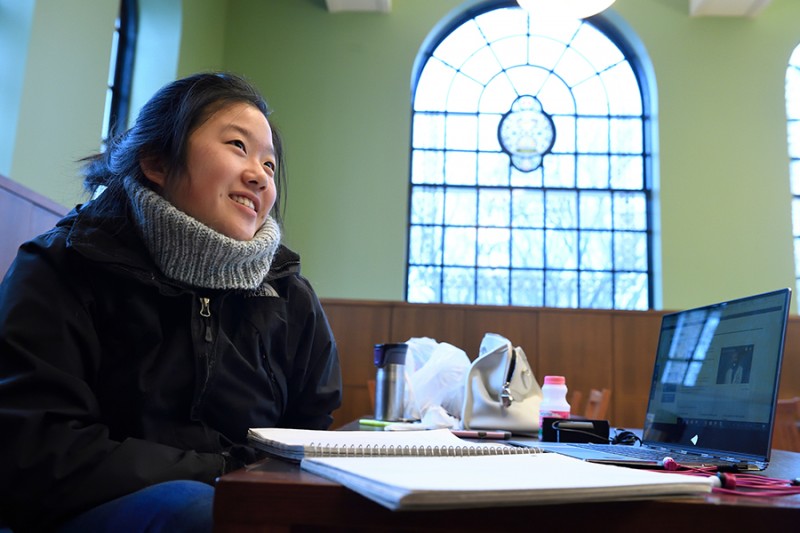 Freshman Serena Wu slept in the Hut after arriving there to study around 8 the night before. She says she missed the Lighting of the Quads ceremony and festival because she was shadowing a surgeon at Johns Hopkins Bayview. The double major in molecular and cellular biology and neuroscience is minoring in applied math, and she says she plans to stay on campus during Intersession to continue shadowing surgeons. "Pre-med is hard, but shadowing is fun so that's what I'm going to do," she says.
8 a.m.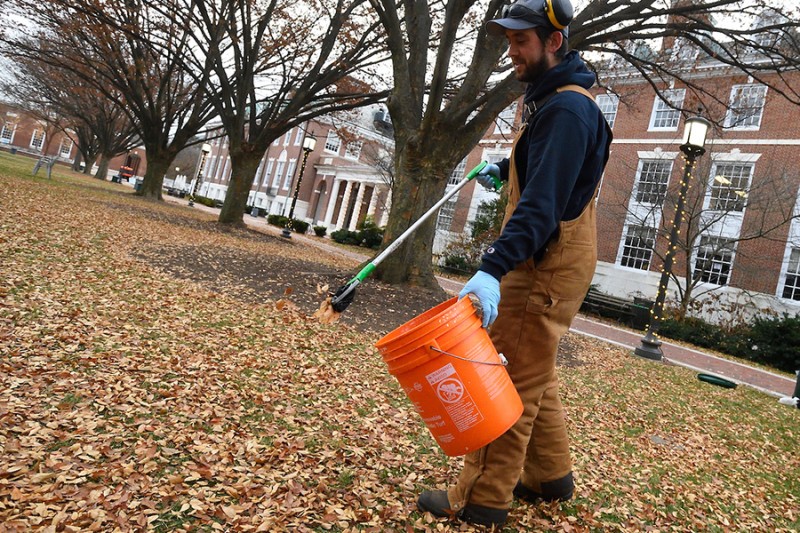 John Amit has worked at Johns Hopkins for five years, maintaining the upper quads. This morning, he's collecting spent sparklers and other debris leftover from the previous night's Lighting of the Quads celebration. He loves to work outside and says he's warm-blooded—despite the morning's chilly temperature, he says he never gets cold.
8:06 a.m.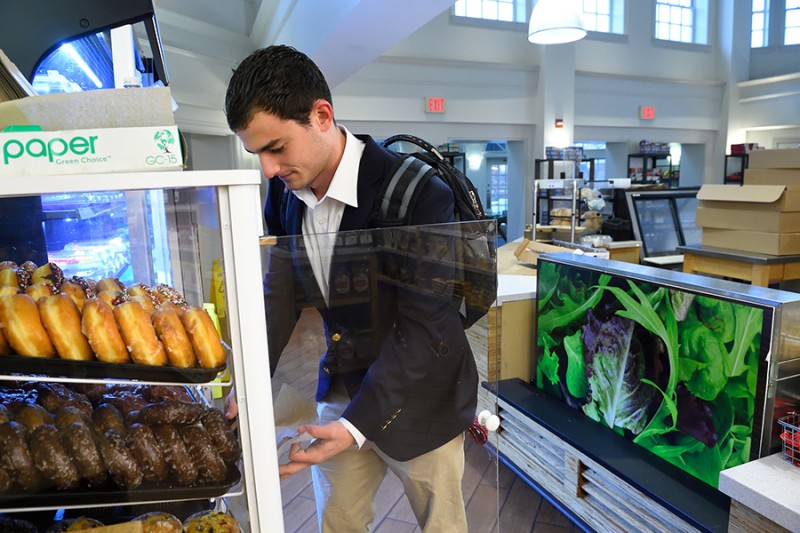 On his way to give a final presentation, senior mechanical engineering major Davis Knox stops by the CharMar for brain food: a muffin and a Pepsi.
9:45 a.m.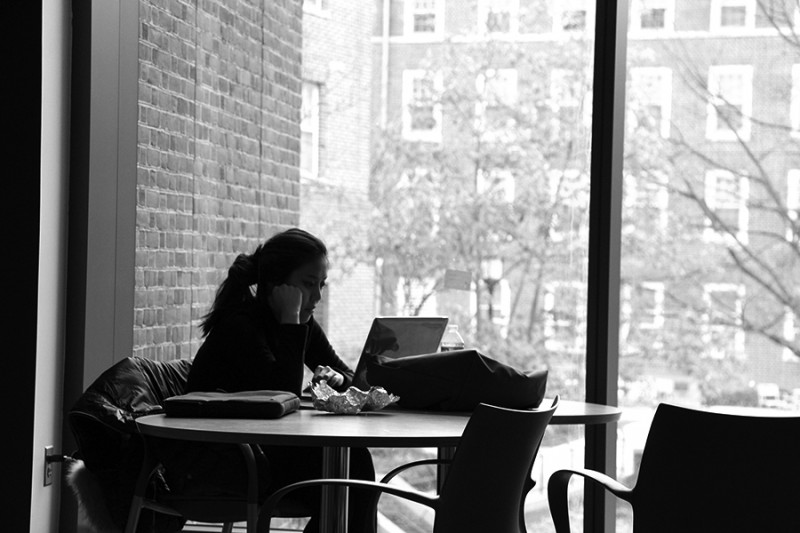 In the Undergraduate Teaching Labs, Tracy Chen, a senior public health major, prepares for a job interview with a consulting company based in Washington, D.C. The Hub didn't want to distract her too much.
9:58 a.m.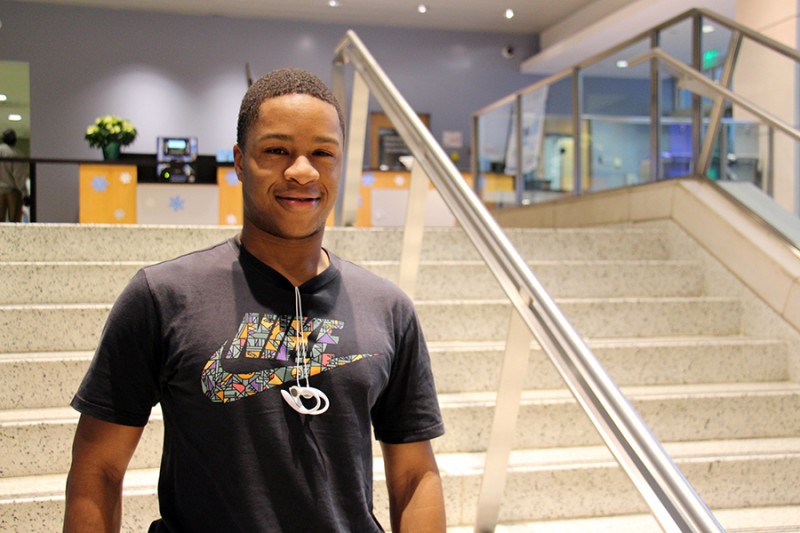 Jarren Matthews, a grad student in the School of Education studying school counseling, prepares to lift weights after a game of pick-up basketball in the Rec Center. When asked if exercise helps him clear his mind, he answers, "For sure, for sure."
10:25 a.m.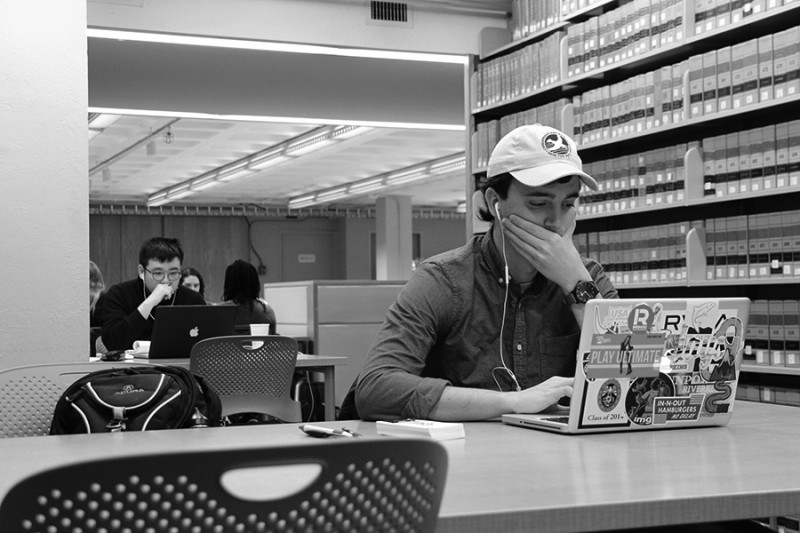 Will Cosgarea, a senior global environmental science major, works in the Brody Learning Commons on a paper exploring the definition of nature. "It's pretty abstract," he says. Talk about an understatement.
10:45 a.m.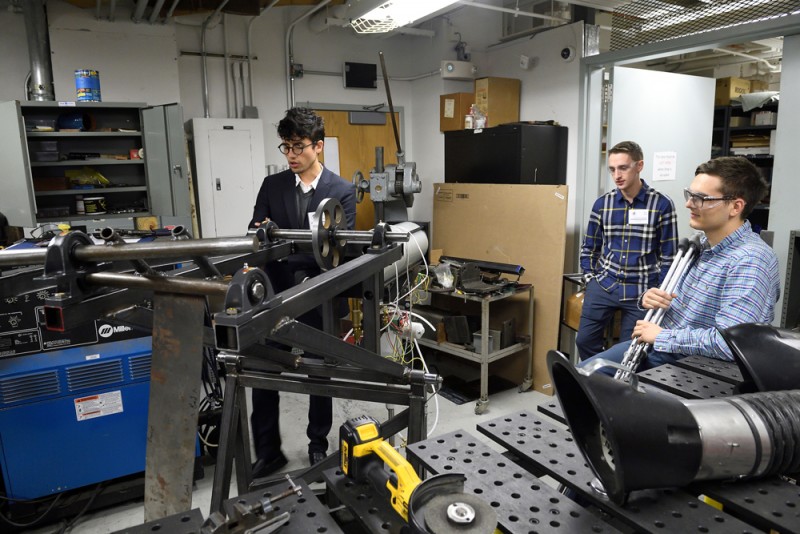 A group of senior mechanical engineering students present their prototypes at fall design day.
Noon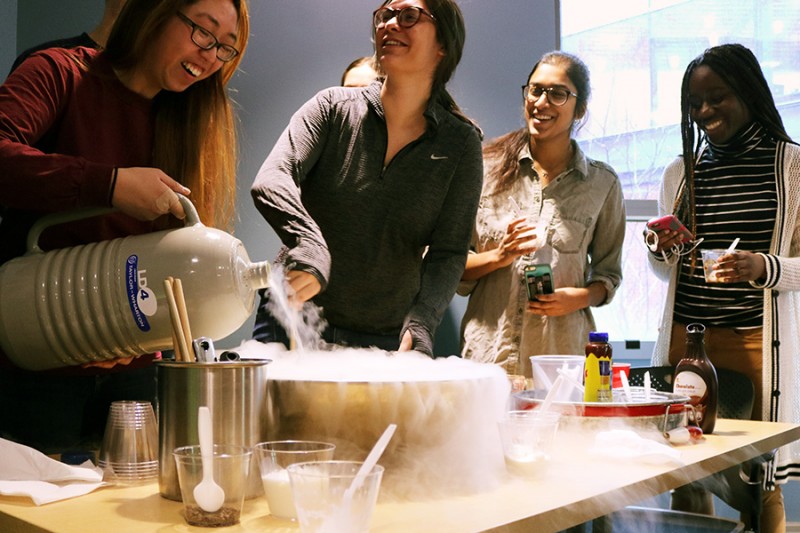 The Biophysics Department hosts a pizza and ice cream social in the Undergraduate Teaching Labs. Students use liquid nitrogen to freeze the cream to make their frozen treats.
12:15 p.m.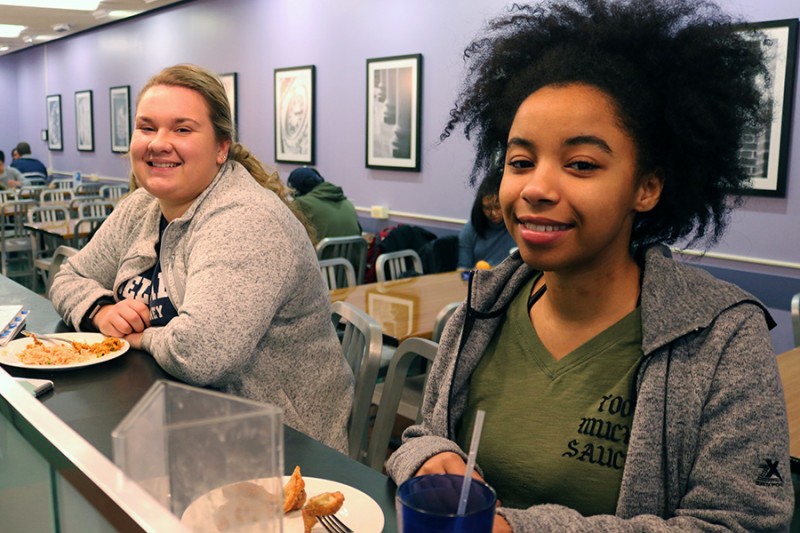 First-year students Sarah Saccal and Mariah Acquaye run into each other will taking a lunch break in the Fresh Food Café. They've been studying hard for their first ever college final—Calculus I.
1:30 p.m.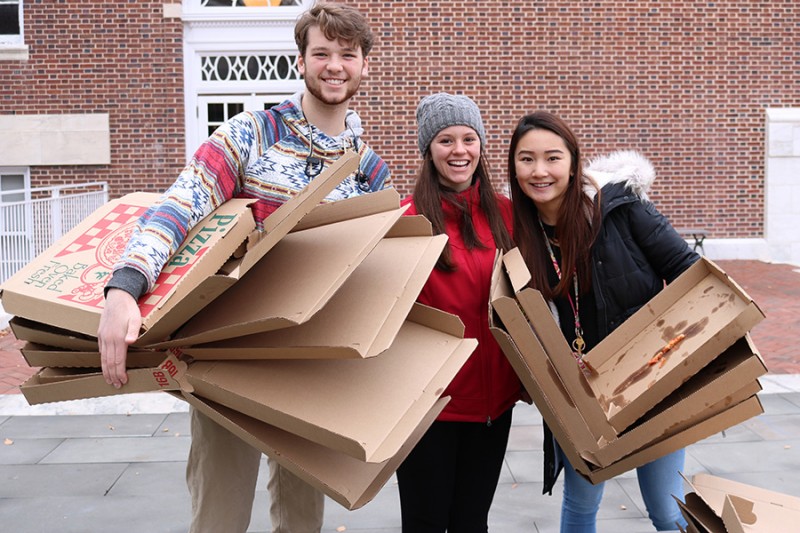 Members of the Freshman Class Council haul off empty pizza boxes after a study break. They say the pizza lasted all of 20 minutes.
1:45 p.m.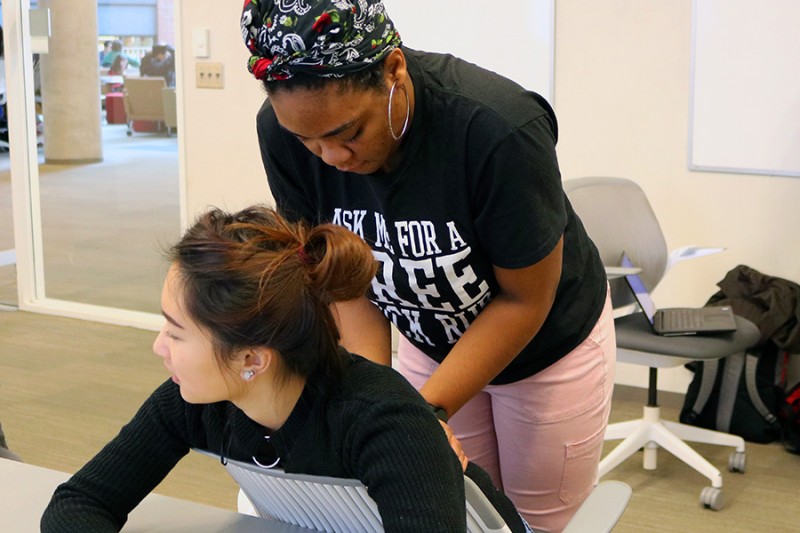 Coralie Mentor, a member of Stressbusters, gives Coco Cai a back rub. Cai is preparing for her Calculus II exam and says she could use the stress relief.
3 p.m.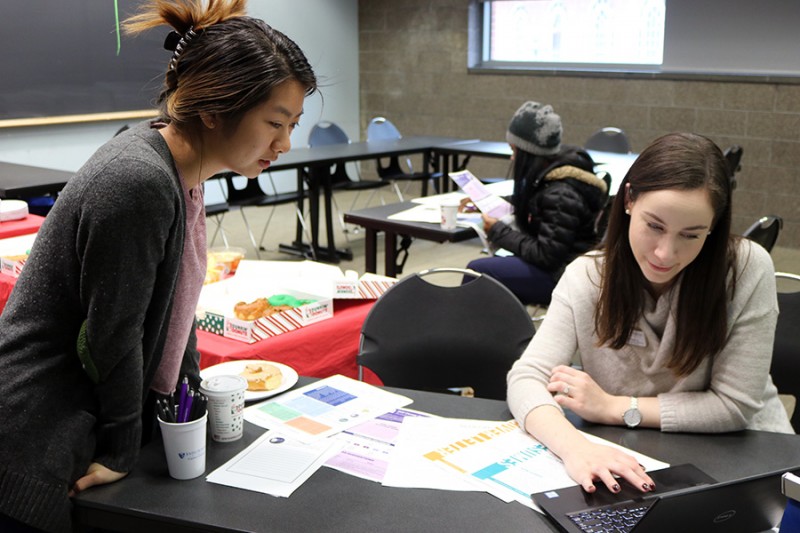 Alice Zou, a senior biomedical engineering major, wants to go into the culinary world after graduation. She gets career advice during a study break hosted by the Arts, Media & Marketing Career Academy and leaves with a list of notes and a plan to begin networking. "I'm not worried about exams," she says. "This career change is what I am focused on."
3:30 p.m.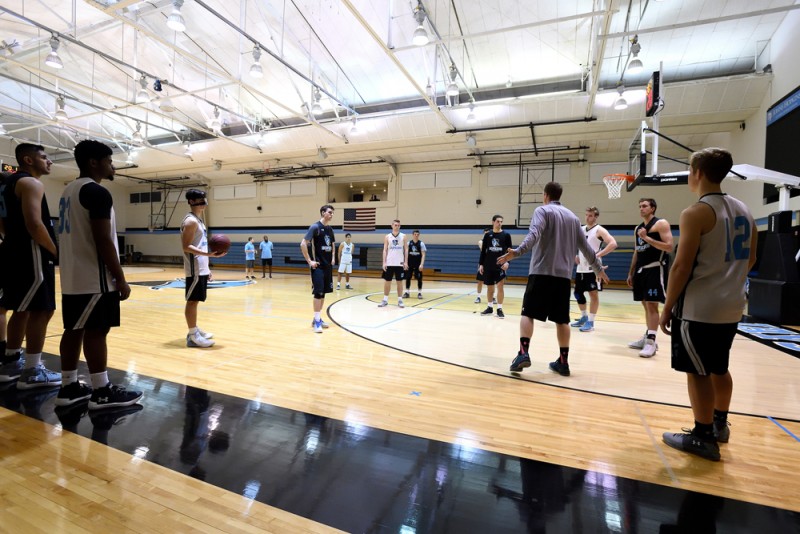 The Hopkins men's basketball team goes through a practice session in Goldfarb Gym. The Blue Jays, who are off to a 7-1 start to the season, have a long layoff in their schedule for finals and the holidays. Their next game is Dec. 29 against New Jersey City at the Crowne Plaza Captains Shootout in Newport News, Virginia.
4:30 p.m.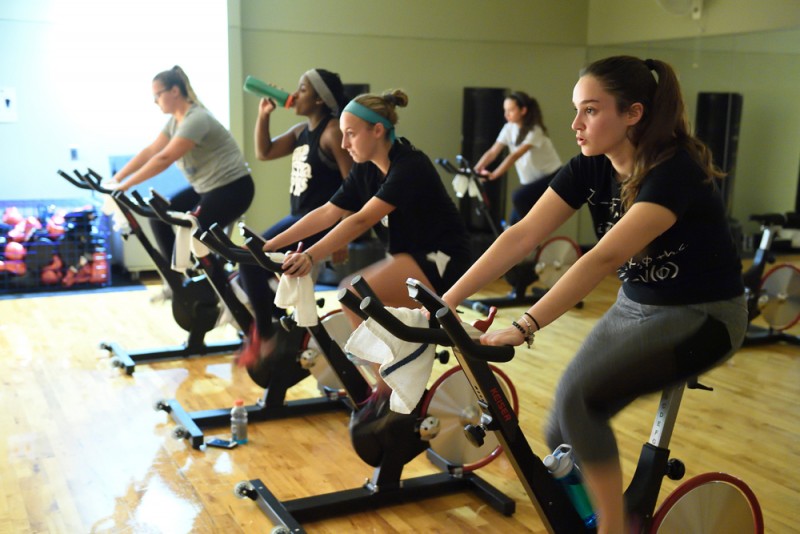 Students feel the burn during a spin class in the Rec Center. The Rec Center offers 44 group fitness classes each week including yoga, Zumba, boxing, and Pilates.
6 p.m.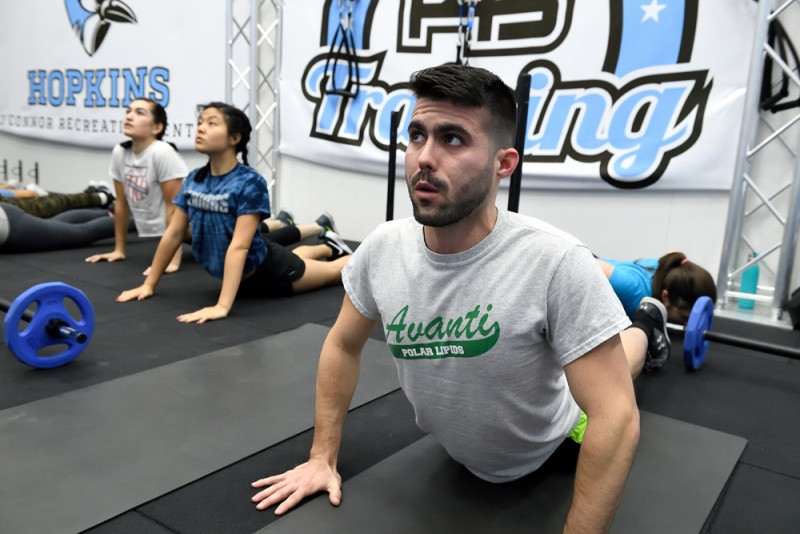 Students warm up during the F45 Strength class, a new group training experience at Johns Hopkins. A revolution in high intensity, circuit training, F45 draws from a rotation of more than 3,000 different exercises, so boredom is never an option.
6:55 p.m.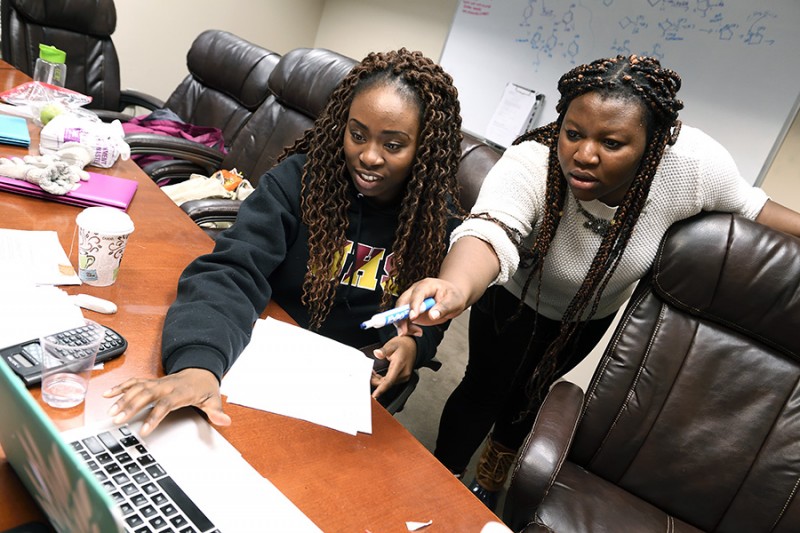 Students study together in the Office of Multicultural Affairs with lots of coffee and snacks.
7:55 p.m.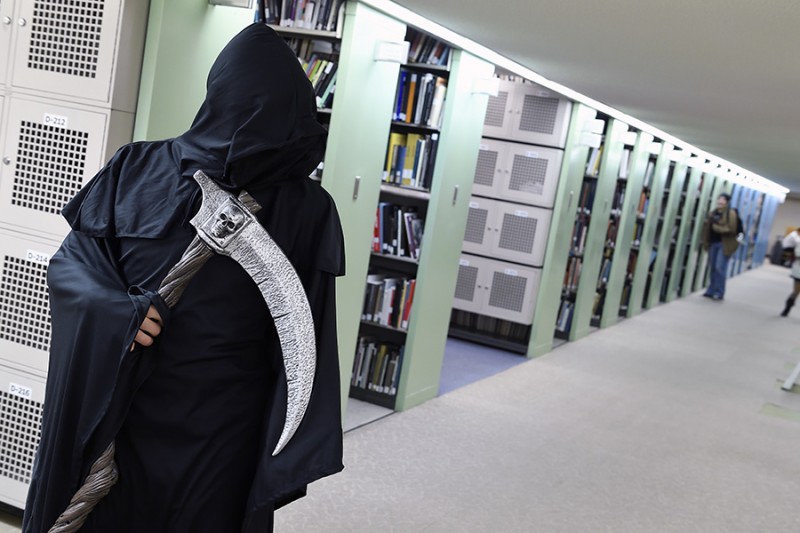 A student dressed in a grim reaper costume passes out candy to studiers in the Milton S. Eisenhower Library.
Late night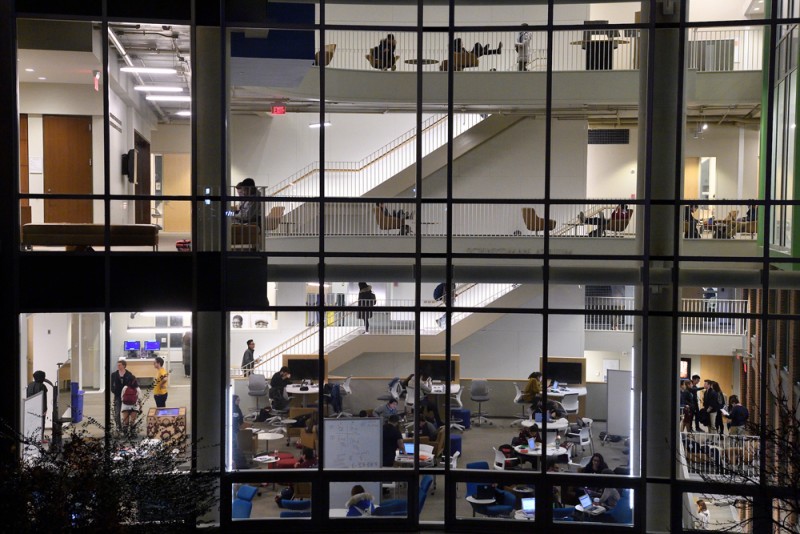 As darkness falls, the night owls come out to study and socialize on all levels of the Brody Learning Commons.
After hours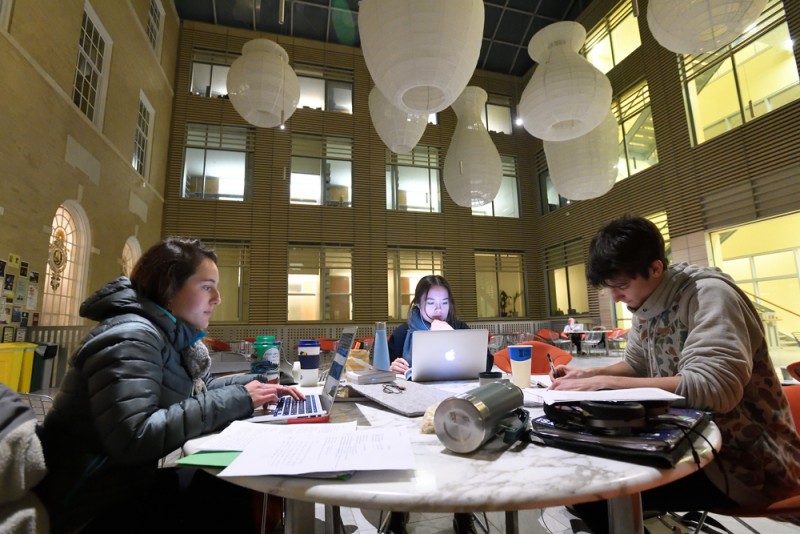 The chilly air in the Gilman atrium helps keep students awake during late-night study sessions.
A parting message