October hasn't really felt much like fall. But Johns Hopkins University's Hoptoberfest—a student organization dedicated to promoting school spirit—plans to change that during the university's annual fall festival, which will bring a bonfire, beer tasting, and a concert to campus.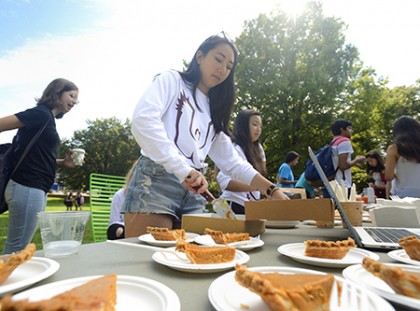 The week of events began with a bagel break on Monday morning, with the group providing bagels, coffee, and fruit to passersby. On Monday evening, the official Hoptoberfest kickoff included fireworks and a night market where the Chinese Students Association, Taiwanese Students Association, Spoon University, Real Food Hopkins, and the African Students Association served a variety of foods and drinks, and also sold shirts and bracelets.
Today Hoptoberfest turned The Beach into a pumpkin patch. Students were invited to decorate pumpkins to take back to their residence hall or apartments, drink hot apple cider, or eat apple or pumpkin pie.
Events planned for the rest of the week include:
Movie night: Fantastic Beasts and Where to Find Them
Tuesday, Oct. 10 at 7 p.m on the baseball field An outdoor screening of the popular film with snacks provided
Fall Picnic
Wednesday, Oct. 11 at noon on The Beach
Live music, local cuisine, giveaways, and other fall activities—sponsored by Honeygrow and R. House
Campfire
Wednesday, Oct. 11 at 8 p.m. at the AMR I fire pit
A bonfire with s'mores and hot chocolate
DIY Mugs: Espresso Yourself
Thursday, Oct. 12 at noon in Levering Courtyard
Design a ceramic mug, drink coffee and hot chocolate, eat Munchkins—co-sponsored by JHUnions
Beer Tasting
Thursday, Oct. 12 at 6 p.m. on the Mattin Center rooftop
Taste local beer while enjoying pretzels and cheese—advance tickets required
Cheat Codes & CADE
Friday, Oct. 13 at 3 p.m. on The Beach
Finish off the week of Hoptoberfest with a free concert, food trucks, and giveaways. Cheat Codes is an electronic DJ trio from Los Angeles. They will take the stage with CADE, a singer/songwriter who bridges the gap between future R&B and electronic music. Co-sponsored by the HOP.
Hoptoberfest is sponsored by the Hopkins Parents Fund.