Engineers have lots of experience with lines, from the structural lines of buildings to the lines of code in software. But a new class at Johns Hopkins University is teaching them about other lines—the kind that might be tossed their way in an improvisational comedy scene.
Offered for the first time this semester, Improvisation for Scientists and Engineers uses lessons borrowed from theater classes to help students hone their off-the-cuff verbal skills and develop poise in front of groups—valued skills in the professional world.
"Few things prepare a person to deal confidently and adroitly with unforeseen challenges the way improv does."
Michael Hartwell
Baltimore Improv Group
The Hopkins class, offered through the Whiting School of Engineering's Center for Leadership Education, is the brainchild of Edward R. Scheinerman, the school's vice dean for education and himself a mathematician who admits that he dreams of taking up improv when he retires.
"It's a generalization, I know, but we engineers and scientists tend to be more analytical and deliberate, as opposed to spontaneous, and many of us could benefit from practice in thinking on our feet," Scheinerman says. "The bottom line is that, at Hopkins, our goal is to make sure that our engineers and scientists have all the knowledge and skills they need when they graduate, including the kind of interpersonal and communication skills that improv teaches. So much of engineering work is collaborative, after all."
Improvisational theater, also known as "improv," is a form of live theater in which performers build on one another's spontaneous words and actions, creating the story line, characters, and dialogue on the spot. There are no "no's" in improv; in fact, the phrase "Yes, and …" is the guiding principal governing the art form.
"The secret is that improv not only teaches people to deal with the unexpected but also how to turn that around and make it work for them," says Michael Hartwell, the professional improv performer whom Johns Hopkins administrators recruited to teach the new class. A former Baltimore City public school English teacher, Hartwell is education director of the Baltimore Improv Group, a nonprofit organization dedicated to advancing the art and appreciation of improvisational theater.
According to Hartwell, improv teaches a number of important lessons, including focused and active listening, confident and effective interpersonal communications skills, teamwork, leadership, and even crisis management.
"Few things prepare a person to deal confidently and adroitly with unforeseen challenges the way improv does," he says, pointing out that a number of top MBA programs—including those at MIT, UCLA, Duke, and Columbia—now offer improv classes to round out their students' educations.
While this is the only Johns Hopkins 100-level improvisation class geared specifically to engineering and science students, the Krieger School's Department of Theatre Arts and Studies offers the very popular three-credit, upper-level course "Creative Improvisation: For Theatre and For Life," which enrolls a number of engineering and science majors.
Members of the inaugural engineering improv class say that the work they've done over the last 10 weeks has taught them innumerable skills and lessons that they will take with them out into the professional arena.
"Improv has not only improved my confidence in public speaking in general, but more specifically, it has shown me that I don't have to worry about the unexpected, because I can handle whatever is thrown my way," says Megumi Chen, a senior applied mathematics and statistics major at the Whiting School.
Chen, who has already landed a finance job post-graduation, also credits her improv training with teaching her to listen—really listen.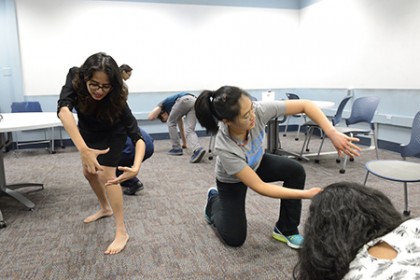 "Listening is at the foundation of all communication, and I think the class has made me very good at it in a way I wasn't before," she says. "Previously, while the other person was talking, I might be thinking about what I was going to say, or feeling anxious about what I should say. Now, I tune in completely to what the other person is saying and respond to that. I think that is going to be an incredibly valuable skill in the professional world."
Tia Aquart, a junior applied mathematics and statistics major, credits her experiences in Hartwell's class with helping her to secure a coveted summer internship.
"I've finally landed an internship that I've been trying to get since freshman year, all because I struck gold in a conversation with the right person," Aquart says. "I know for a fact that would be unheard of for me prior to taking this class."
Aquart is convinced that her newfound self-confidence will turn out to be just as valuable as the academic knowledge and skills she acquired in more traditional classroom settings throughout her college career.
"Nowadays, networking plays a huge part in landing a job," she says. "I can't solely rely on my awesome academic success; I need to know how to amaze the interviewer as well. That's where improv is the essential key to success. I can't memorize lines for every possible question someone could ask me. I now know how to answer any question without prior preparation."