Patti Vining may be short, but in her bright pink hat with cat-like ears knitted on either side of her head, she stood out among the crowd of about 200 that had gathered along the McElderry Promenade on the Johns Hopkins medical campus on Thursday afternoon.
The group braved a bitterly cold and windy day to join the campus demonstrations nationwide in protest of Donald Trump's recent executive order that temporarily bars the entry of immigrants from seven Muslim majority countries and suspends the U.S. refugee program.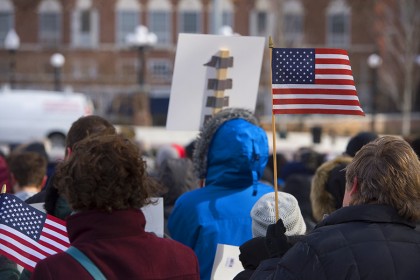 "I think we need to stand up against something that is absolutely wrong," said Vining, a pediatric neurologist who first came to Johns Hopkins as a medical student in 1968. "We need to do it in every responsible way possible, and this is just one of those ways."
A few miles away at JHU's Homewood campus, more than 300 students, faculty, and staff gathered at The Beach today to participate in a similar protest against the executive order. "Make U.S. kind again," read one sign held by an attendee.
Student emcees Darius Mostaghimi and Mira Wattal shared their personal stories as children of immigrants before introducing a series of speakers both from the university and the Baltimore community.
Mostaghimi is the son of Iranian and Chinese immigrants who came to U.S. to pursue educations and better futures.
"But that dream can die today," Mostaghimi told the crowd. "No on in the future, as of now, can have the same dream if we prevent Iranians, Iraqis, Yemenis, Syrians … from entering into the United States."
"I think we need to stand up against something that is absolutely wrong. We need to do it in every responsible way possible, and this is just one of those ways."
Patti Vining
Johns Hopkins pediatric neurologist
Denis Wirtz, JHU's vice provost for research, attended the protest and spoke about his experiences as an immigrant from Belgium. Wirtz recalled that the first book he read on immigrant soil was Parting the Waters by Pulitzer Prize-winning author and historian Taylor Branch, who was in attendance and spoke at the protest.
Wirtz also shared remarks by Johns Hopkins Provost Sunil Kumar, who could not attend.
"I will never forget the immense pride I felt when I became a citizen of this great country," Kumar wrote. "When I pledged my allegiance to America, I pledged to uphold its values, to protect it, and to do my part in ensuring its continued success. I believe it is imperative for me to join your voice today in order to live up to that pledge—not only to help ensure the opportunity that I was given remains open to others—but to also protect the continued financial and intellectual prosperity of our country."
Susan Goering, executive director of the American Civil Liberties Union of Maryland, also spoke, offering a legal perspective on the executive order, which has been temporarily halted by a federal judge's ruling. The U.S. Court of Appeals for the 9th Circuit is currently considering arguments over lifting the temporary halt. (Update: On Thursday evening, the 9th Circuit Court of Appeals maintained the freeze on the executive order).
Both protests were organized by a group of 15 undergraduate, graduate, and post-doctoral students from across the university. Shiva Razavi, a graduate student in biomedical engineering, was among the leaders of the coordinating efforts.
"My friends asked me to help lead because I am in a more secure position—I feel I am less vulnerable as a U.S. citizen," she said. "But it's also difficult, because I came here as a refugee from Iran, where part of my family still lives."
Razavi said she is familiar with the process of vetting refugee requests. Her own request, submitted once she arrived in Vienna, Austria, in August 2001, was under review during the Sept. 11 attack. Refugee cases such as hers were temporarily frozen following the attack, but she was able to enter the U.S. in January 2002.
"The vetting process for those from the seven countries affected was already highly stringent," she said. "Even if a tougher protocol is to be implemented, there are more humane ways to go about that. Refugees don't choose to leave their homes; they're forced to leave their homes."
Maryland Attorney General Brian Frosh, who has been critical of the executive action, was among the speakers at the East Baltimore campus.
"My office stands with you in opposition to the executive order issued by our president Donald Trump. It's unconstitutional, it's illegal, and it's un-American," Frosh said.
"It makes America less competitive, not more competitive. You know probably better than anyone else that 52 percent of biomedical researchers in the United States are foreign-born. This country has benefitted from some of the best and brightest in the world who wanted to come here to work and to study."
Other speakers included Joshua Sharfstein, associate dean for public health practice and training at the Bloomberg School and inaugural director of the Bloomberg American Health Initiative; Yassine Daoud, a Johns Hopkins ophthalmologist who was born in Lebanon and spent 17 years living in a refugee camp; Ryan Calder, an assistant professor of sociology whose latest study examined the ethics of Islamic banking institutions; Nobel laureate Peter Agre, a Bloomberg Distinguished Professor at Johns Hopkins; Gilbert Burnham, a professor of international health; Kathleen Cullen a professor in the Department of Biomedical Engineering; and Meena Aladdin, a graduate student in the Department of Environmental Engineering at the Bloomberg School.
Aladdin spoke about her experience as a young child coming to America as an Iraqi refugee.
"I realize that my story is uniquely mine," she said, "but as I look around at the crowd, I see that my sentiments are not. … Denying [refugees] access to opportunities here in the United States would do our society a great disservice, as they have made America great."