Wednesday marked the beginning of Black History Month, and Johns Hopkins University's Office of Multicultural Affairs hosted an opening ceremony to kick off its calendar of activities.
Roughly 50 people—including members of the Black History Month committee, students, staff, and other JHU community members—met in Charles Commons to talk about the resurgence of social justice and student activism.
"I think really what's important is that the students are putting it together," said Cynthia Román-Cabrera, OMA's program coordinator. "That the students are taking the initiative to say, 'These are the things that matter to me.'"
Isis Dwyer, a senior anthropology and cognitive science major, gave remarks on notable events that occurred during the 2015-16 academic year on college campuses around the United States. As the research, history and education chair for the Black Student Union, Dwyer represents the student organization on the Black History Month committee.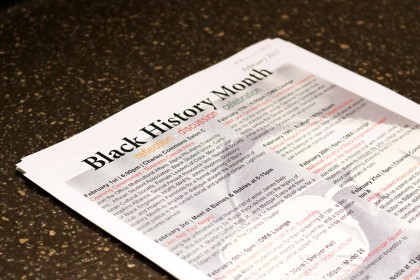 "Personally, 2016 was pivotal in my views and opinions on student activism. I understood the concept of student activism, and that students supposedly had a voice in what happens in our communities," Dwyer said in her speech. "Last year, the wave of student activism across the country was the first time I had genuinely seen [it] in a real concrete way."
Her remarks also focused on two areas: intersectionality and privilege. She said that February felt like a time to focus on more intersectional activism.
"Activism that is ableist, heteronormative, transphobic, or elitist in nature is not activism," Dwyer said.
Events during the month highlight a variety of topics and identities such as gender, feminism, sexual orientation, and religion, as well as general black history.
Román-Cabrera said that purpose for the month of events is to spur a conversation about tying together all of the facets of being black.
"It's important for us to recognize that there hasn't been that much space … for blackness to show up," she said. "There is more than one thing that the student is going through."
Student organizations and OMA will host fireside chats, film screenings, panels, and a surprise keynote speaker on Feb. 28. The calendar of events will end on March 3 with a closing ceremony that features music, dance, food, and fellowship.
The university will also sponsor events in honor of Black History Month that are not a part of the OMA calendar. Carla Hopkins, assistant director of diversity education, said that she was excited by Johns Hopkins' deliberate effort to highlight black culture and identity, and encouraged students to attend the other events—such as a free day at the Reginald F. Lewis Museum on Feb. 18.
"I think all these events are connected," Dwyer said. "I think it's important to realize the solidarity that is possible, that can happen.
"And it's a great starting point. But I feel like there's a lot more that we can do with regards to intersectionality and accessibility, to make our action and our activism even more effective and even more powerful."