Thirty-five Baltimore City public high school students took part in the third annual HackCarey coding workshop held Dec. 10 at the Johns Hopkins Carey Business School's Harbor East campus.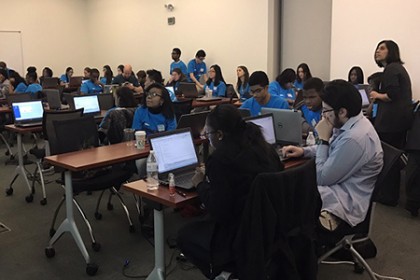 The students from city schools such as Coppin Academy and Western were given the task of using HTML and JavaScript to develop a variation of the popular video game Flappy Bird. Carey students—including members of the school's Innovation Factory club—and representatives of co-sponsors Capital One and Baltimore-based technology firm Mindgrub served as mentors and instructors.
Graduate students Bradley Waters, Mauro Gurdulich, and Alyssa Perez helped lead the organizing of the daylong event. Waters told the technology news website Technical.ly/Baltimore that the hackathon is based on the idea "You only learn by doing."
HackCarey is the brainchild of Dan Givol, who graduated last June with a Global MBA degree. Now a product manager at Capital One, he returned for the third edition to offer guidance and encouragement to the high school students.
The hackathon was a highlight of his time as a Carey student, Givol said in a Carey Business article about the 2015 event: "This was by far my favorite experience at Carey. I'm very proud of it. Business is about people. You get to interact with them, and you get to connect on a personal level. We have 50 people here connecting with their inner nerd."