The next installment of the JHU Forums on Race in America will explore issues facing the Latino community with a panel of five individuals from backgrounds in health, education, journalism, and business.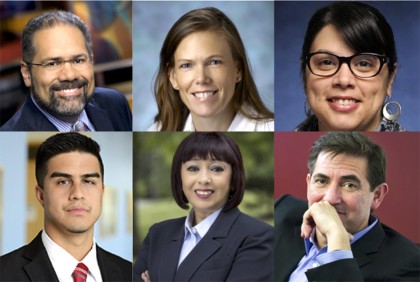 The event, titled "Latinos in America, Post-election," will be held at 7 p.m. on Nov. 30 at Johns Hopkins University's Shriver Hall. Topics of discussion will include Latino identity, Latino economic contributions to society, grassroots community partnerships, and Latinos in education.
The conversation will be moderated by Erwin Hesse, a doctoral student in the Johns Hopkins School of Education who conducts research on college admissions for undocumented students.
"In post-election America, many vulnerable and underrepresented populations question their safety and place in America," Hesse said. "With hate crimes becoming more visible and threats of mass deportations for non-U.S. citizens, many feel a call to action to support and ally populations lacking power."
The speakers include:
Veteran journalist Ray Suarez, who has worked as a reporter for CNN and ABC, and hosted Talk of the Nation on NPR. He is the former host of Al Jazeera America's daily program Inside Story, a daily discussion program that brings together voices from different perspectives, and is known for his expertise in demographics, race, religion, and federal government.

Javier von Westphalen, CEO of Emergent Element, who helps companies make an impact by improving people lives with cultural marketing initiatives. He is an award-winning bilingual and bicultural marketing strategist who has worked at national, regional, and local levels with federal agencies, nonprofit organizations and major corporations.

Ileana Gonzalez, an assistant professor in the Johns Hopkins School of Education who leads the School Counseling Fellows Program, an urban school counselor preparation program specializing in access, equity, and social justice in education for oppressed populations. She presents nationally and locally on topics such as urban education reform, social justice in schools, and navigating courageous conversations on race.

Dinorah Olmos, assistant director for national and international talent search for the Johns Hopkins University Center for Talented Youth, where she identifies and recruits gifted and talented students around the world. She has more than 20 years of experience working with health, education, media, and community leaders across the United States. She is also vice president for the Hopkins Latino Alliance and part of the Johns Hopkins Centro Sol (Center for Salud/Health and Opportunities for Latinos) advisory board.

Kathleen Page, an associate professor in the Division of Infectious Diseases at Johns Hopkins University School of Medicine who focuses on improving access to and quality of care for the emerging Latino community in Baltimore. She established the Latino HIV Outreach Program at the Baltimore City Health Department. She also co-founded Centro SOL, which is developing novel strategies to meet the health needs of Latino migrants through research, education, community advocacy, and clinical care.
The JHU Forums on Race in America, which began in 2015, seek to support an open, thoughtful, and informed community conversation about race and racism. Earlier this fall, a panel discussed "The Next 50 years: Black Power's Afterlife and the Struggle for Social Justice,".
Information about the event is on the JHU Forums on Race in America website. There is no cost to attend, but online registration is requested.