The Johns Hopkins football team, which capped its fourth consecutive unbeaten regular season with a 48-28 win against McDaniel on Saturday, will host Randolph-Macon on Saturday in an NCAA Division III playoff game. Kickoff is set for noon at Homewood Field.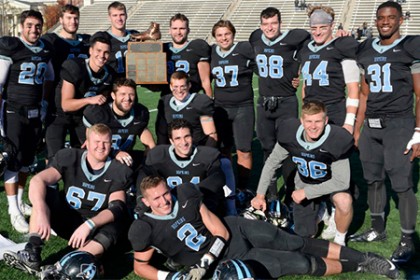 The Blue Jays (10-0), winners of 64 of their past 65 regular-season games, have won six consecutive Centennial Conference championships. Randolph-Macon, winners of the Old Dominion Athletic Conference, finished with a 9-1 record this season.
This will be the 39th all-time meeting between Johns Hopkins and Randolph-Macon with the Blue Jays holding a 21-16-1 advantage.
The winner of the Johns Hopkins-Randolph-Macon game will play the winner of the Hobart-Mount Union first-round game on Nov. 26. The location of that game will be announced on Sunday, once the participants are known.
Also see
Johns Hopkins is making its sixth consecutive appearance in the 32-team NCAA playoffs and the eighth appearance in school history; all eight trips have come since 2005. The Blue Jays' seven previous appearances include a run to the 2009 NCAA quarterfinals and second-round showings in 2012, 2014, and 2015. This will be the fifth consecutive year that the Blue Jays host a first-round game.
Tickets for the Johns Hopkins-RMU game will go on sale 90 minutes before kickoff. Tickets are $8 for adults; and $4 for youth, Johns Hopkins and Randolph-Macon students, and senior citizens. Kids two and under are free.