When 911 emergencies arise on or near Johns Hopkins University's Homewood campus, there's a team of first responders right there at the ready. But they aren't dispatched by Baltimore City—they're students.
HERO, the Hopkins Emergency Response Organization, is a group of about 60 undergrads trained and certified as Emergency Medical Technicians who are on call 24/7. If you dial 911 on a campus phone or seek help from campus security, you reach HERO immediately.
So far in 2016, HERO has responded to 267 calls, many of which involved alcohol-related issues, soft tissue injuries, or loss of consciousness.
And now, through a new partnership with Johns Hopkins Lifeline, they're refining their mission.
The partnership, secured last October, provides training, support, and supplemental education for HERO's team of EMTs. It replaces HERO's former affiliation with the Baltimore City Fire Department.
"This has been an improvement in every direction," says HERO captain Andrew Rosenblum. Lifeline, he says, has provided "more guidance, more support, more resources for us in general."
Lifeline, a critical care transport team, serves patients of all Johns Hopkins-affiliated hospitals in Maryland and Washington, D.C. It's based out of The Johns Hopkins Hospital in East Baltimore.
Taking HERO under its wing is a first-of-its kind arrangement for Lifeline, according to Shawn Brast, a team educator with the organization. But "it seemed like an obvious partnership," he says, to link the two Hopkins groups.
With HERO, Lifeline functions as an affiliating agency—all EMS programs are required to have one by law—and provides regulatory support and training to certify the student EMTs. Lifeline's medical director, Michael Millin, heads the partnership.
But beyond that, Lifeline takes on a sort of big brother role to support student development. Its staff and physicians have worked closely with HERO's EMTs, offering advice, simulation training, and lectures.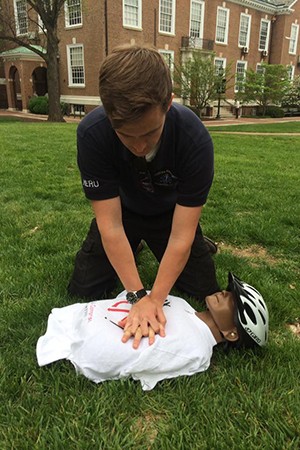 The students also get access to Lifeline's facilities in East Baltimore and further training to advance their skills—such as sessions on high-risk obstetrics or neurological assessments. Last month, several students attended a cadaver lab, Brast says.
Rosenblum says Lifeline's expertise has also helped HERO streamline. For example, instead of carrying standard EpiPens at $500 a pop, Lifeline helped come up with a more cost-effective solution of buying vials of epinephrine to administer via syringe.
HERO was launched in 1995 as an outgrowth of an existing Homewood campus first aid squad, with student volunteers recognizing the need for 24/7 EMS service. While on duty, crew members carry a backpack of medical supplies and, if paged to an emergency, respond by foot or security car.
Their services range from attending to minor medical issues to providing life-saving care for patients before they're transferred to other facilities. So far in 2016, Rosenblum says, HERO has responded to 267 calls. Many involve alcohol-related issues, soft tissue injuries, or loss of consciousness.
In addition to using campus phones to call 911, people on or around Homewood can call HERO at 410-516-7777.
The advantages of reaching HERO before or instead of the city's 911 include speed—they're right on campus and average a three-minute response time—and their intimate familiarity with Homewood's layout. On top of that, their services are free of charge, while city ambulances aren't.
The majority of HERO members are pursuing medicine-related careers, though a pre-med or science major isn't required, says Rosenblum, who's a senior majoring in public health.
Brast of Lifeline says the students he's worked with "are absolutely gifted. In addition to carrying a full course load, they're basically providing emergency response at the ready."
It's a structure that benefits both the university itself and the students' careers, Brast says: "Aside from fact that university is getting emergency medical support, the kids are getting the tangible experience."