Less than six months after launching BLocal, an initiative with 25 partner organizations to expand economic opportunities in Baltimore, Johns Hopkins and its BLocal partners and affiliates feted the inaugural class of BUILD College, an educational program designed to bolster small, local minority- and women-owned construction businesses.
The gathering on Sept. 14 at Johns Hopkins at Keswick brought together the students—representatives from 15 firms—and their instructors for a moment of pomp and circumstance after 13 weeks dedicated to learning tools of the trade and ways to grow their companies, while networking with peers, industry experts, and some of the largest organizations in the city.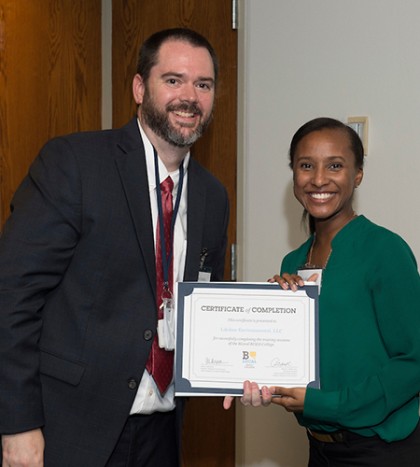 Although the graduates didn't wear caps and gowns, JHU President Ronald J. Daniels was quick to point out that the occasion was most definitely a cause for celebrating the program's first graduates, whose willingness to jump into a new program will pave the way for future recruits to follow in their footsteps.
"How truly lucky we are that you wanted to do this," Daniels said. "For us, this is proof of concept. We had great expectations going into this program, and its success, to me, is a win-win proposition for the city."
Reaching out to other city contractors is a message that resonates with newly minted BUILD College graduate Joshua Matthews, president and CEO of JCM Control Systems Inc. He's eager to share his decades of on-the-job experience as a HVAC maintenance contractor with the next generation.
"My goal is not only to do more work with Johns Hopkins, but to be a bridge between Hopkins and other contractors," Matthews said. "Everybody needs someone who can mentor them by sharing their own experiences. When somebody gets hired for a job, there's a job description to help, but beyond that, they need someone who has been there before to offer their perspective."
BUILD College held its first class session June 8, just two months after BLocal's launch—a quick turnaround made possible by many people, typifying the "goodwill and scrappiness" of Baltimore, Daniels said. Sessions focused on topics such as reading architectural drawings and specifications, bidding and legal and contracting considerations, change management, project management, financial management and banking, human resources, business development, bonding and surety, insurance, and safety and quality management. The sessions were led by people with extensive knowledge of their respective fields from 1st Mariner Bank, Ayers Saint Gross, Brown Craig Turner, Beatty Development Group, Design Collective, Forrester Construction, Mahogany Contracting, Ober|Kaler, ResultsCFO, RCM&D, Turner Construction, and The Whiting-Turner Contracting Company.
Like Johns Hopkins, Ayers Saint Gross has deep roots in Baltimore and is keen on creating workforce development opportunities in the city, said the firm's president, Luanne Goodson Greene. As both the leader of an agency with a 140-year history in the city and the parent of a senior at Johns Hopkins, Greene immediately saw the advantages of being part of BUILD College as a presenter.
"In a short time, I've seen Johns Hopkins become more embracing of the community," Greene said. "We wanted to support that more visceral engagement because you just can't understate the role of Johns Hopkins in the city."
BLocal BUILD College is intended to be a standing offering on a semiannual basis that will help the participants develop key competencies and relationships necessary to drive future growth. For more information, visit the BUILD College website.