Johns Hopkins students, faculty, and staff returning from summer breaks are finding themselves sharing the Homewood campus with construction fences, heavy machinery, and detour signs.
The map below shows areas of current or near-future construction in yellow: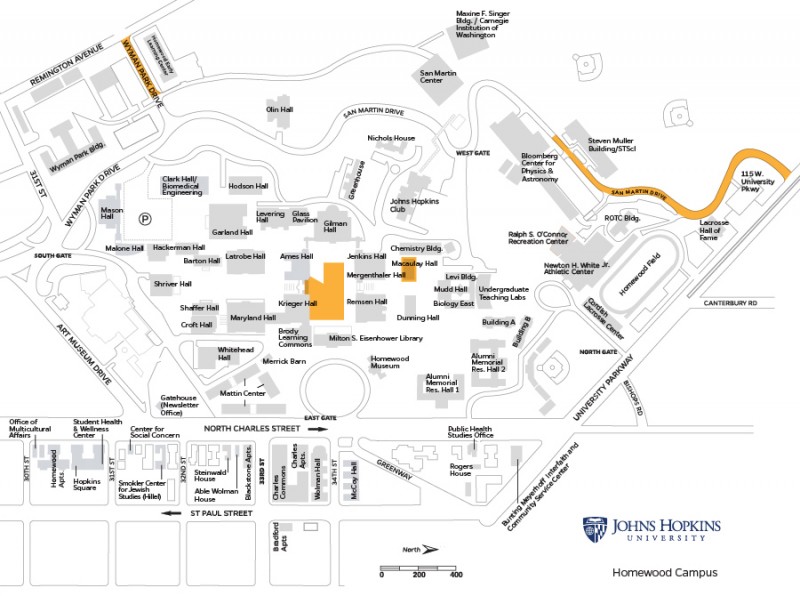 On the Keyser Quad, the Krieger Hall Waterproofing and Colonnade Restoration project is well underway. A significant portion of the quad has now been fenced off for materials and deliveries, and workers are deconstructing the colonnade between Krieger and Ames halls and removing brick and marble from the north face of Krieger.
Pedestrians will need to take alternate routes around that part of campus, and events previously held on the quad will be moved to new locations until the projected completion date of August 2017. There are wayfinding signs and information boards with pedestrian maps around the area. Information about pedestrian detours is on the Facilities and Real Estate website.
Those interested in monitoring the project as progresses can visit a webcam site, where a photo of the project area will be updated every 15 minutes.
Anyone who needs information about or assistance with ADA accessible pathways around the construction can email the Office of Institutional Equity or call 410-516-8949.
A project to improve the safety and appearance of San Martin Drive will move to its next phases on Sept. 12. The first phase added improved sidewalks and lighting, safer intersections, and a new pedestrian bridge between San Martin Center and Olin Hall.
For the next phases, there will be new closures and altered traffic patterns on Wyman Park Drive in front of the Early Learning Center and on San Martin Drive between the Muller Parking Deck and University Parkway, expected to last through December.
A third project—an extensive internal renovation of Macaulay Hall to provide new laboratory, classroom, and faculty office space—is expected to begin in early October.
Moving into the fall, the Krieger Hall project requires that work crews dig an excavation on the north side of the building 20 feet wide, 27 feet deep, and 200 feet long in order to reach the lower levels and foundation of the building. They will install a new foundation drain and pump system and add waterproofing in order to protect property inside the building from seeping water; ensure that the classroom, lab, and office space remains usable; and secure the long-term stability of the building.
The colonnade will undergo structural improvements and waterproofing measures before it is reconstructed to make sure it is sound for the future.