Talk about using their noodles! About 160 high school students on Johns Hopkins' Homewood campus—and another 270 students in California, Ohio, Pennsylvania, and Washington, D.C.—took part Friday morning in a competition that challenged them to build the strongest possible miniature bridges out of nothing but epoxy and dry spaghetti.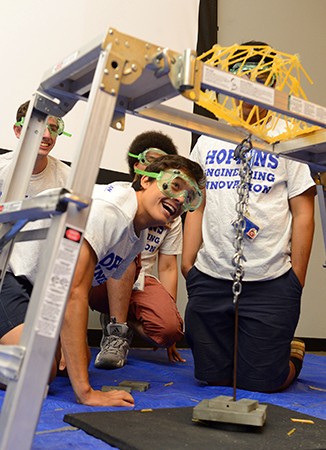 The annual Spaghetti Bridge Contest is the culmination of their four-week summer Engineering Innovation programs, which teach students how to think like engineers and expose them a variety of engineering disciplines. Prizes went to the teams whose bridges withstood the most weight, which slowly is added, kilo by kilo, until the structures fail.
"It's incredible to see the determination of these high school students as they complete this college-level summer course," said Christine Newman, assistant dean for engineering education outreach. "Emotions are high as they say goodbye to the friends they've made after four intense weeks of learning the math, science, and critical thinking that goes into becoming an engineer."
This year's top performers at Homewood:
1st place: The Terminators, 28.48kg net (32kg gross)
2nd place: The Innovators, 28kg net (28kg gross)
3rd place: Impastas, 22.32kg net (40kg gross)