The Johns Hopkins football team, winners of seven consecutive Centennial Conference championships, appears to be poised for another strong season and checks in at No. 15 in the recently released D3football.com preseason poll.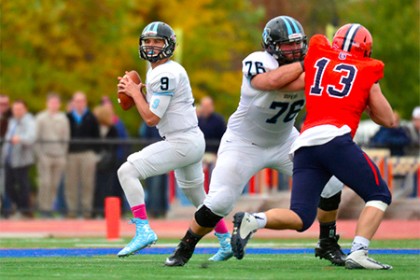 This marks the fourth consecutive year the Blue Jays have been ranked among the top 20 in the D3football.com preseason poll. JHU was ranked 13th in Division III preseason rankings released in May by the Sporting News.
The Blue Jays posted an 11-1 record in 2015—equaling the school single-season wins record—and advanced to the second round of the NCAA Division III playoffs for the third time in the past four years. The Blue Jays ended the 2015 season ranked No. 10 in the AFCA poll and 13th by D3football.com.
Hopkins opens the 2016 season on Thursday, Sept. 1, when the Blue Jays welcome Washington & Lee to Homewood Field. The matchup is the only one of the more than 1,200 scheduled Division III football games in 2016 that will feature two teams that posted 10-0 records during the regular season in 2015. Washington & Lee is ranked 20th in the D3football.com preseason poll.